A Wondrous European Escape
Medieval architecture, tranquil lakes, local villages and Croatian charm will delight you on this tour featuring Dubrovnik, Lake Bled, Ljubljana, and the pearls of the stunning Dalmatian coast. Begin your exploration with two nights in Opatija, the "Riviera of Croatia" and an Istrian gem. Explore Plitvice National Park by foot and by boat, a place where waterfalls cascade down sheer cliffs connecting 16 pristine lakes. Connect with the local people during a home-hosted dinner. Explore the white stone buildings, winding alleys, and massive city walls of the ancient harbour town, Dubrovnik. Step inside Diocletian's Palace and back into Roman times in Split's Old Town. Explore Ljubljana, Slovenia's quaint capital city, and float on a "pletna" boat on serene Lake Bled. Ride a funicular up to Ljubljana Castle where a delicious dinner awaits.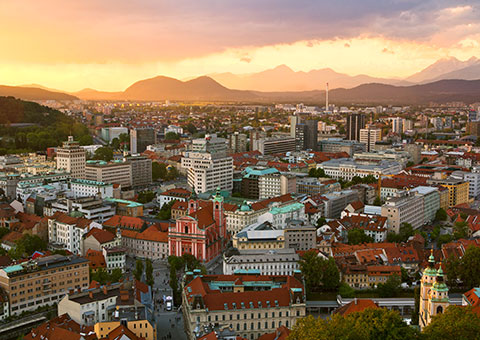 Available Offers
Pick Your Dates

Pick Your Dates

*Price excludes flight from the UK | Price shown reflects highest available savings amount. Restrictions apply.

Please Wait...

We are loading your tour's dates.

Please Wait...

and get excited!

We are currently building the itinerary for the tour date you have selected.

Your Itinerary

Your Itinerary

Please note: tour inclusions and available options may vary based on departure date. Please select a date above for more details.

View Itinerary Details

Tour Cruise

Close

Hotels & accommodations

View More

Reviews Of Discover Croatia, Slovenia and the Adriatic Coast featuring Lake Bled, the Dalmatian Coast and Dubrovnik

Reviews Of Discover Croatia, Slovenia and the Adriatic Coast featuring Lake Bled, the Dalmatian Coast and Dubrovnik

Yes, I would recommend them & yes, I would buy from them again. I thought they had a good mix of prearranged tours & free time. There were enough group meals to get to know others & yet enough free time to arrange your own meals.

There were so many favourites. I really enjoyed Plitvice Lakes, that was spectacular but so was Dubrovanik & Split & the bus tour from the coast into Slovenia.

Everything went well. Any glitches were handled efficiently and effectively. Accommodations and meals were lovely.

Touring the ancient city of Dubrovnik was amazing!

Excellent organisation results in very enjoyable holiday

Superbly organised - take all the stress from the travelers. Guides are knowledgable and extremely helpful. 'Specialty meals' are fun and different. Hotels usually very good. Door to door transfer services a terrific draw.

Overall experience educational and relaxing. Hotels very good. Pace just right. Dinners as a group were fun.

Other tours you may enjoy

We pick you up and bring you home again when you reserve air with us.