Take your Trip of a
lifetime
Your Someday is Here
Someday, you said. Someday you'll go and take that incredible trip. That trip is the one you've spoken about, dreamed about, laid awake at night thinking about. You've waited for a sign to tell you when to go on your trip of a lifetime. Your someday is here.
For the past century, Collette has guided the way, taking people on their trip of a lifetime. And we're not done yet. We have more trips of a lifetime to take our travellers on, more dreams to fulfil. But the most important trip is one yet to come - yours.
Just a few of the notes we've gotten from travellers who have incredible trips of a lifetime with us:
My trip to Japan with Collette was wonderful! For this trip I was travelling alone and did not hesitate as I always feel safe on the tours and with the hotels. Our tour guide was exceptional, in fact she was the best guide I have ever had on any tour! She provided some excellent sights, insights into cultural and historical information, delicious eateries, and much more. It is hard to condense 13 wonderful days in a few sentences!
– Collette Traveller on Cultural Treasures of Japan
Collette is just there for you every minute. Whilst you are having the special time of your life, your tour director is taking care of the next day events, making sure in a restaurant that everyone has received what was ordered, helping organise the luggage, getting flight boarding passes, and every other detail. [Collette] never treats me like I am not important! That is why I keep coming back.
– Collette Traveller on Complete South Pacific
One of the best trips ever of many I have taken over the years. This is my 4th trip with Collette and I have been happy with all of them. In particular, Italy's Treasures had us staying in the best places outside of large cities (except for Venice, of course) in picturesque villas seen only in movies. The whole experience was exceptional.
– Collette Traveller on Italy's Treasures

Italy's Treasures

12 Days • 17 Meals - from $4,289*
Everywhere you go, Italy feels like a dream. The magical island of Isola dei Pescatori perched in the waters of Lago Maggiore. The painted villages of Cinque Terre blooming like flowers on the ocean-side cliffs. The winding streets of Florence filled with Renaissance-era architecture and charm. You pinch your own arm, just to make sure you're awake, and that these places are real.

Canadian Rockies featuring Rocky Mountaineer®
8 Days • 12 Meals – from $5,929*
You'll never forget these majestic sights. Capilano Canyon's quiet forests from the swaying Capilano Suspension Bridge. The roaring white waters of Hell's Gate, safely viewed from your Rocky Mountaineer® train. The glittering Columbia Icefield through the windows of a rugged all-terrain vehicle. At every turn there is wild, untamed beauty enhanced by luxury accommodation. These scenic vistas will forever be etched in your mind.

Machu Picchu &
the Galapagos Islands

15 Days • 29 Meals - from $10,584*
Few people get to stand in these storied places, and even fewer can describe them after they've been there. The Galapagos Islands, a place of discovery and exploration, hidden in the warm azure waters of the Pacific Ocean. Machu Picchu, a place of ancient wonder and culture, nestled among the Andes above the Sacred Valley of the Incas. You are following the path of the scientists and explorers who have walked this path before. This isn't just a guided tour, it's an expedition.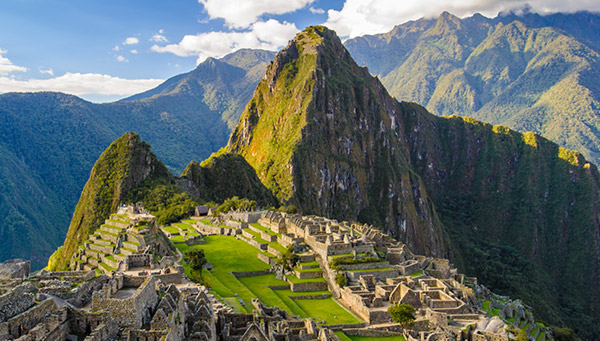 Cultures of Peru & Bolivia

14 Days • 26 Meals - from $8,064*
You've launched yourself away from everyday life to find yourself in new worlds. The emerald peaks and ancient ruins of Machu Picchu, the "Lost City of the Incas," reveals itself as the curling clouds pull away. The glistening plains of the Uyuni Salt Flats stretch out for seemingly infinite distances, and as the sun sets, a cacophony of stars begin to shine. Breathless, you can only try to take in these moments.

Elegant Ireland
8 Days • 11 Meals - from $3,469*
Your travels across the Emerald Isle began with singing, music, dancing, and pints in a cosy pub in Dublin. They're completed with an elegant dinner inside the ivy-covered walls of Dromoland Castle. Between those two moments, you've explored 800-year old castle ruins, kissed the legendary Blarney Stone, and felt the ocean winds at the top of the Cliffs of Moher. Ireland has always been at the top of your bucket list. It's time to cross that off.

Journey through Southern France

9 Days • 13 Meals - from $5,299*
The flavours of Southern France are the flavours of life. The full-bodied taste of a Bordeaux will forever transport you back to charming medieval villages and vineyards. Tasting truffles will now call up memories of a truffle hunt through elegant woods, and the fresh farm-to-table fare that came after. Taste is a sense tied deeply to memories, and these delicious tastes will bring these moments rushing back for the rest of your life.

Iconic Israel
10 Days • 16 Meals – from $3,739*
You felt the energy and passion of Israel as soon as you stepped off the plane. The sun warms your shoulders as you make your way across the ancient Roman ruins of Caesarea. The soothing waters of the Dead Sea swirl around your feet. From the top of the Mount of Olives, you see all of Jerusalem sprawled out before you. In the ancient and storied land of Israel, every moment holds the weight and meaning of a thousand generations.

Treasures of Egypt
12 Days • 22 Meals - from $3,539*
Egypt has been a mystical destination for travellers through the ages. Ancient Romans ventured here to learn from Egyptian scholars. Turn-of-the-century world explorers rode camels across the desert to seek out hidden desert ruins. Pictured on postcards and travel guides and posters hanging in offices, many have aspired to someday travel to Egypt. Now, you're a part of a new age of travellers venturing forth to find a land of unique customs, storied history, and wonder.

Exploring South Africa, Victoria Falls & Botswana

14 Days • 23 Meals – from $8,119*
As your 4x4 jeep rumbles across the wild expanse of Etabeni Conservancy, you're struck by just how dynamic South Africa is. Just a few days ago you were strolling through the charming Moorish Malay Quarter of Cape Town, and now you're focused on snapping a picture of an elephant, or even a lion. The untamed beauty of this place, standing in stark contrast to the wonders of the city you just experienced, makes this experience all the more moving.

Mysteries of India

14 Days • 26 Meals – from $4,634*
They told you that when you returned from India, you'd return a different person. You'll see the world with fresh new eyes, having found something that's hard to put into words. The intricate art of the architecture. The soulful layers of cultural and religious traditions. The myriad of landscapes, and the charm of the people. Everything about this place comes together to create an unparalleled experience that you will be talking about for years to come.

Cultural Treasures of Japan
13 Days • 21 Meals – from $6,349*
Set out for the land of the rising sun. Now is the time to discover its intriguing beauty of distinctive culture. Perhaps it begins for you the moment you enter the Todaiji Temple. From the words of the Buddha to bullet trains, Japan offers up a harmony of the ancient and modern.

Wonders of China & the Yangtze River
18 Days • 40 Meals – from $6,279*
You can feel the essence of China everywhere you venture in this vast country. You can feel the antiquity in the stones of the Great Wall as you walk along it. You can feel the future in the hum of Shanghai's Maglev train as it whisks you to the city centre. You can feel the richness of life through the people you meet in markets and the beauty of the land as you cruise down the rivers. China can't be summed up in a paragraph, or even a book. Once you've experienced China, you'll keep it with you forever.