Do you believe in fairytales?
Oberammergau, a tiny village nestled in the Bavarian Alps of Germany, is the kind of place that inspires storybooks. It's home to the Passion Play, a legacy centuries in the making. This precious gem of Central Europe is, perhaps unexpectedly, among the most dazzling and charming places on Earth.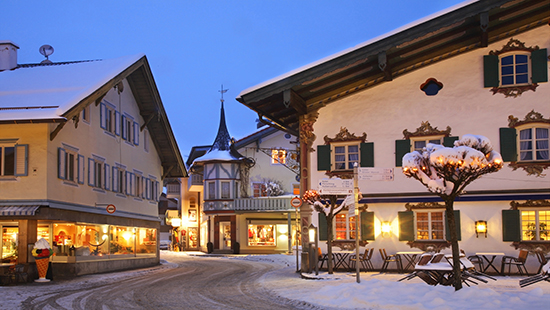 Oberammergau is like a colourful page from your favourite childhood story. This tiny village is just under 12 square miles, with a population of approximately 5,000 people.
As a first-time traveller to Europe, I was naturally excited to embark on Collette's Exploring the Alpine Countries tour of Austria, Germany and Switzerland. I couldn't wait to visit the historical sites and glamorous cities lining my Instagram feed. However, I was unprepared to fall in love with the dreamy little village of Oberammergau.
The small town centre is connected by footpath, so it's very easy to wander on your own and explore the village. It almost felt like time was standing still as we marveled at the architecture, the snow-capped mountains and the exquisite, wooden figurines in every shop window. Our childlike senses of wonder came alive as we perused hundreds of cuckoo clocks, ornately hand-carved by village woodworkers.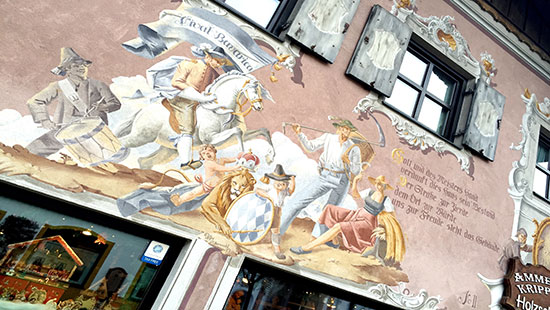 The buildings themselves are masterpieces, adorned with fresco-style paintings called Lüftlmalerei, which bring Biblical stories and classic fairytales to life. [Photo Credit: James O'Connor]
After settling into the lovely Alte Post hotel, we took a short, scenic drive through town to Zauberstub'n, the "Magic Restaurant." This family-style eatery certainly lives up to its name, with hearty portions of German comfort food, scenic mountain views and a lively magic show. Here, we met two performers of Oberammergau's world-famous Passion Play.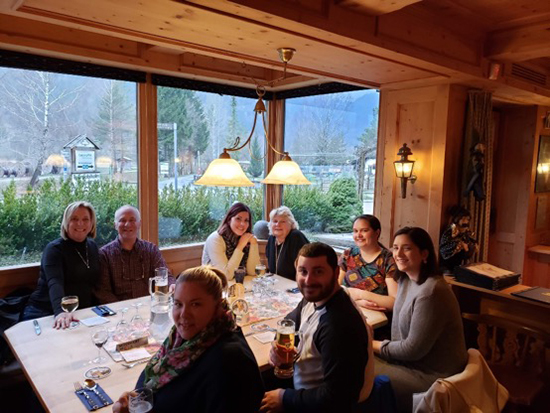 We indulged in magnificent mountain views from our rustic, family-sized table — a set-up that's pretty typical of Bavarian homes.
As we enjoyed our meals, restaurant owner (and magician) Vlado, introduced the group to a performer with a major speaking role in the production. Preparations for the 2020 performances are well underway, and actors have already stopped shaving and cutting their hair! Vlado will participate in his seventh Passion Play next year — an example of the villagers' steadfast loyalty to tradition.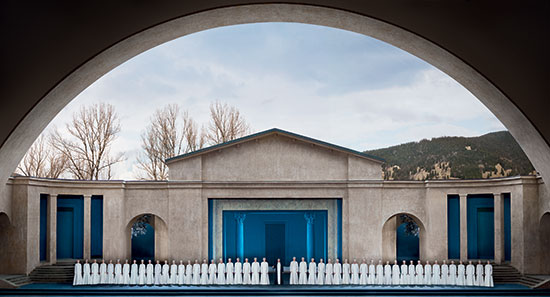 [Oberammergau Passion Play 2010. Photo Credit: Tourism Board of Oberammergau]
The Passion Play, which reenacts the life and death of Jesus Christ, has been performed every decade since 1634 (with the exception of 1940, due to conflicts during WWII.) The play is spectacularly set on a stage with a retractable roof that opens up to the night sky. It's an awe-inspiring, once-in-a-lifetime opportunity. Learn more about this historic event.
For those inspired by history and faith, or who delight in handmade works of art, Oberammergau and the Passion Play have something amazing to share with you. Villagers embrace travellers from across the world with open arms, ready to share their story. Whilst the village may be small, its dedication, and its passion, should not be overlooked.