Some of my fondest travel memories in South America came from eating the local foods. There were days when my family and I sat in restaurants not knowing what to order off of menus written completely in Spanish. We usually ended up looking at what the well-fed locals ate, then ordering the same dishes by pointing to what they were eating. Each time, I walked away with more interesting tales to tell about the country.
Perhaps the best memories were of the authentic encounters with the people and their comfort foods, foods I would have never found if I sought the familiar instead of venturing out to the unknown.
While in South America for eight months, my family and I had the best chorillana in Chile. Over in Uruguay, we followed Anthony Bourdain's footsteps to get the best parrilla. In Buenos Aires, Argentina, we bought empanadas from a street vendor pushing his bicycle with a laundry basket filled with empanadas. In Cusco, Peru, we had chicken soup in San Pedro Market. While in the Andes of Ecuador, we did it - we ate cuy! So let's dig in with these 10 foods to try when visiting South America.
1. Chorrillana in Chile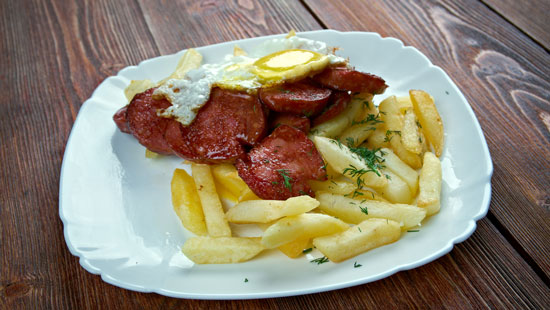 You'll find Chileans eating chorrillana all day. Made of beef steak strips, fried eggs, lots of onions and French fries, chorrillana is usually served in huge portions, large enough for two.
Casino Social J Cruz in Valparaiso was the best place for chorrillana in Chile. This comfort food is served throughout the country. You can get it as far south as in Punta Arenas. If you are in the Bellavista area of Santiago, go to The Galindo Restaurant for chorrillana.
2. Parrilla in Uruguay and Argentina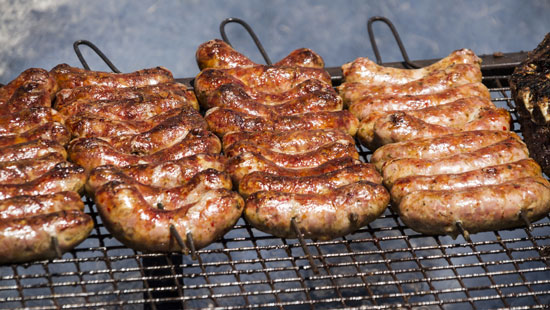 The word parrilla in Spanish means both 'barbecue meat' and 'steakhouse'. Parrilla is also referred to as asado (barbecue). In Argentina and Uruguay, parrilla or asado is available throughout the country. The parrilla dish usually includes morcilla (blood sausage), chorizo (sausage), asado de tira (short ribs), mollejas (sweetbreads), matambre de credo (pork flank steak), bife de chorizo (sirloin strip steak), chinchulines (intestines), internal organs and entrana (skirt steak). It is served on a metal container with a low flame burner at the bottom.
Mercado del Puerto in Montevideo Uruguay came highly recommended by Anthony Bourdain in his "No Reservations" segment on food in Uruguay.
3. Feijoada in Brazil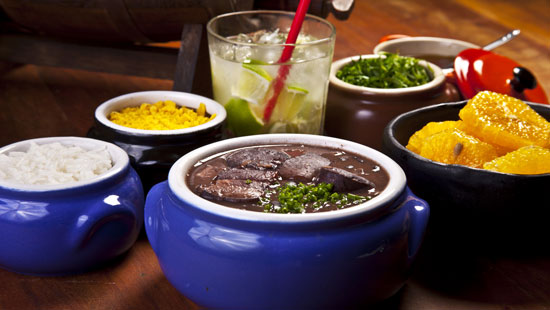 On Saturdays, Brazilians hang out with friends and family around their favourite feijoada either watching football (soccer) or enjoying samba or bossa nova. Feijoada is stew made of black beans, smoked pork and pork spareribs. The traditional ones include pigs' feet, tails and ears.
It's best to eat feijoada with a cold beer. You can get feijoada throughout Brazil, from Sao Paulo, to Florianopolis to Iguazu Falls.
4. Churrascaria in Brazil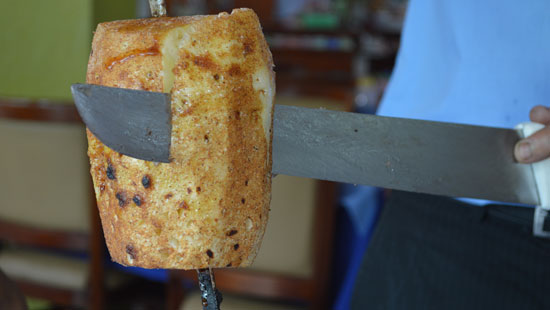 Rio de Janeiro is the best city in Brazil to eat at a churrascaria. Churrascarias or rodizios are all-you-can-eat meat restaurants. The waitstaff make their rounds from table to table with large pieces of barbecued meat on metal skewers and a knife. The best cut is the picanha (top sirloin steak).
Besides meat, churrascarias normally have bars, all-you-can-eat sushi, pasta and salad. On the table you will be offered fried banana, farina (toasted cassava flour) and onions.
5. Lomo saltado in Peru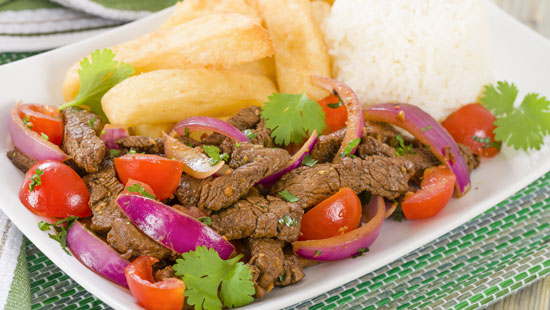 If you ask anyone from Peru, "What's one dish everyone visiting Peru should try?" the answer will most definitely be lomo saltado. I found this fascinating dish everywhere I went throughout my 30 days' travel through Peru. This dish is ubiquitous: I discovered it in Puno, Lake Titicaca, Cusco, Ollantaytambo, Lares, Cuncani, Arequipa, Colca Canyon, Nazca, Pisco, the Ballestas Islands, Huacachina and Lima. 
From simple huts in villages at 12,000 feet above sea level, to posh restaurants in Miraflores, I found lomo saltado. Even the cook during our Andes drive/journey served lomo saltado one night at the campsite.
6. Cuy in Peru and Ecuador
I must admit, cuy (grilled guinea pig) was the only food I hesitated to try in South America. Finally in Arequipa, Peru, I took a bite from my husband's plate and another little piece in Gualaceo, an Andes mountain town in Ecuador. Eating local foods has never been a problem for me, but trying the more exotic types like cuy was a little different;
In my earlier travelling days, I had refused witchetty grubs (white larvae of the ghost moth) in the Australian Outback and regretted it. It's worth trying even the most unusual foods once in your lifetime.
7. Empanadas in South America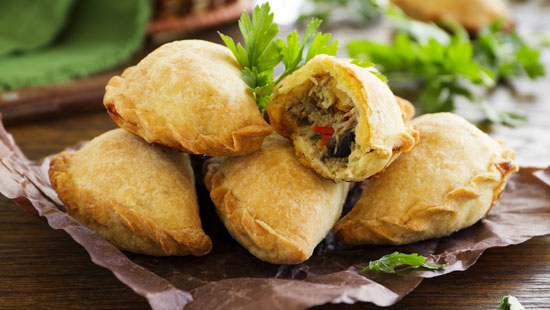 There are so many variations of empanadas in South America - fried or baked, vegetarian, seafood, chicken, beef, cheese or a combination of ingredients. The word empanada means "wrapped in bread." Empanadas are pastries with fillings wrapped in flour dough.
Empanadas are found everywhere in South America. In upscale restaurants, makeshift shacks, supermarkets and in street fairs. In Buenos Aires' Feria de San Telmo (San Telmo Sunday Fair) we saw a gentleman on his bicycle selling a basketful of empanadas. He had freshly baked chicken and beef empanadas, each at 20 pesos (about $1.50). His empanadas were fresh, warm and cheap - one of the best in Argentina.
8. Dry Aged Beef in Argentina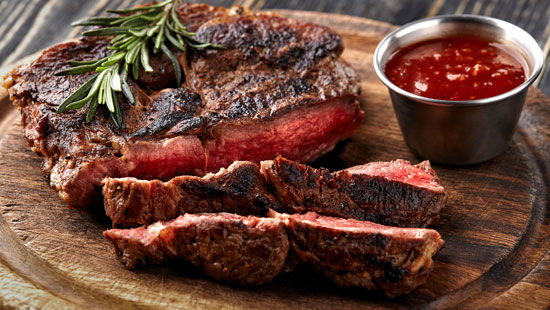 Argentinian steak is world-renowned. If you like beef, you must eat it in Argentina, especially dry aged T-bone steaks. What is dry aged beef? Think aged cheese and wine - dry aging improves the taste of the beef. It makes the beef more tender and flavourful. Dry aged beef costs a lot more than normal beef, but in Argentina you can have it at a fraction of the cost as in the United States. I recommend having dry aged t-bone steak at Elena Restaurant in the Four Seasons Hotel Buenos Aires.
9. Salchipapas in Ecuador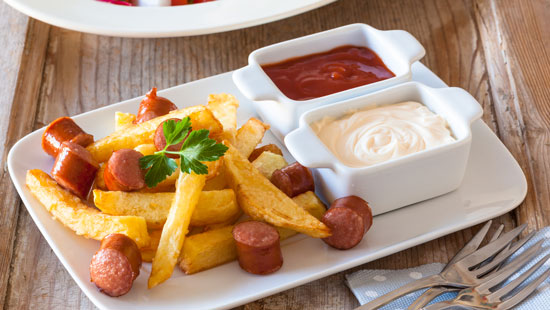 Salchipapas are fried hot dogs served with French fries and topped with ketchup and local sauces. It is a popular street food sold throughout Ecuador and Peru. Salchipapas in Ecuador are presented differently from the ones in Peru. To make the dish more presentable, Ecuadorians cut the ends of the hotdogs crosswise before frying.
10. Caldo de Gallina in Peru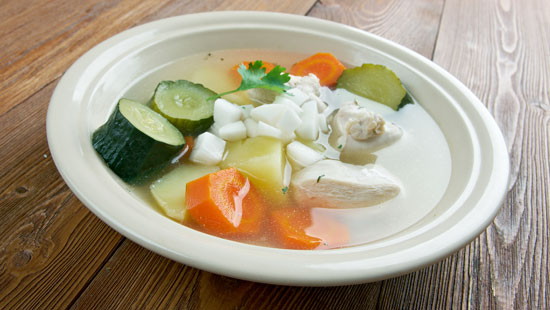 Caldo de Gallina is a popular Peruvian chicken soup. The soup consists of noodles, a tough piece of chicken (when ordering my Caldo de Gallina, I was told it was hen and not chicken), and one hard-boiled egg. It is usually served with a small bowl of ahi (sauce).
I saw workers in work clothes sitting on plastic stools having their bowls of Caldo de Gallina early in the morning at the food section of San Pedro Market in Cusco. My husband and I joined the crowd and had a bowl as well.
A bowl of Caldo de Gallina was just six Peruvian soles (about $1.80).
South America is easily accessible from the United States. It is one of my favourite continents to visit. I like the combination of guided and independent tours while visiting South America. It gave me the best of both worlds - the expertise of a guide and an opportunity to explore on my own. Try some of the foods listed here and always remember to practice caution - eat in busy and clean places and drink bottled water.