With its radiant green countryside, 3000km of dramatic coastline, myth-drenched landmarks and Guinness-and-whisky-fuelled-craic, Ireland rarely fails to beguile travellers. A brilliant way to explore Ireland points of interest is on Collette's six-day Irish Adventure. Offering superbly-located four-star hotels, comfy coach travel with Wi-Fi and many fine meals, the tour is boosted by local guides, whose insights are full of quintessential Irish charm and wit. Here are the highlights.
Dublin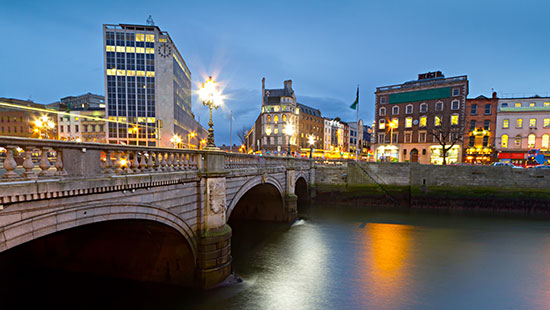 Our two-night stay in Ireland's buzzing capital began with a visit to Christ Church Cathedral, one of the city's most beautiful Gothic buildings. We scaled the belfry and tolled the world's largest collection of cathedral bells, then enjoyed drinks and canapes in the atmospheric crypt, which was constructed over the ruins of an old Viking church. The next day, we poured (and supped) our own pint of Guinness at the Guinness Storehouse, a sleek modern attraction attached to the iconic brewery, which has been producing 'black gold' since AD1759. On a walking tour of Dublin, we took in historic sights like Trinity College, before rustling up modern twists on classic Irish dishes at a cookery school. We had Atlantic salmon pate on freshly-baked soda bread, chive-infused honey glazed ham with garlicky wok-fried cabbage, and Granny O'Malley's apple cake with vanilla ice cream, followed by Irish coffee (infused with Bushmills whisky). Post-dinner, it would have been rude not to check out some of Dublin's marvellous old pubs.
Irish National Stud
There are few things the Irish love more than a good flutter - which helps explain why horse racing is such big business here. Nestled in fertile farmland west of Dublin, the Irish National Stud develops some of the world's finest thoroughbreds, and we were introduced to them on a guided tour of the lush paddocks, stables and curiously-named 'Love Shack' and 'Teasing Shed', while hearing how the breeding process has evolved, from the astrology-inspired methods of the stud's eccentric Edwardian-era founder Colonel William Hall Walker to today's science-driven ways, which have yielded champion stallions like 'Invincible Spirit'. After the tour, we strolled around another of the stud's best parts - its delightfully picturesque Japanese gardens.
Killarney National Park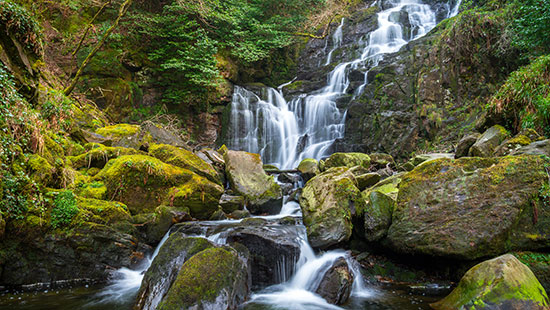 Two wonderful days were spent in Killarney, a quaint, friendly town in Ireland's south-west, where tourists love taking rides in 'jaunting cars' (horse-drawn carriages that traditionally traverse the Killarney area). On the town's doorstep is a majestic national park, which has, in the past, enchanted the likes of Queen Victoria, Charles de Gaulle and Percy Bysshe Shelley. Led by Richard and Charlie, two charismatic guides and their cute dogs, we sailed across the park's mountain-fringed, trout-and-salmon blessed lakes, stopping at tranquil Innisfallen Island, where Sika deer roam amid the ruins of an ancient monastery and 700-year-old yew trees. Later, docking by an imposing country manor, we hiked to a waterfall through a bewitching forest, before returning to Killarney for a delicious sit-down meal. Among the popular local dishes are slow-cooked Kerry lamb shank and Atlantic shellfish platters.
The Cliffs of Moher and the Burren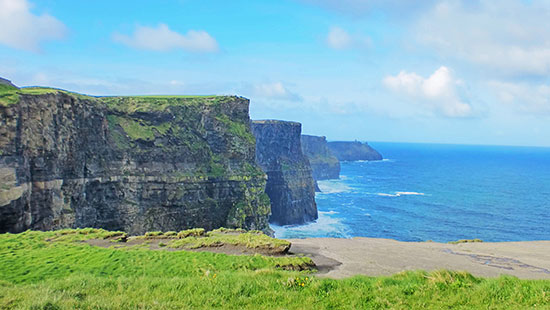 On our final day of touring, we savoured some of Ireland's most rugged scenery, beginning with a stirring walk atop the fabled Cliffs of Moher, which tower 200m and are constantly lashed by the Atlantic Ocean. The weather kept changing; one minute, everything was shrouded in mist and rain, the next it was clear and we gleaned mesmerising vistas of the sheer cliffs and the offshore Aran islands. After browsing displays about the cliffs' birdlife and geology in Moher's modern visitor centre, we delved inland to The Burren, a region of other-worldly limestone landscapes weathered by the elements and pockmarked with wildflowers, Iron Age forts and burial sites older than Stonehenge and the pyramids of Giza. We rounded off our enthralling Irish Adventure in the nearby, song-and-dance-filled town of Ennis, where we found a string of convivial bars and pubs, full of characters playing fiddles, flutes and accordions, looking like they were having the time of their lives.