Much of my childhood was spent day dreaming of a magical land my grandma described – a small island nation of regal opulence, where tea was served daily at 4 pm in dainty cups with matching saucers. My grandmother would tell stories about the delicate cucumber sandwiches, scones and cream and assorted jams served.
You see, grandma, who lived in a village in Malaysia had never been to London or anywhere close to Great Britain. She had only seen photos of ladies having tea and longed for that experience. Unfortunately, for her that experience never came to pass. But it has for my sisters and I – more times than I count. Throughout the years, grandma's stories about English tea have stuck in my memory bank. From my travels to Great Britain, I have experienced more than just the afternoon tea that my grandma described. In this article, I'll share my favorite British food experience. If you're visiting the British Isles anytime soon, make sure you give these British foods a try.
1. Meat pie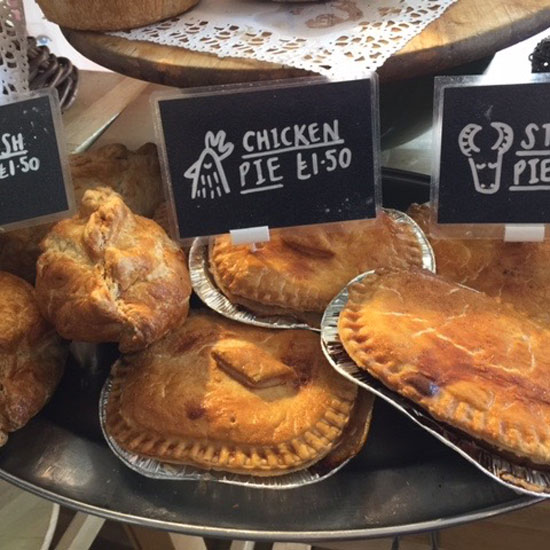 I love meat pies. I could eat them every day when vacationing in the UK. Savory meat pies have a pastry base with meat fillings as the name implies. Most have a pastry covering on top. Pies like Shepherd's Pie are topped with mashed potatoes.
ies often remind me of the English nursery rhyme:
Sing a song of sixpence,
A pocket full of rye
Four and twenty blackbirds
Baked in a pie.
When the pie was opened
The birds began to sing;
Wasn't that a dainty dish,
To set before the king.
According to an article by The Telegraph, historians suggest that in ancient times, pie crusts were given to the servants while the rich ate the contents.
Pies are served either cold or warm and are available in pubs, deli, and some restaurants throughout Great Britain.
2. Mushy peas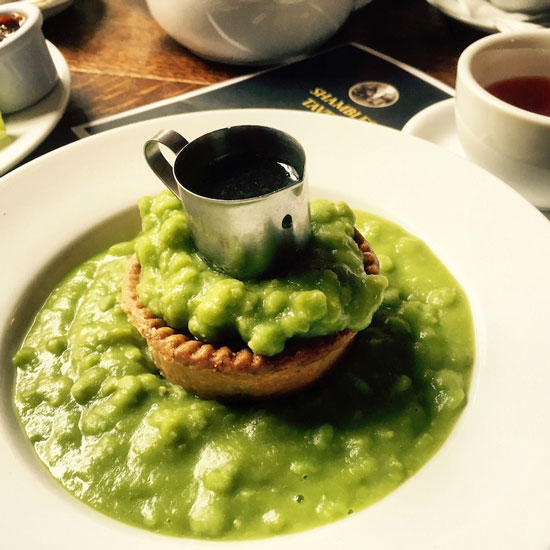 In York, I had a pork pie with mushy peas and mint sauce. Traditionally made of marrowfat peas (mature peas), these days mushy peas are just mashed frozen peas. Nevertheless, it looked and tasted authentic with the meat sauce. Restaurants and pubs serve the mushy peas as a side dish with pork pies or fish and chips.
3. Sunday roast and Yorkshire pudding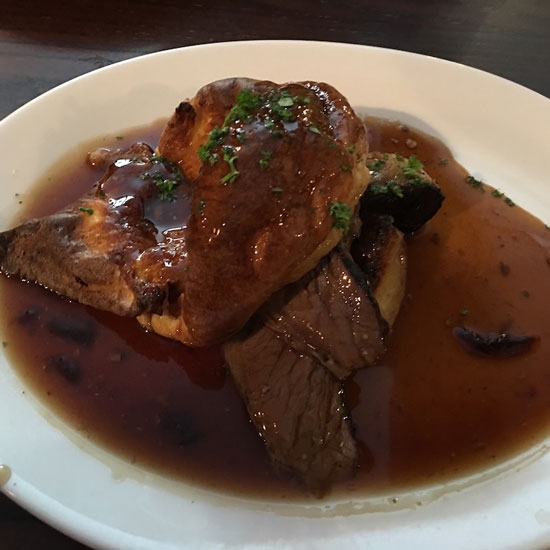 During my travels, I ate my fill of traditional meals with the locals, however there was nothing quite like eating British Sunday roast beef and Yorkshire pudding in a pub. That puffy Yorkshire pudding soaked in brown gravy was the best part of the Sunday meal. The dish also had sides including potatoes and seasonal vegetables.
Sunday roast usually refers to roast beef, but some restaurants and pubs use chicken, lamb or pork instead.
4. Full English breakfast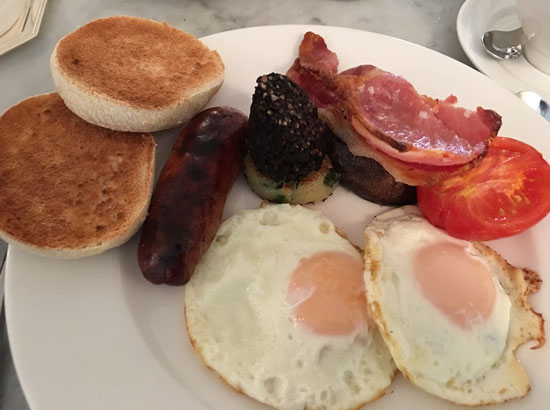 Throughout Great Britain, you'll find full English breakfast served in hotel restaurants and any restaurants that serve breakfast. This hearty meal to start the day is a must if you're going out for a long day of exploring.
Typically, a full English breakfast has sausages, eggs (cooked to your request), blood pudding, bacon, potatoes, tomatoes, mushrooms, and toast.
5. Fish and chips
Who can resist piping hot fish and chips (French fries) served with a cold beer? In the early 90s, my fish and chips in London were wrapped up in a newspaper.
I have eaten fish and chips at least ten times over the course of three separate vacations in the British Isles. The best is in Whitby, a seaside town in North Yorkshire. Unfortunately, the café is closed due to a devastating fire a few months ago.
6. Pub food with Colman's Mustard, HP Brown Sauce, and Sarson's Malt Vinegar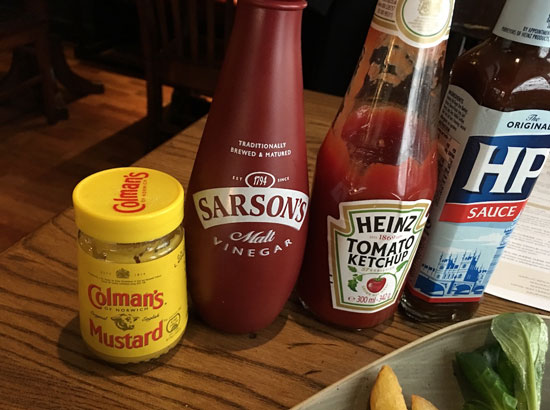 Unlike American restaurants where you will find ketchup, salt, and pepper, in a British pub, I noticed they had Colman's Mustard, HP Brown Sauce, and Sarson's Malt Vinegar. These condiments have been part of the British food culture for 200 years.
Colman's Mustard is a 200-year-old establishment which produces the famed mustard used as a condiment on roast, gravy, and sandwiches. HP Brown Sauce has almost 120 years of history; it's the original brown sauce made from a closely guarded secret recipe. Add a dash to your hot or cold food for more flavor. Sarson's Malt Vinegar was started in 1794, making it the oldest among these groups of British condiments. Try it on your fish and chips.
7. Scones and tea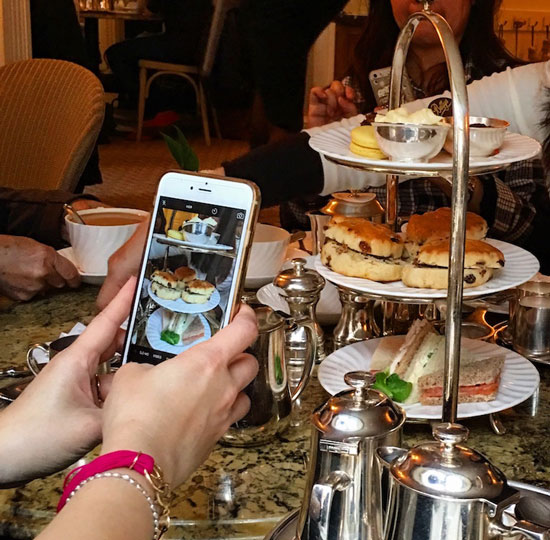 When vacationing in Great Britain, take a break and enjoy a cream tea or afternoon tea. Teatime is set between lunch and dinner. For a pot of tea with scones, clotted cream and jam, ask for cream tea. A full-on afternoon tea may include a pot of tea along with a three-tiered tray filled with scones, sandwiches, quiche, cakes, and cookies.
Afternoon tea is an English tradition; one that has endured for generations. Tea is great to enjoy with friends or family while visiting London or other cities in the UK.
8. 99 flake or flake with ice cream
I discovered 99 flake – Cadbury Flake with ice cream – back in 2006, while soaking up the sun at a café outside the Tower of London. My kids then ages 8 and 11 wouldn't stop asking for it after seeing other kids with theirs. Ever since then, we would buy a few packs of Cadbury Flakes when in London to bring home to recreate our 99 flake.
Flakes are chocolate bars made from thin 'flakes' of milk chocolate. According to Cadbury, Flakes have a closely guarded recipe, impossible for other chocolate manufacturers to copy.
9. Curry noodles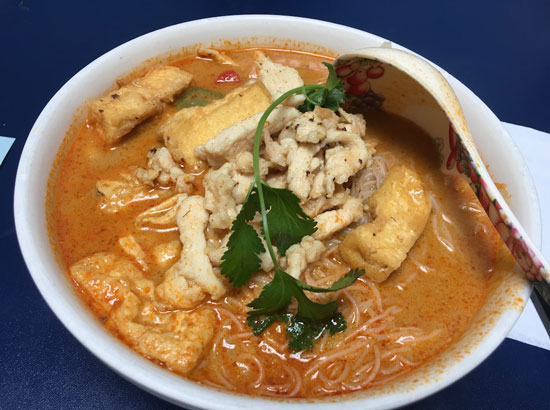 Since the first curry house was established in London 200 years ago, Britain's love for curry has only grown. In fact, you will find at least one curry house in any neighborhood throughout the British Isles. Even Marks & Spencer Simply Food, a supermarket chain in Britain, sells tikka masala – chicken in dried curry sauce.
Besides authentic Indian curry, you'd also find Singaporean and Malaysian curry shops. I found one near Victoria Station in London serving curry noodles.
10. Sconwich
In Britain, it's not unusual to find sandwiches made with savory scones, lettuce, and ham. At Tarts and Titbits, a deli in York, the owner Phil Black makes the best vegetarian sconwich. Try it when you see one on your journey through Great Britain.