I packed my bag the day before my trip to Chicago and Mackinac Island in Michigan. I tried really hard to fit everything in one suitcase, but it just doesn't work, for me anyway. 
I have been to both Chicago  and Mackinac island before, however, it's been a long time since the last time I was here. In fact, the last time I was here, I took my 3 kids. They were 10, 12 and 15. They are now all in their 40's, so it's been awhile.  In fact, now they have kids of their own, and lucky us, we have 8 grandchildren!!
We met our fellow travellers on our second morning right before we boarded our bus. Our first stop was Wrigley Field, the home of the Chicago Cubs. I went to a game there many years ago and it is truly a Mecca for baseball lovers. Fenway Park will always be the most historic park to me, but Wrigley is in second place. I'm sure people in Chicago say differently though. 
We toured Chicago all morning and saw some very impressive architectural sites. One thing stood out. The jelly bean sculpture which is made of mirrors. We found ourselves in the mirror and snapped our picture. Chicago is a mixture of so many designs and quite beautiful. We also did the architectural cruise on the Chicago river.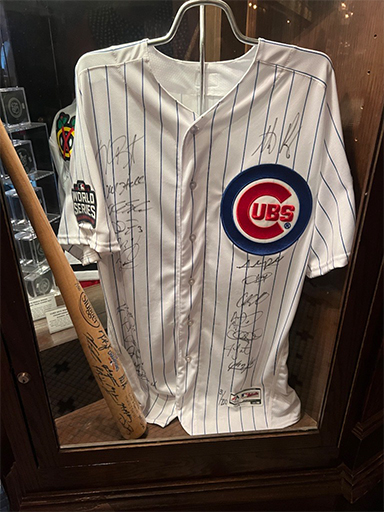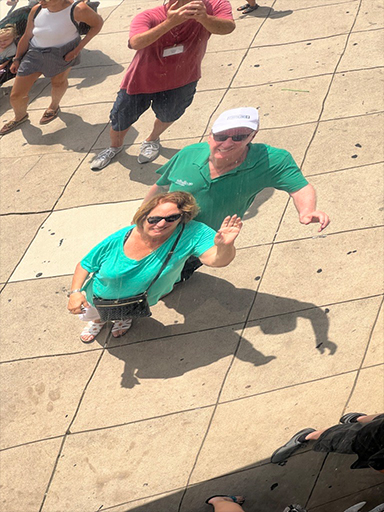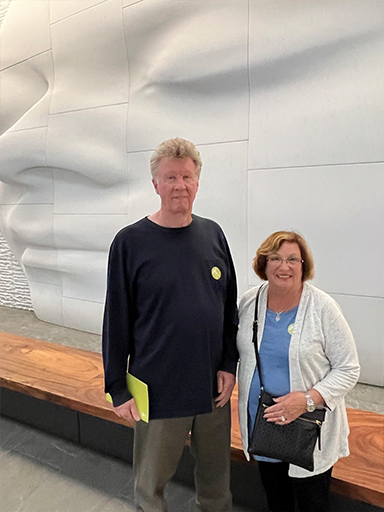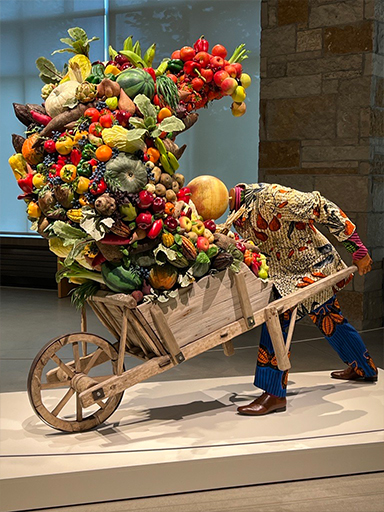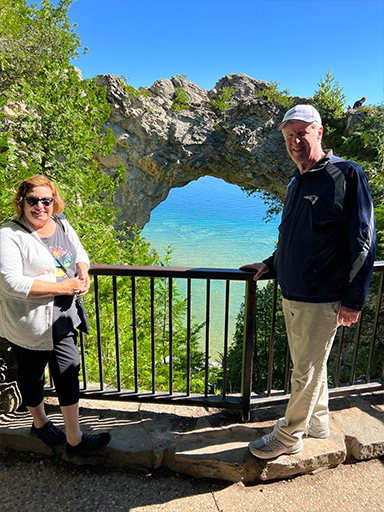 From dinner we went to the Harry 
Caray's Italian Steakhouse. It was loaded with sports memorabilia, especially the Chicago Cubs and White Sox.
Harry Caray was an infamous sports announcer and started the singing of Take Me Out to the Ballgame in the middle of the 7th inning during baseball games. To this day it is still sung, and  in Boston at Red Sox games they have added Sweet Caroline to the midi of the 8th inning. 
Dinner was delicious and memorable. 
Started day 3 boarding our bus for Grand Rapids, MI. On the way we we stopped at the Frederick Meijer Garden & Sculpture museum where we had lunch, then boarded a tram which took us around to the various gardens and sculptures. It was quite impressive to see. 
After that, we headed to our hotel, The Canopy, a little boutique hotel nestled in Grand Rapids. There was a lively corn hole tournament going on when we arrived. We went to dinner and then off to bed. 
The next morning we were finally off to Mackinac Island, which I think for most on our trip that I spoke to, was a bucket list destination for them. I have been to Mackinac Island twice before, but when I arrived, it was as magical as the first time I went and that was back in 2003!  
We arrived to hop on our taxi, our horse and buggy team of Sonny and Simon. They pulled us up to one of the most beautiful and impressive hotel entrances you will ever see. The Grand Hotel originally opened its door to the public in July, 1887. It was grand then and the same today. Words honestly can't describe it, but believe me, it can take your breath away the first time you stand on the red carpeted stairs that take you up the the 660 foot porch, with its many rocking chairs, you look over the island and an expanse of Lake Huron and the Straits of Mackinac. It is truly amazing. 
When you enter the hotel, you take in the vivid colours of the Grand Hotel!!  It is one of the most colourful hotels I have ever been to.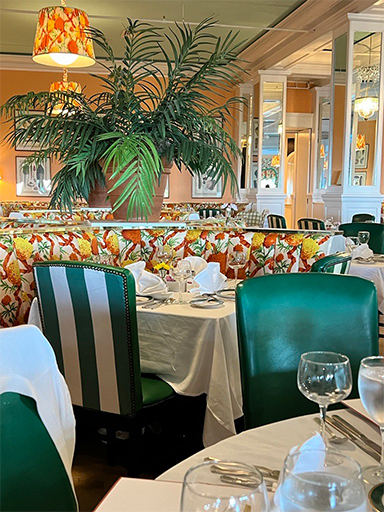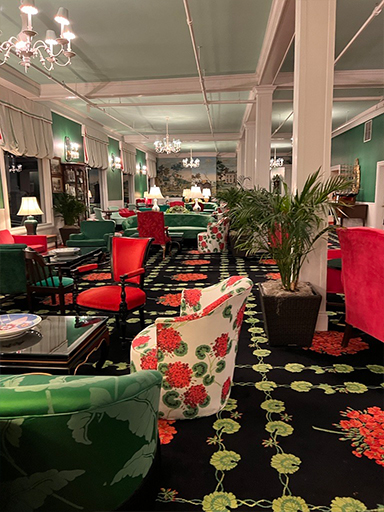 With that we begin our two night stay at this beautifully magnificent hotel!  
One thing about the Grand is that you get dressed for dinner, which is actually really nice.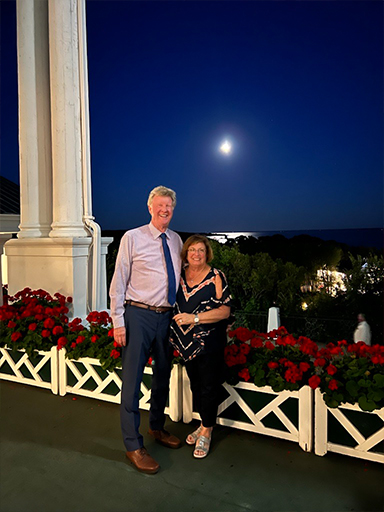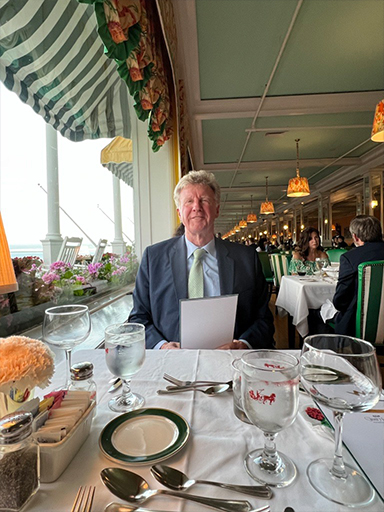 Dan was the perfect date for our dinner in one of the largest dining rooms I have ever seen. Everything was delicious and beautifully presented. After dinner we met family and fellow travellers on the porch and settled in to our rocking chairs for a cocktail and took in the view. Even at night it is quite beautiful. 
After breakfast the next morning we were picked up by our horse & buggy and went into the woods of Mackinac Island. We saw so many beautiful sights and I have to say our buggy drivers were funny and made our tour very entertaining. 
After that some of us got dropped off downtown and did some shopping. There are many great stores to shop in, and one of the things that draws you into a few shops was the smell of chocolate from the many fudge stores. In fact, the people who live on the island and work there call the many visitors, Fudgies!  
I guess they sell a lot of fudge!
That afternoon we had lunch under a tent at the Jockey Club, which is a casual restaurant at the Grand. It is located right on the 18 hole golf course. The weather was picture perfect and we enjoyed sitting outside on the "porch" after lunch. 
After another beautiful and delicious dinner we walked around and ended up (surprise) back on the porch for a cocktail with family. A great way so close out our day. They also have a ballroom with an orchestra for dancing the night away as well. 
After breakfast the next day we relaxed and then took a final horse & buggy taxi to town as we headed to the ferry to depart  Mackinac Island. What truly wonderful memories we created on this trip to the Island. 
We then set out for our next hotel in Bay City, MI. It was lovely and we had fun with our fellow travellers at dinner. There was a concert next door playing Neil Diamond music and was very good. 
The next morning we set off to Detroit and our hotel for the next two nights. On the way we stopped at the Alden B. Dow Home & Studio Museum. I had no idea what to expect but let me say, it was a very special treat. 
His home was designed by him and it was eclectic and quite different. Built in 1936-40, it was an array of work spaces and a beautiful but very different home. It is considered Mid-Century Modern and everything inside actually brought me back in time to my moms home and how she decorated it. Our house was not as big or as "decorated" as the Dow house but my moms flair for choosing modern furniture including her lava lamps and modern art, brought back memories. The kitchen really sparked memories as well. It was a surprising treat to see this elabourate home/office and I would highly recommend seeing it. 
The final day of our trip we drove to the Ford Museum and Greenfield Village. I had been to both before, so I knew what to expect but even so, I loved being there again!  The Ford Museum is definitely one of the best I have been to and on this trip, there was a Disney exhibit that showed many outfits and gowns worn by the stars of various Disney features. This was a great highlight for me and I saw most of the movies these clothes were worn in. I was very excited to be able to see this special exhibit and participate in a Disney experience. 
Greenfield Village is a working village with many displays that were deconstructed in one part of the country and brought to this village. Some included the Wright Brothers home and Edison's home. There is an actual working farm, model T's that drive you around the village and a railroad train ride that takes you through the village as well. We walked many steps and it was worth the steps we took. There are wheelchairs and motorized seats for those who can't make all the steps. 
Both of these destinations were a highlight of our trip to Detroit. For dinner we went to the Ford Garage. Dinner was great and the restaurant is decorated with all things to do with automobiles. It was fun to see. 
Now we are heading home with our trip behind us and our memories to keep us till our next adventure….soon!!