From

£1,299

pp*

Save up to

£185
Spotlight on Tuscany
From

£1,299*pp
Spotlights
*Prices are per person for tour only based on 2 people sharing. Personalise your tour with our range of competitively priced regional flying options.
Tour Types
Classic

Enjoy a refined take on the art of group travel.

Exploration

Experience true adventures on these Collette small group tours.

Faith

Set out on an inspiring journey on these faith-based travel experiences.

River Cruise

Explore the world's most beautiful waterways.

Spotlights

Come to know your destination during a single-hotel stay.
Your Tour at a Glance

Stay

Meals
Tour Activity Level
The activity level for this tour:
At a very leisurely pace, this tour involves minimal physical activity, such as climbing some stairs, boarding a motorcoach, and walking from the hotel reception area to hotel rooms and dining areas.
This tour requires average physical activity. You should be in good health, able to climb stairs and walk reasonable distances, possibly over uneven ground and cobblestoned streets.
This tour includes moderate physical activity. The itinerary blends some longer days with shorter days and more leisure time. Walking tours, as well as walking slightly longer distances, up stairs or on uneven walking surfaces should be expected.
To truly experience the programme and destination, you need to be able to participate in physical activities such as longer walking tours, walking over uneven terrain, climbing stairs and periods of standing. Some of the touring days may be longer, with select included activities occurring later in the evening.
This tour is very active, requiring participants to be physically fit to fully enjoy all the experiences. This itinerary has more strenuous activities which may include such things as: extensive walking tours, transfers over uneven and dusty terrain, high altitudes, early morning departures, late night activities, or extreme temperatures. All conditions do not apply to all days, so please read the itinerary carefully and speak to one of our travel counsellors to determine if this tour is right for you. We recommend this programme to individuals who are physically fit. Unfortunately, this tour is not appropriate for individuals who use either walkers or wheelchairs. If this trip is not ideally suited for you, our travel counsellors can help determine the perfect trip for you.

Want some help? Call us.
0800 804 8705

Itinerary
Spotlight on Tuscany
Use the selector below to choose a date that works best for you
Please Wait...
and get excited!
We are currently building the itinerary for the tour date you have selected.
Special Offers Disclaimer
See Our Collette Travelers on Tour
#GuidedByCollette
Reviews of Spotlight on Tuscany
Service

Service was fine.

Tour

Tour included an individual that was not physically capable which caused problems. In addition, that individual was totally inconsiderate in causing the entire3 group to be delayed because he took off on his own and we had to find him.

Service

Everything was done extremely well!!

Tour

The history in all the cities was wonderful. I especially enjoyed the information in Pizza.

Service

There was not enough pre trip information for those of us who have never traveled overseas.

Tour

Once safe with our group the trip met my expectations.

Service

Fantastic. From the first class hotel to all the sites we visited and, especially, Sergi, our tour guide. What a jewel of a man. He is witty, funny, concerned, and extremely helpful.

Tour

We visited small farms and busy cities. We visited iconic sites like Leaning Tower of Pisa and towns I still cannot pronounce their names. Drank a lot of wines that were simply delicious and tasted foods that were unique. Gelato became a favorite dessert.

Service

the tour guide was really good. he knew every city really good and knew what shops to go and what food to eat.

Tour

everything was really good.

Not sure I would travel with Collette again because of Kevin & return issue

Service

The trip was fabulous. Alexandre Dorobanto was fantastic including personable, knowledge of tour areas visited as well as her professionalism. I could not have expected a better tour guide. Our bus driver was also fantastic. That being said, the Collette tour information received before the tour, Kevin, gave us some incorrect info. For example, he told us we should exchange US currency to Euros once we got to Europe. We should have made the exchange locally at either AAA or our local bank which would not have charged us for the service. I was charged $28.00 in Europe. He also should have been knowledgeable about the hotel amenities, he was not. In addition, he should have told us about the spa across the street from our hotel as some of us might have scheduled a spa treatment. Also, Collette should have been aware there was an Italian national holiday on Nov 1 which many Italians used as a holiday long weekend. We traveled to Florence on Saturday, Nov 3, and it was EXTREMELY crowded. It would have been nice to visit Florence on a less crowded day. Finally, Collette should have informed everyone we would not be in the U.S. on Election Day in order to get absentee ballots. I did this once I realized it, but Collette should have advised. I did have an issue with one of our return flights being cancelled on the way home which I have resolved.

Tour

Issues with Kevin and flight issue coming home

Thank you for traveling with Collette to Tuscany. Your feedback will be reviewed by the Director of Outside Sales in order to improve and enhance the pre tour experience for our guests.

Collette Support

Service

Each time I phoned for payment or with questions, the service was courteous and efficient.

Tour

Norman, our marvelous group guide/"tour manager," needed to help one couple with acquiring their awaited but missing vote-by-mail U.S. ballot for the Nov '18 election, and to help locate and shepherd an elderly lone man who had mobility and memory challenges, as well as to help another man alone after his wallet and U.S. passport were stolen--all during the same one-week trip!

Service

I'd like to say 4.5 stars. The only negative was really due to the weather. We weren't able to go to Cinqe d' terre and had a trip to Bologna substituted. Not as spectacular but Collette was concerned for our safety so it was understandable. My tour manager Alexia was superb and made the whole trip just wonderful!

Tour

Loved Pisa, the trip thru a contrada in Sienna and the Gothic line visit. Especially wonderful was our tour managers side trip to the American cemetery.

I had never gone on a group tour.

Service

The arrangements, the tour guide, and activities were all excellent.

Tour

EVerything about this tour was amazing. The tour guide, Mattia, was capable, entertaining, and personable. The people on the tour were fun and easy to talk to, and the Tuscany sites were so beautiful and interesting. I would not hesitate to do this again.

Service

I know they provided great rates and service for a few people in my group who wanted to add trips before and after our scheduled trip. During our stay there was a cancellation of a great day trip that everyone was looking forward to. The crew in the US put together a great alternative trip in a short amount of time that filled in the gap.

Tour

The tour manager and driver made the trip so much more fun! We felt that we were in good hands all the way. They met as at the airport and provided insight and information and confidence to travel in this foreign place to us. The small towns with personal guided tours by locals gave us the insiders view.

Service

Always willing to answer all my questions.

Tour

Nice to stay in one hotel for the week. Having tours arranged daily where great.

Service

Very efficient. The trip was well planned and organized. Terrific service.

Tour

Just an awesome tour. Each city was amazing. Local tour guides were excellent. Such charm. Loved the cooking class, cheese farm luncheon, and wine taste. Would book again. Have recommended it to all.

Service

I did think the staff were helpful in answering questions and providing assistance. The tours did not include seeing "inside" buildings and museums. It felt as if we spent more time on the bus than actually touring.

Tour

The tour did not have enough substance. We spent more time on the bus and then just walking past buildings. The tour agent who handled the booking was very inefficient and rude.

Service

The tour was well planned and truly enjoyable. I appreciated the preplanning suggestions we received in advance.

Tour

Well organized and extremely enjoyable

Service

Disappointed with the advertised and actual happenings

Tour

Too many people on this trip

Thank you for traveling with Collette to Tuscany. All Feefo feedback and written surveys will be reviewed by the Product Design Team in order to enhance the overall touring experience for our guests.

Collette Support

Service

Yes I would certainly travel with Collette again. I know they want you to experience alot but I would have also enjoyed some more time that the traveler could use at their discretion ie: to explore local town.

Tour

Lots of local experiences and thoroughly enjoyed all guides especially Guiseppe

I fell in love with Tuscany

Service

My Tuscany tour was amazing. Guide Antonio was the best I have ever met. He kept us on our tight schedule (not an easy thing to accomplish). He was very knowledgeable. Antonio was polite, professional and extremely kind. Tio was a great driver. I felt very safe with him. Very conconsiderate in helping the elderly. Sights were amazing ~ I loved everything. The hotel was ok. It was in an excellent location.

Tour

It was awesome! Food was excellent. Sights were gorgeous.

Service

I'm not sure who planned the trip but they did a very poor job. Scheduled us to visit Florence on Monday. We had to tell the travel agent the museums were closed on Monday. We went to **** on Tuesday which was cruise ship day. Another bad decision. We had a 7 hour layover in Paris after our all night flight, then an hour and a half flight to Florence and the 30 minute bus ride to hotel. The other group had a 3 hour layover. 65 people were on the trip. Our bus didn't have leather seats or Wi-Fi like the other bus. The cheese farm had a lovely lunch but didn't see one one sheep, only a pig and a donkey. Didn't see where they stored cheese or even a demonstration on cheese making. There were many differences between the two groups. The people on our bus were treated like second class citizens and we all paid the same price

Tour

Cinque Terre was beautiful and it was enjoyed by everyone on the trip.

Thank you for traveling with Collette to Tuscany. A member of the Guest Relations Team will be reaching out to discuss your feedback.

Collette Support

Service

The tour was well planned. Our gude was beyond knowledgeable and shared so much with us. Our motor coach driver was very skilled and personable. Accommodations were pleasant and included meals were superb. Reasonably priced, this tour was excellent.

Tour

Optional trip to Cinque Terre was magical. The included meals were a true experience and D-elicious.

Service

The tour of Italy was excellent, though the air travel could have been better. Very long layovers getting there.

Tour

The tour was excellent. Accommodations were good. I loved Lucca and Monticontini was a very nice town.

Service

We loved our tour guide Pilar (Cookie) and our driver Franco! All the excursions were first class and educational. All the other specific town guides were so great at the history and knowledge of the that area. It was very fun and we would do it again with Collette!

Tour

The great stories our tour guide as us of each region.

Service

It was a fabulous trip of my life time. Great sights and destinations. The food and wine and people were terrific! Everything was so organized a head that you knew what you would be doing every minute. Yes. I would go again and have recommended Collette to many other people.

Tour

Loved all the details we got from our tour guide. She gave us great insight to everything on the tour. The food was out of this world. Great ! Favorite city was Florence. Loved all the history and art works of Michelangelo. Truly loved everything.

Service

Collette seemed to care about its customers and helping with any problems that may have arisen. I will definitely book another Collette tour in the future.

Tour

Even though an optional tour was cancelled due to weather concerns (and rightfully so), the day we spent finding something else to experience was one of my favorite days on the trip. We discovered Montecatini Alto, right about Montecatini Terme where we were staying, and wandered around for a few hours. It was beautiful and not crowded at all.

Service

I was very happy with the service received from Collette. The site gave information I was interested in, An introduction letter from our Tour Manager Mario, made me feel that there was genuine interest in ensuring I had the best tour possible. The hotel was good, the sites and guides were fantastic, the people were incredible! I will definitely use Collette again!

Tour

The tour team,: Tour Manager, the site guides, the bus driver., and of course the destination! I can't state a favourite memory except to say , the tour was worth every penny, The Collette team in Canada but especially in Tuscany made this trip perfect.

Service

The trip was exactly what I had always dreamed of when I had planned in my mind of going to Tuscany. It was the perfect blend of exciting, fun, adventurous, relaxing and just plain wonderful !

Tour

Going to Siena and learning about the history of the neighborhoods and horse races.

Service

Awesome service! The local guides were great; knowledgeable and friendly. My only suggestion is to have smaller groups. Having 45 people in the group was hard to manage.

Tour

I loved visiting Cinque Terre and the drive through the countryside. The tour was amazing, there were just too many people in the tour.

Service

Everything good but hotel and therefore cannot recommend.

Tour

See above hotel wasn't even close to satisfactory

Thank you for traveling with Collette to Tuscany. A member of the Guest Relations Team will follow up with you.

Collette Support

Great trip, great value. Can't wait to go back to Tuscany!

Service

Spotlight on Tuscany was a well organized tour. Being based out of one location with our daily trips to our featured location was a plus. The tour covered a lot of territory in seven days. The coach was comfortable and tour director, Luigi, was excellent. We would definitely recommend Collette to our friends.

Tour

The Spotlight on Tuscany was a very interesting and educational tour. Although we covered a lot of beautiful territory in seven day, our favorite spot was Cinque Terra.

Service

great guides and tour manager and bus driver

Tour

Florence , cooking class, gothic line all amazing

Service

Well managed tour. Great guide. Good value for the money

Tour

Hotel was in a great location.

Service

For a single traveller, this trip was the best to Tuscany of all the tour companies I looked at. It was the most interesting I have been on because of the variety of experiences on offer. The Tour Manager was very good as was our coach driver and the local guides employed. I should have liked a small break in the morning activities to enable us to have a morning drink together. We were all disappointed that the Tour Manager was not with us on the morning of our departure to see us off as she had been assigned to start another tour before we left.

Tour

The variety of experiences - cooking class, winery visit, visit to the cheese farm plus the local tours.

Service

Wonderful time with Collette in Tuscany! Fabulous guide Mickey! A little too much FYI in towns from guides there. Would rather have had a little more free time. But the guides were very good. Carlo was exceptional in Lucco and at the museum. So interesting!

Tour

Great time,good guides, great food and weather. Lucca was favorite Our driver was not in Florence to meet us. Airport travel aid and info NOT helpful but a BEAUTIFUL young man called Collette in U S on his phone for us and got arrangements made.

Great experience - Great People

Service

This was our second trip with Collette. Both trips were incredible. Everything was prepared to a tee, well thought out and just incredible. But the best if all are the tour guides. So well prepared, informative and incredible personalities. We will definitely be traveling with Collette again and would recommend them to everyone.

Tour

The ancient towns in the Tuscany region were amazing with their rich histories and the beauty of the countryside will be something that stays with us always.

Would love to travel with Collette again.

Service

Great guide and very good schedule.

Tour

Overall, very good, and good tours.

Amazing trip & Amazing Staff

Service

The tour guide was awesome. She was pleasant, knowledgeable, patient and make herself available when needed by some travelers. Her partnership with the driver made everyone feel comfortable.

Tour

The trip was amazing in the beautiful Tuscany area of Italy. All of the cities/villages we toured were all fantastic. My most favorite memory was spending time in Florence.

A memorable tour of Tuscany

Service

The tour logistics were handled well. Our lead tour guide Alexa did a very good job.

Tour

The tour was well executed. The visits to the Gothic Line, Siena and the optional tour to Cinque Terre were my most memorable experiences. Reasons for not 5 stars: The hotel was a poor experience and 2 of the 3 optional events were cancelled due to low turnout. Hotel issues: too noisy outside at night, shower barely usable, expected main floor restaurant & bar to be busier (appeared to be past its prime).

Thank you for traveling with Collette to Tuscany. Your comments have been forwarded to our Product Development Team. This feedback will be used to enhance this tour for our future guests.


Collette Support

Service

Everybody from Collette was friendly and helpful. Most of all, they were all accommodating. Trying to accommodate 40+ people can be challenging and Collette did a great job of it.

Tour

My most memorable experience of the trip was going to a Tuscany winery and doing a cooking class on how to cook pasta and getting to eat in the wine cellar. The winery staff was super nice and the food was delicious.

Service

Yes, I would go with Collette again. They had an outstanding tour with a good tour leader Mariangela.

Tour

Michelangelo's David was a highlight as well as Cinque Terra and the town of San Gimingnano.

Service

Great program manager. Lots of good local history of visited areas.

Tour

Statue of David and Coastal experience

Service

It was very difficult to get an agent on the phone. I ended up emailing because that was quicker than trying to reach via phone.

Tour

Excellent tour overall. Our tour guide was the highlight.

Service

Everything was awesome. All arrangements and tours were great.

Tour

Very informative and organized. Pisa was my favorite.

Service

Over all the trip was good. The flights could have been better by only having 1 lay over instead of 2 in each direction. The biggest complaint we had was the package included pick up at all airports and when we arrived in Italy our driver wasn't there to meet us, we had to wait 40 minutes for our ride to the hotel. When we arrived home our pick up was 30 minutes late.

Tour

Every city we visited was great. The tour guides did a great job.

Hello, Judy.  Thank you for sharing your experience with the airport pickup and drivers.  We have passed this along to our team for review.  We appreciate you and look forward to traveling with you again soon!

Collette Support

Service

Very organized and well thought out places you took us

Tour

Loved Florence because of how easy it was to navigate. I never felt lost there.

Service

*Personal details removed by Feefo* Our travel guide was amazing! He sent a pre-tour itinerary, kept us updated and safe. All guides in every city were knowledgable and helpful. Needed more time for "on our own" exploration.

Tour

Cinque Terre and overlooking the cities from towers and uphill.

Service

Very helpful service. Quick responses to questions

Tour

Well paced trip. We liked the fact that we stayed in one hotel. Probably the favorite experience was the optional Tuscan cooking class. But we enjoyed also the day in Lucca, one of our favorite places.

Service

We picked this tour because we wanted to see Tuscany and we did.*Personal Details removed by Feefo* was a great tour manager and *Personal Details removed by Feefo* was a great bus driver. The tour was everything we hoped it would be. We arrived back home and booked another Collette tour.

Tour

See the previous comment.

The service is top notch from the first contact on the reservation inquirie...

Service

The service is top notch from the first contact on the reservation inquiries throughout the trip.

Tour

We loved staying in one location and day-tripping out for more adventures!

By and large, a great trip overall, and we will probably use Collette again

Service

The Cheese factory visit was not as expected, no actual look at their operation. However the lunch was quite good, and the country side trip was appreciated. The first night dinner was a disgrace for such a hotel and did not meet our expectations considering Collette's reputation.

Tour

See previous comments re the overall tour.

Lucca wins! The highlight was this charming town within medieval walls!

Service

The tour was great, the hotel was good and had a central location , the tour guide had a great personality and was very knowledgable , loved the sightseeing

Service

Great trip! This was my first trip with Collette .....I had no idea there would be 38 people but it all moved along smoothly! Our tour guide is a delight to work with.
Other Tours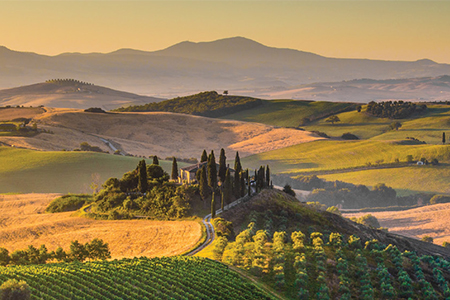 Spotlight on Tuscany
8 Days 10 Meals
Tour Rating: :
from £1,299 pp

Make your move! These hot deals sell out quickly.
Discover the rolling hills of Tuscany as you take a relaxing sojourn through the vineyards, medieval towns, and enchanting cities of Florence, Siena, Pisa, and San Gimignano.
Tour Detail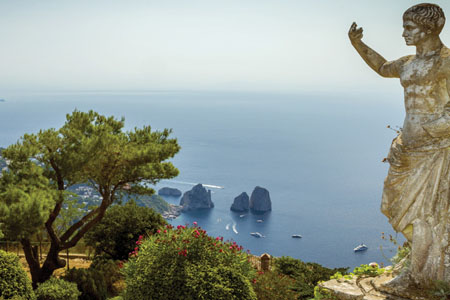 Italian Vistas
12 Days 17 Meals
Tour Rating: :
from £2,599 £2,399 pp
Save big on select departures with these special offers.
This comprehensive tour allows you to delve deep into the history and culture of Italy as you visit some of the world's most beautiful places.
Tour Detail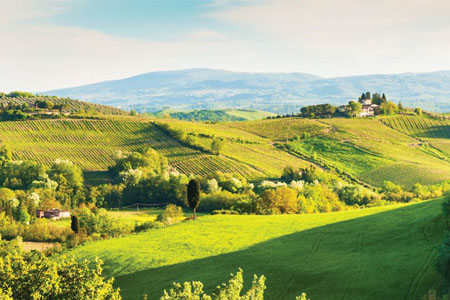 Reflections of Italy
9 Days 13 Meals
Tour Rating: :
from £1,999 £1,799 pp
Save big on select departures with these special offers.
Explore in Rome, Venice and Florence and revel in the magic of this famed destination as you set out on this introductory tour.
Tour Detail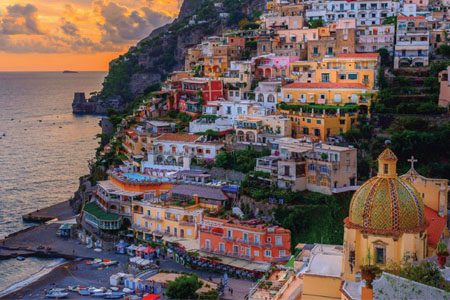 Rome & the Amalfi Coast
9 Days 13 Meals
Tour Rating: :