If you're a fan of blues, jazz, country and good old rock 'n' roll, this is the tour for you! Whether you're into reliving the music of your youth or you'd just like to see where it all began, America's Music Cities tour will not disappoint. Get your dancing shoes and let's go!
RCA studio B
 RCA's studio B is Nashville's oldest recording studio. It's where Elvis Presley, Dolly Parton and Charlie Pride once recorded some of their classic tunes. A visit to the studio reveals how each artist recorded their big hits, but the real fun comes when your tour group gets to record their very own song! You may not be very good, but you'll have bragging rights for sure. Not many people can say they recorded a song at Studio B!
Graceland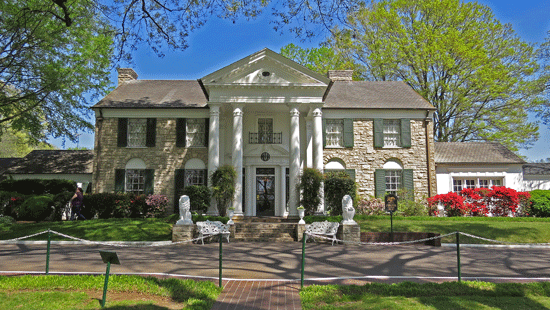 Graceland is the former abode of Elvis Presley. There you'll find his home, original business office, trophy building and exhibits from his life at the palatial 14-acre estate. Visit the Meditation Garden where Elvis and members of his family are laid to rest. Even though you've probably seen lots of photos of Graceland, nothing compares to actually standing in the place where The King of rock 'n' roll actually lived.
Jazz revu
The Jazz revu at the French Quarter jazz club is spectacular. It includes prime seats and a drink. After the revu you can choose to either stay at the bar to hang out with the locals, go back to the hotel to rest your dancing feet, or explore Bourbon Street. If you choose to go to Bourbon Street, prepare to be overwhelmed in the best possible way. It's definitely something to experience.
Belle Meade Plantation
Visiting this marvellous estate is like stepping back in time. The rags to riches story about the plantation is fascinating as it started out as a humble log cabin on 250 acres and grew to a staggering 5,400-acre thoroughbred horse farm with a mansion, deer park, rock quarry and even a train station! After seeing the estate, a three-course meal and wine tasting held in the beautiful stables is a big treat. (Don't worry. The horses have moved out.) The food is absolutely delectable and the wine is delicious.
Memphis
The city tour of Memphis, the home of the blues, rock 'n' roll and soul, includes local musicians on board the coach to tell the story of Memphis' musical heritage and history as you pass by the city's highlights. It's hard not to break into song at this point, but it's ok if you just can't help it. Join in!
You'll also thoroughly enjoy your trip to the Country Music Hall of Fame, the Grand Ole Opry, Music Row, the Parthenon, the Ryman Auditorium and Beale Street's music clubs. Fall head over heels for the incredible Cajun and Creole cuisine that leaves many people with some serious cravings once they return home. Not to worry though! There's a cooking class to teach you how to cook New Orleans-style. This tour includes everything you can imagine and more!