Are there places you've been longing to visit for years only to feel let down when you finally got there? To me, Sri Lanka was not one of those.
For a small island, a holiday in Sri Lanka has lots to offer. Located off the southern tip of India separated by Palk Strait, this tropical island has lush tea plantations on the steep slopes of the highlands, ancient treasures everywhere, elephants roaming in their natural habitat, pristine beaches and heady scents of curry spices in the markets.
That's not all! Here are 10 photos I took that will make you want to visit Sri Lanka:
1. Sigiriya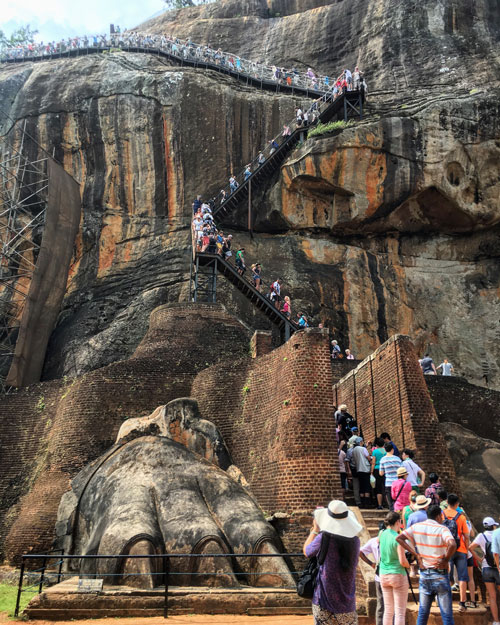 Sigiriya, also known as Lion Rock is a 1,149 foot ancient rock fortress surrounded by an extensive network of water gardens and reservoirs. This massive rock has moats and gardens at the base, a mirror wall, 1600-year-old Sigiriya frescoes of women (photos not allowed), and the Lion Gate at the mid-level terrace.
To get to the flat top, you'll have to walk up a flight of steep stairs. At the top are the remains of the upper palace, temple, and you'll enjoy panoramic views of Sri Lanka's countryside.
I captured a photo of the Lion Gate and the big lion paw at the mid-level terrace. It's the place visitors take to rest and pose for a photograph before climbing the steep stairs to the top.
2. The beach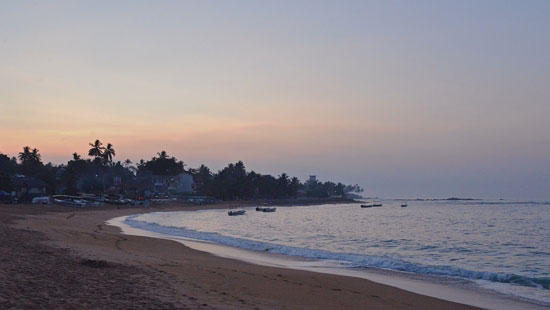 Surrounded by the Indian Ocean, Sri Lanka provides plenty of beaches for surfing, swimming and water sports. The beaches are mostly untouched and laidback. Warm and humid throughout the year, the country has two monsoon seasons. The southwest monsoon effects the southwest beaches from May to September. The northeast monsoon is from October to February.
This photo was captured in Unawatuna, a beach resort just 10 minutes from Galle Fort.
3. Sri Lankan elephants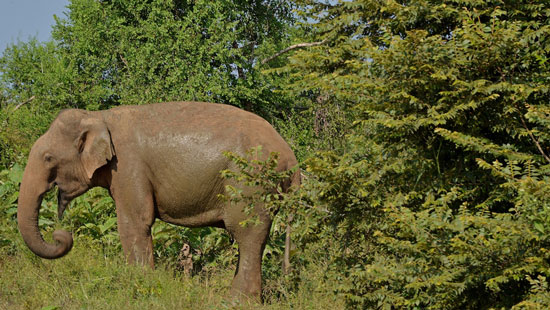 Sri Lanka is home to over 6,000 Sri Lankan elephants. I had the opportunity to view over 30 elephants at a close range from the jeep when visiting Udewalawe National Park. The park has about 250 elephants. These elephants roam freely in their natural habitat.
4. Scenic train ride in the hill country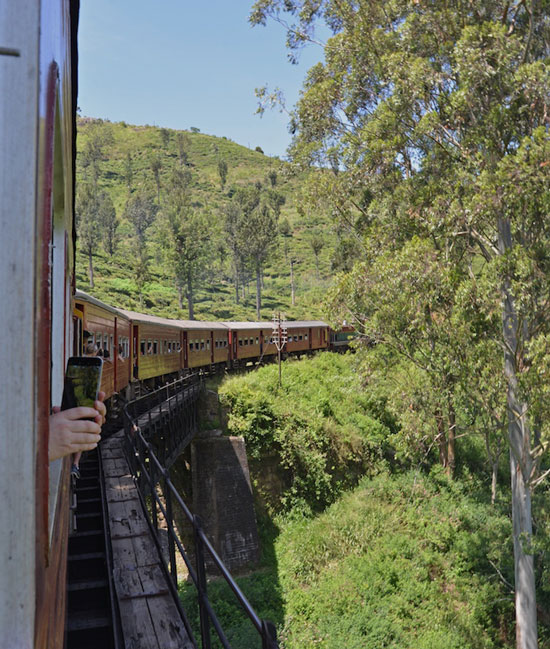 A visit to Sri Lanka will not be complete without a slow train ride in the hill country. Most tourists take the three-hour train from Nano Oya, a train station just outside Nuwara Eliya to Ella. However, I did the opposite, from Ella to Nano Oya. It's considered to be one of the most scenic train rides in the world.
The landscapes in this part of Sri Lanka feel so untouched, pure and is a feast to the eyes. You'll see rolling hills, miles of tea plantations and vendors rushing to the train with their fruits and vegetables as the train makes a quick stop at the stations.
Cloud forests and tea plantations surround Ella, a small village at 3,415 feet elevation. Ella is the gateway to some of the best hiking trails in the highlands of Sri Lanka.
5. Tea plantations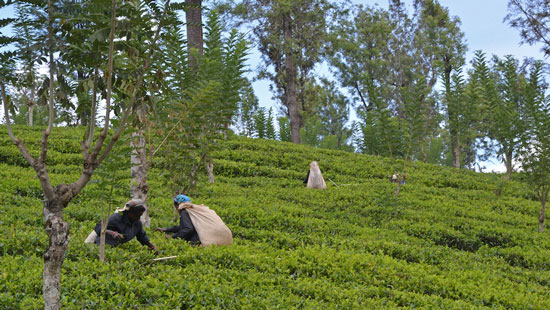 The panoramic views of tea plantations dotted with tea pickers are a sight to behold in Sri Lanka's verdant green highlands. And it's not just the views that are captivating.
Make sure you drink tea in one of the tasting rooms at the tea plantations. Most tea plantations provide a range of brews. Check out the golden tips, silver tips, green tea, OP, Pekoe, BOP, BOPF and Dust No. 1 tea when in Sri Lanka.
6. Waterfalls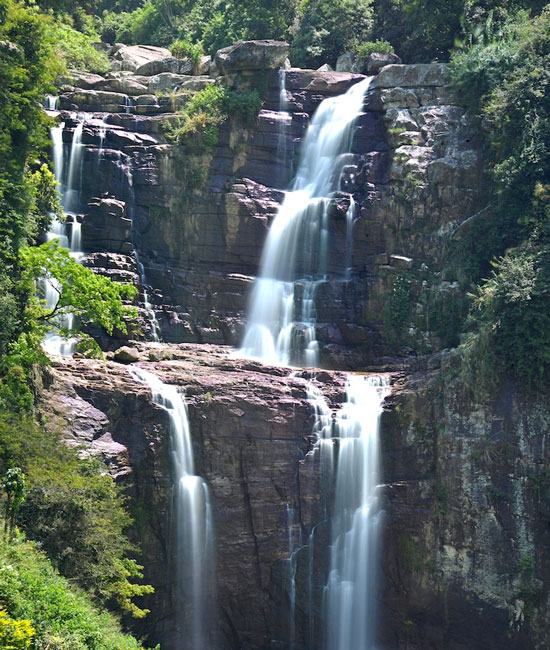 There are over 100 waterfalls in the tiny country of Sri Lanka. Each has its unique beauty. The tallest is Bambarakande Falls, located in Ella at 863 feet. I visited two, one of those was Ramboda Falls in Nuwara Eliya.The best place to view Ramboda Falls is at the restaurant in Ramboda Falls Hotel.
7. Sri Lankan food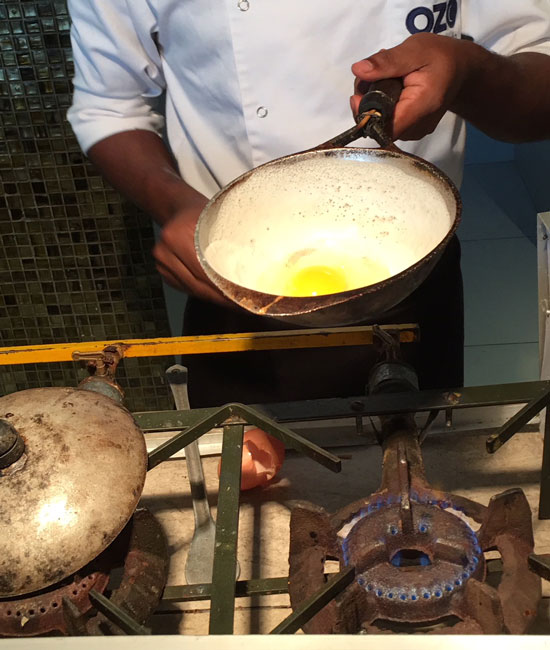 The key ingredients in Sri Lankan cuisine are curry leaves, coconut, chilli, lentils, ghee, rice, chutneys, pickles, fenugreek, goraka (tamarind) and curry powder. The distinctive flavour of Sri Lankan curry powder comes from coriander, fenugreek, cardamom, cumin and fennel seeds. The spicier aspects of Sri Lankan food revolve around the amount of curry powder and chilli used by the cook.
My favourite was egg hopper with lunu miris and pol sambol. Egg hopper is a crepe-like bowl with an egg on top. The hopper is made of fermented rice flour, coconut milk, coconut water, and sugar. Lunu miris is a mix of onions, red chillis and salt. Pol sambol is made of dried chilli, grated coconut, red onion, and salt.
8. Local markets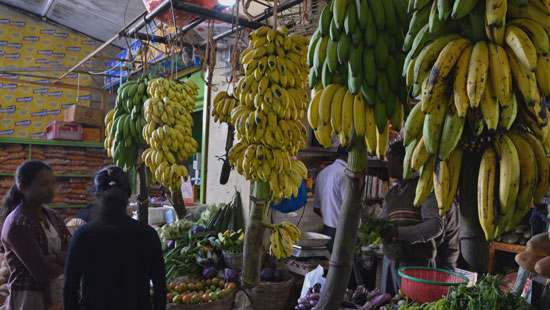 Spending time perusing the local markets is one of my favourite things to do when visiting a place. Sri Lankan markets are filled with rich flavours and colours.
I took this photo at the Central Market in Nuwara Eliya, a town at 6,129 feet above sea level. Bananas, oranges, dragon fruits, wood apples, vegetables, buffalo cheese, spices and dried goods were stacked up from floor to ceiling.
9. Temples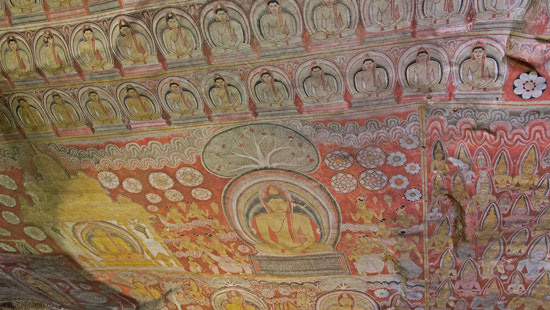 Sri Lanka is a multi-cultural country where the people are free to choose their religion. But, the far majority are devout Buddhists. Buddhist temples have existed for thousands of years.
Kandy's Temple of the Tooth is one of the famous Buddhist temples in Sri Lanka. I like Dambulla Cave Temple, a temple that has been in existence for 22 centuries, built in the first century BCE. It's a UNESCO World Heritage Site with 157 Buddha statues and intricate Buddhist mural paintings.
10. The countryside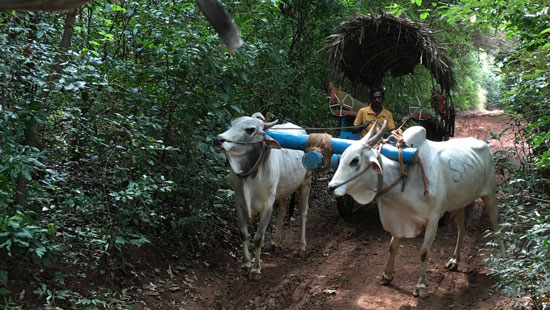 In the heart of the lush green countryside, I found buffalos crossing the street, bullock carts, monkeys hanging on trees, tiny huts selling handmade rugs, fresh coconut stands, buffalo curds, and the smiling faces of uniform-clad school-age kids - treasures of Sri Lanka.
Is Sri Lanka in your travel bucket list?