You've done it! You've taken that big step and booked your very first tour abroad. But all of that joy and excitement might turn into anxiety as soon as you realize that you have no idea what you're doing when it comes to getting ready to go. How do you get a passport? Do you need a visa? What should you pack?
Have no fear, newbie traveller. We've got your tips for travelling abroad.
Getting your first passport
You'll need a passport to enter and return to the United States. The first thing you need to do is either download and print passport application forms online. You can also find them at any U.S. post office.
Once you've got your application, read the instructions thoroughly and begin gathering the documents required to prove your American citizenship. Get your passport photo taken and find your nearest passport office, which could be as close to you as your local post office or library. Hand in your documents, your photo, and pay the fee. Once everything is turned in, be patient. It can take up to two months for your passport to process.
Once you get your passport, make copies of it. Put a copy in your wallet, take a picture of it with your phone, and make sure you have it saved in different ways. You might even want to leave a copy of it at home with someone you trust.
How to get a Visa
Visas can be complicated and change by the nation, but don't be intimidated. A travel visa is necessary to prove that you are allowed to enter a specific country to travel, study or work. To find out if the country you're travelling to requires a visa, visit the U.S. Department of State to learn about the requirements and to start your application.
How to handle exchanging money
ATM machines are the best choice for day-to-day transactions. Use credit cards for larger purchases, but make sure your credit card company isn't one that gouges consumers with foreign transaction fees first. It's also very important to make sure that your credit and debit cards have a chip and PIN. It is common in Europe to encounter machines that only take cards with these features. Don't forget to tell your bank you'll be abroad so that they don't shut down your card for suspicious activity.
Language tips
While you certainly don't need to be fluent in the native tongue to get around, it's always very helpful (and appreciated by the locals) to know a few key phrases. At the very minimum, learn the words for food, restroom, directions, please, thank you, excuse me, hello and goodbye. You can also make use of a translator app, or carry a notepad for drawing or writing what you need. You'll also want to take a business card for each hotel you stay in so that you can ask a local for help finding the address if you get lost.
See your doctor
Make sure that you don't need any vaccinations for your destination. Refill all prescriptions so you don't run out of medicine while you're away. Call your medical insurance company to find out if your insurance covers emergencies overseas. If not, you might want to consider purchasing supplemental insurance.
Sign up for STEP
The Smart Traveller Enrollment Program is free to all U.S. citizens travelling abroad. It's a great way to stay on top of safety conditions at your destination and will help you stay safe and informed during your trip. It will also help the U.S. Embassy find you in the case of any unforeseen events such as a natural disaster, unrest or an emergency at home.
Pack wisely
Resist the urge to go bananas and bring everything. You truly don't need as much as you think you will. Be practical about what you put in your carry on. Pack lightly, and pack smart, using valuable suitcase real estate wisely. Don't forget to bring a small first aid kit and save plenty of room for souvenirs.
Emotionally prepare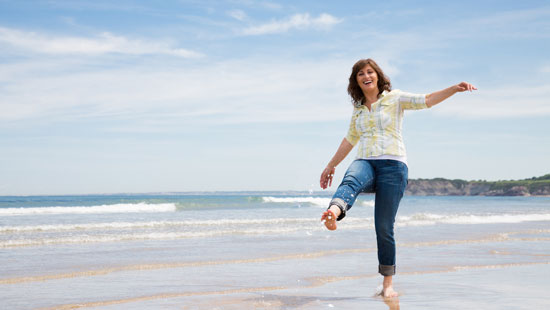 There's no doubt that as your departure date comes closer you may be awash in a sea of conflicting emotions. It's completely normal to be excited and afraid at the same time. Just remember that this is supposed to be fun, so try to relax and focus on the things you're most looking forward to experiencing. Don't be surprised if you're feeling a little blue, post trip. That's a normal reaction too, but there's plenty you can do to turn that frown upside down.