Drinks provide the palate with another means to taste a region's unique culinary contributions.
A great cocktail or beverage jumpstarts a meal while at the same time revealing a country or city's true flavor. Whether you fancy a pint of Guinness or prefer the lightness of an Aperol Spritz, the drinks you'll savor on your travels cater to a variety of tastes. We've highlighted some of our favorite signature drinks that make a destination sparkle.
WIND DOWN WITH
Wine in France
Wine lovers of the red, white, and bubbly varieties must put France on their travel to-do list. With over a dozen major regions, France produces the second most wine in the world, trailing only Italy. In fact, the country produces between 7-8 billion bottles every year! A journey through Bordeaux and the Dordogne Valley introduces you to two of the world's most renowned wine regions. As you sip, savor, and explore several local wineries and vineyards, you'll learn how interwoven wine is in France's culture.
| | |
| --- | --- |
| Wild about French wine? Sample a fine selection in France while on tour. | |
ITALY'S REFRESHING APERITIF:
The Aperol Spritz
The Aperol Spritz is a wine-based cocktail commonly served in Italy. It's citrusy, light and perfect for helping to create a lively dinner atmosphere. The orange-red liquor known as Aperol was invented by the Barbieri brothers in Padova in 1919. With its signature Art Noveau bottle and distinctive color, the Spritz became an en vogue option for women looking for a low-alcohol cocktail. The Aperol Spritz has seen a resurgence in Italy where the bubbly drink is most enjoyed during the apertivo hour. Enjoy a glass before a fantastic Italian meal.
Order and enjoy an Aperol Spritz while in Italy.
RECIPE:


APEROL SPRITZ from vinepair.com
3 ounces of Aperol
2 ounces of Sparkling Dry Wine (like Prosecco)
1 ounce of Seltzer Water
Orange slice for Garnish
DIRECTIONS:
Fill a wine or lager glass with ice.
Add the Aperol, prosecco and sparkling water and stir until well chilled.
Garnish with a slice of orange and serve immediately.
GRAB A
Guinness
IN IRELAND
When in the Emerald Isle, it's strongly suggested you try a Guinness. To get better acquainted with this popular brew, take a tour of the stunning seven-floor Guinness Storehouse, where you'll learn more about the history and brewing process of this beloved beverage. At its spectacular Gravity Bar, enjoy sweeping views of Dublin as you sip on a complimentary pint.

The
Killer Bs
of Italian Wine
Italy has more than 800 varieties of grapes that grow in its twenty wine regions, giving travelers an unimaginable amount of wine to sample. From the crisp flavors of Chianti from Tuscany to the sweet rich Marsala wine from Sicily and everything in between, there is truly something for everyone.
But be sure to go north to experience some of Italy's most renowned wines made from grapes cultivated in the picturesque Piedmont region. Wine lovers from around the world flock here to indulge in the region's "Killer Bs":
BAROLO
Made from the Nebbiolo grape, it is often described as one of Italy's best wines. This wine requires a minimum of 38 months to age and can age for fifty years or more. It is deep red, full-bodied, rich, and robust.
BARBARESCO
This is also made with the Nebbiolo grape, but it is grown alongside a river. This allows the grape to ripen earlier giving the wine less tannin, and in the end, less time needed for aging. You are left with a light, spicy, fruity, and velvety vintage.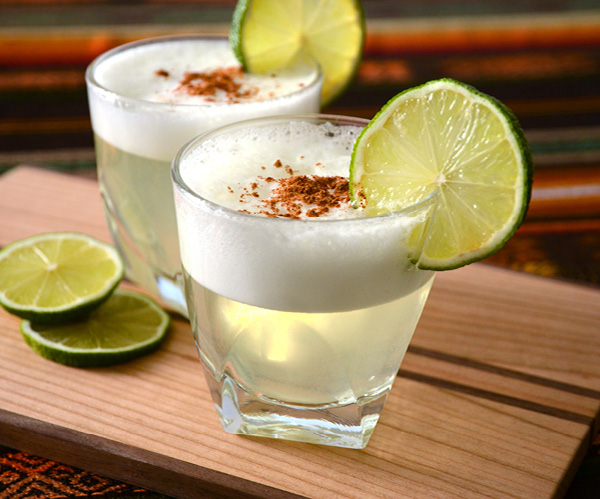 Peru & Pisco
A SPIRITED DEBATE
The question has remained for decades: Was it Peru or Chile to first produce pisco, the liqueur used to make the iconic pisco sour cocktail? Most Peruvians claim that the pisco sour was first served in the 1920s at the legendary Morris Bar, while Chileans say that the Aymaras – an ancient Chilean tribal civilization – were the first mixologists known to concoct a pisco-based beverage. Whatever side of history you fall on, everyone can agree that the pisco sour is one delicious drink.
MAKE YOUR OWN PISCO SOUR
Recipe from Cala, a restaurant in Lima, Peru
INGREDIENTS:
3 oz pisco
1 oz lemon juice
1 oz simple syrup
1 egg white
1 dash of Angostura bitters
DIRECTIONS:
1. Mix the pisco, lemon juice, simple syrup, Angostura bitter and finally the egg white in a cocktail shaker.
2. Next, mix with ice and and shake vigorously for ten to twelve seconds to combine all ingredients.
3. Place a few drops of Angostura bitters in the center of the foam before serving.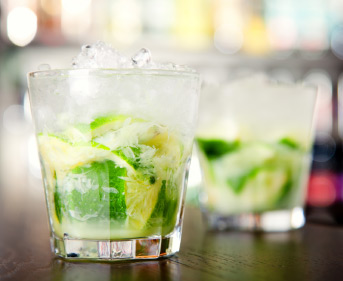 Caipirinha
BRAZIL'S NATIONAL DRINK
Brazilians love their coffee and their Caipirinhas. The Caipirinha is a sweet, tart cocktail that's often referred to as the cousin of the Daiquiri and features fresh lime, sugar, and cachaça, a distilled spirit made from fermented sugarcane juice. The Caipirinha is ubiquitous in Brazil and in 2003 it was deemed as the country's national drink. If you take a tour of Brazil be sure you order the delicious Caipirinha cocktail.
HEAD DOWN UNDER FOR A GLASS OF
Barossa Valley Wine
The vine-gilded Barossa Valley in South Australia is said to be one of the finest wine-producing regions in the world. Located about 37 miles northeast of Adelaide, this idyllic valley is known for its Shiraz, Riesling, Grenache and Cabernet Sauvignon. The valley benefits from a warm valley floor and a cooler altitude in the hills, making it ideal for full-bodied reds and robust whites. With over 150 wineries in Barossa, you'll no doubt find the perfect varietal.