In Marrakech, Morocco, the Amal Center sits like a steady beacon of hope among the disadvantaged women of the area. Here, women who have found themselves in a difficult place in life are given the tools they need to change their futures.
Preparing for financial independence
For six intensive months, women at the Amal Center train in every aspect of the restaurant industry, with one goal in mind ¬- to secure a job, and secure their own financial independence. They learn to cook and bake, but they also learn the ins-and-outs of the service industry, as well as languages like French and English. With these new tools at their disposal, these women can secure a better future for themselves and their families.
A visit to the Amal Center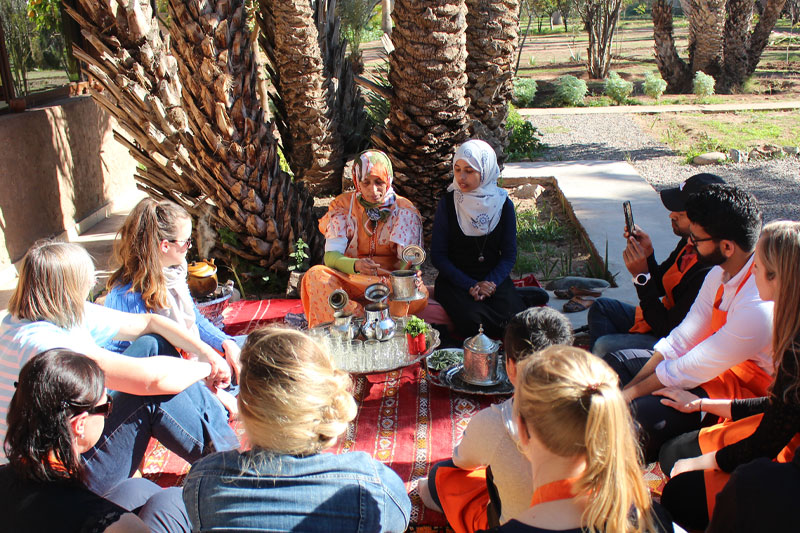 The Amal Center is a thriving restaurant where the women in training there hone their skills. Sit in the shaded patio amongst the orange trees or the comfortable dining room inside to enjoy what is often referred to as "the best food in Marrakech."
The menu changes frequently based on the availability of fresh, locally sourced ingredients, but you can count on finding typical Moroccan fare such as chicken or beef tajine, their famous couscous, and wonderful desserts like almond or dark chocolate tarts. All of this is served up with delightful Moroccan tea or even a refreshing glass of lemonade.
Cooking classes
You can enjoy a hands-on class to learn the secrets of Moroccan cuisine like tajines (a Morccan staple cooked in an earthenware pot), couscous (tiny steamed balls of semolina flour) or pastille (a savory pie). If dessert is what you're into, you can also choose to try your hand at baking Moroccan delights such as gazelle horns (crescent shaped cookies), beghrir (crepe-like pancakes) and ghriba (bite sized pastry made of almonds and honey), just to name a few.
When you visit the Amal Center on a Morocco cultural tour, you're not only in for a delicious meal that supports a very worthy cause, but you can also see the center's trainees preparing for their futures as independent women who are in control of their own destinies. Nothing can be more satisfying than that.