Experience the Magic of the Emerald Isle
From vibrant and history-filled Dublin, across rolling green hills to the dramatic coast, experience all of Ireland's charm on this magical tour of the Emerald Isle. Live like royalty during an overnight stay on the grounds of a castle. Visit Waterford, Ireland's oldest city, where you'll have the opportunity to visit the House of Waterford Crystal. Choose from a selection of Killarney's best restaurants with our Diner's Choice program. See the Atlantic from the stunning 700-foot Cliffs of Moher. Experience the world-famous beauty of the Ring of Kerry. See sheepdogs in action on a working farm. Explore Dublin with a local guide – either by foot or on a panoramic city tour – it's your choice! See beautiful Killarney from your seat on an Irish jaunting car. Journey to historic Blarney Castle, lean back and kiss its famous stone!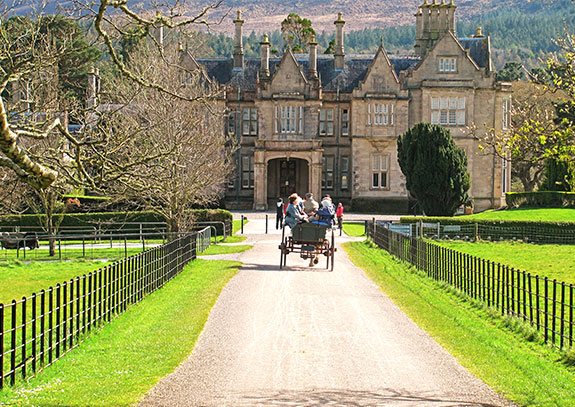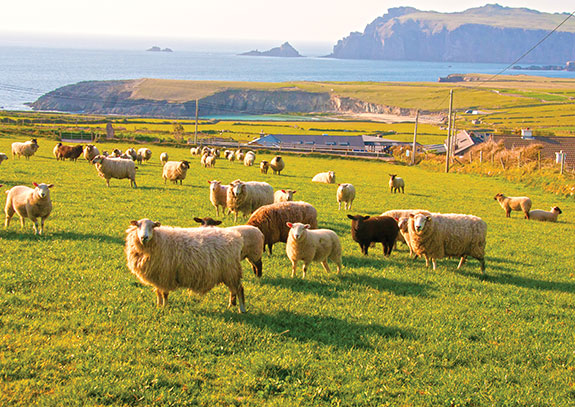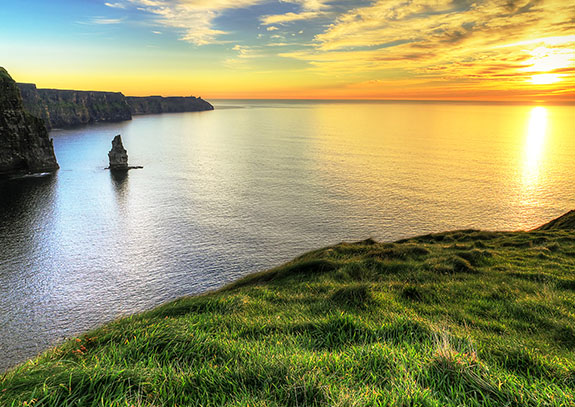 Available Offers

Special Offers Disclaimer

Savings amount varies by cabin type. Use source code "$offercode" for savings. Offer valid on new bookings only made between $offerstartdate – $offerenddate. Offer valid on new bookings only and can expire earlier due to space or inventory availability. Savings amount will vary by tour, departure date and cabin type. Offer is only available on select departures. Savings amount will vary by tour and departure date, and is only available on select departures. Space is on a first come, first served basis. Offers are not valid on group, existing bookings or combinable with any other offer. Other restrictions may apply. Promotional pricing may remain in effect after the expiration date.

Pick Your Dates

Pick Your Dates

*Price shown reflects highest available savings amount. Restrictions apply.

Please Wait...

We are loading your tour's dates.

Please Wait...

and get excited!

We are currently building the itinerary for the tour date you have selected.

Early Booking Bonus Disclaimer

Seasonal Offer,Seasonal Offer Disclaimer

Your Itinerary

Your Itinerary

Please note: tour inclusions and available options may vary based on departure date. Please select a date above for more details.

View Itinerary Details

Tour Cruise

Close

Hotels & accommodations

View More

Tour Extensions

Close

Things to know

Tour Activity Level

Travel Tips

View More

Optional Excursions

Close

Reviews Of Shades of Ireland

Reviews Of Shades of Ireland

If you want to go call Collettes

Service

I always knew where and when we were going and what we were going to see. The history was very important our guide was the best funny and knowledgeable

Tour

will go again anywhere I had the best group of people to go with and we are still emailing each other

nice trip for general overview of soudh Ireland

Service

People friendly, helpful and efficient. Bus driver was amazingly skilled handing the bus in difficult circumstances.

Tour

Not enough interesting side tours. We would have gladly paid for more.

Enjoyable tour and overview of south Ireland.

Service

Well organized, good tour director, nice hotels/restaurants. Comfortable bus.

Tour

The trip to the farm was very unusual and fun.

Ireland: Forever a Beautiful Memory

Service

Ireland was magnificent, as it unfolded on the tour organized and delivered by Collette. The pace, hotels ( with one exception) , food, tour director, and activities were super. *Personal details removed by Feefo* was outstanding. There were many highlights: Killarney, Kilkenny, Cabra Castle, dairy farm visit, and dozens of other little moments, made the trip fantastic.

Tour

Jaunting Cars, Guinness tour, boat to Innisfallen Island, time in Kilkenny, farm visit, Cabral castle, seeing the beautiful countryside.

Service

The information provided prior to the tour was very good. Tour was very well organized ( schedules ,maps, etc) Driver was exceptionally good. Local guides were knowledgeable . I would suggest that more local guides be involved. Transfers to and from the airport were speedy and efficient. Accommodations were centrally well located. Offering choice of restaurants is a go option.

Tour

Giant's Causeway, Derry I would suggest more time ,opportunity to visit in Belfast. The murals are spectacular, however sitting in the bus offered little opportunity to appreciate the history. There was too much "shopping time"...

Service

More touring of both Dublin and Belfast with local guides in both cities. More time was given to souvenir shopping than the history of these cities! Rather than have to choose between 2 different tours on a given day, time should be made to allow us to do both.

Tour

Not enough time spent talking about history if Dublin and Belfast. Too much time spent souvenir shopping Just saw that you rated my experience as 4.3. This is incorrect. It was no more than 3. Having said that the tour guide was professionsl

Hello Rachelle, 
Thank you for sharing your feedback about the tour.  We have shared your experience with our team for review.  
They will use your insight to help improve the tours for future guests.  We appreciate you and look forward to traveling with you again soon. 

Collette Support

Excellent, excellent, excellent!!!

Service

We could not have had a more enjoyable trip. Everyone and everything was excellent. Our tour manager, *Personal details removed by Feefo*, was awesome, and so was our bus driver, *Personal details removed by Feefo*. All accommodations, food, and service from the very beginning to the very end were excellent. Thank you so much!

Tour

Everyone and everything was well beyond our expectations. Excellent!!!

Service

first class. great hotels, excellent tour manger, nice agenda

Tour

fair prices nice friendly people

Fabulous Adventure in Ireland

Service

Everything was perfect! All is taken care of and done for you. Just sit back, relax and enjoy the trip. Tour manager was full of knowledge, humorous and courteous. Superb hotels, restaurants, seeing the highlights in each city. Can't wait to do another tour with Collette.

Tour

Everything was memorable. A wonderful experience visiting a working dairy farm and being invited into the owners home for homemade refreshments. Jaunting car ride and boat ride thru Killarney National Park, Cliffs of Moher, Waterford, Guinness! Could go on and on. Loved it all!!

Service

Very organized. Great hotels and meals. The Irish House Party was really fun. Wonderful bus driver and guide. Super organized, courteous, safe and friendly. Highly recommend!! It was a wonderful trip.

Tour

Purchased crystal from Waterford. Great tour and showroom. We were allowed ample shopping time, which was appreciated. Also the Connemara marble was beautiful.Our family and friends were thrilled with the gifts we brought back for them.

Service

The choice of hotels was fantastic.

Tour

Waterford factory and cliffs of Moher

Service

Yes

Tour

We enjoyed the Farm tour .seeing the way the people lived in the past and now

Service

well planded and no hic-ups

Tour

good value for dollar and fun and learning experience

An excellent vacation company

Service

I thought the tour was well organized. It made sure to hit all the highlights of the country. The tour guide was obviously well versed in the history of the country, was helpful and approachable. The hotels used by Collette Vacations are top notch. Customer service agents when contacted are helpful and polite. Excursions are well planned. The pace of this particular trip was challenging, especially if you aren't an early riser, but certainly manageable.

Tour

This tour through Ireland was well planned and organized. it made sure to cover the major highlights of the country. Most memorable was the Cliffs of Moher (we hit it on a sunny day!). All accommodations were top notch, excellent hotels. It was especially enjoyable to be able to spend St. Patricks Day in Ireland and share in the locals enthusiasm for their beautiful country.

A good variety of activities. Good food, Great transportation and a knowle...

Service

A good variety of activities. Good food, Great transportation and a knowledgeable tour guide.

Tour

Cliffs of Mohr Entertainment History provided

Excellent service by Collette US

Service

Wonderful , engaging tour

Tour

So many favorites! Malin Head, Kilkenny castle to name two

Excellent service by Collette US

Service

The tour guide was very informative and knowledgeable.

Well planned and handled tour with exccellent accommodations.

Service

Well handled.

Tour

Way too many memorable experiences to pick just one.

Service

We had a wonderful time on our tour of Ireland. ******** was a great tour guide he was extremely knowledgeable and very caring. He made sure my husband was able to get handicapped rooms and was taken care of on the bus & excursions. The trip was everything we dreamed it would be and we saw everything that was on the tour brochure. ******** the bus driver, was very accommodating and careful to make sure that my husband's walker was stored correctly and helped in anyway he could. We were very pleased with this tour!

Tour

The Cliffs of Moher were breathtaking! We were thrilled with the places we saw and the people we met.

Overall it was very good. We had difficulty with domestic connections beca...

Service

Overall it was very good. We had difficulty with domestic connections because we did not know the location of US departure in time to get the right tickets. We ended up going from Denver to Atlanta to Dulles when it would have been better to go Denver to Dulles for our Ireland departure.

Tour

Really enjoyed Blarney castle and galway. Limerick was nice too. People in Ireland are very friendly.

Good service by Collette US

Service

trip was well organized and no problems encountered

Tour

well organized and had no problems. the whole trip was memorable

Service

the trip was worth every penny we spent.April our tour guild was the best.She told us so much about the history of ireland.She answered all the questions she was asked. I believe she is worth more than you think.

Tour

staying at the castle for the day and night

Good service by Collette US

Service

Tour was great, however tour leader was mediocre.

Tour

Cliffs of Mohr and Dublin

Lonely and bored the first day until dinner.

Service

I felt the first day was wasted. I got there before 9am with nothing planned. I was going on this trip solo. My room was not ready, nothing was open to exchange my money and it was pouring rain. I was exhausted and there was nothing to do until dinner.

Tour

Loved the Cliffs of Moher, Blarney Castle, and visit to dairy farm.

Great time and the best of weather, Rained on way back to airport.

Service

about half the tour got sick about 5 day into the tour. I did also on the 9th.

Service

Was as close to perfect as it could have been. *****were great. **** could spout out many facts about history that made it very informative. **** could put the round peg of the coach into any square hole. Even the weather was perfect..only rained 1day out of 14.

Well planned, organized and enjoyable.

Service

All elements of the trip were well organized and planned. The director and bus driver were great and the food amazingly good. Only problem with the food is that there was too much.

Tour

We thought the tour was well planned and organized with ample time on your own. We particularly enjoyed the feast at the castle.

Excellent service by Collette US

Service

Great experience, accommodations, and Collette staff were very good.

A should-do trip for everyone!

Service

This tour was wonderful from beginning to end. Our guide, April Smith, was very well informed and enjoyable, and our driver, Gerry, was awesome. Ireland itself was incredibly beautiful and the people warm and welcoming. Our accommodations were comfortable, the restaurant selection very good, and even the weather did its best to please! Would return in a heartbeat.

Led by great tour leader.

Service

Everything was good about the tour. Would be 5 star if flights home would have been more efficient.

Tour

Saw a lot and great tour guide

Beautiful country and beautiful people!

Service

The tour was very well planned and the tour director and coach driver were excellent. My daughter and son-in-law were upset because Collette booked their airfare twice and it made it much longer to get through the line both checking in and leaving.

Tour

Very well planned and excellent tour guide and coach driver. We learned a lot about the history, etc. of the country.

It was a very great trip. I loved it

Service

On some of the tours the group should have been spilt into two groups.

Tour

I love to get things in different places.

Service

Good trip for the price. Quality of hotels were less than expected. Sites visited was great. Well run and organized tour

Tour

The Blarney stone and cliffs of Moher were lovely.

Excellent Shades of Ireland tour

Service

Had a great experience. Everything was timely and Ll of the attractions were as promised. The tour also had many wonderful surprises. Sightseeing, food and the hotels were excellent

Tour

A wonderful tour experience. Our tour guide was extremely helpful and kept the tour on schedule and added many insights

Shades of Ireland an excellent experience

Service

Everything was as promised. Hotels, meals, sightseeing stops were excellent. It was just a tremendous experience.

Tour

Everything as promised. The hotels and meals were excellent. The tour stops were wonderful if not great taking. It was. Tremendous experience.

I can not wait to go with Colletteagain.

Service

The tour from start to finish was excellent. The tour director Michael and tour driver Dan went over and above to make sure everything went smoothly.

Tour

We saw the sites that make Ireland great, and were given plenty of time to explore with tour quides and on our own.

Excellent service by Collette US

Service

Excellent tour guide, hotels, and itinerary.

Tour

Beautiful country and people. The scenery was wonderful.

Service

Perfect itinerary to maximize your time. Tour director was very informative and well organized.

Tour

Northern Ireland and its history. Trip to the northernmost tip of Ireland was great

Service

My tour was all I had hoped for and more. The Tour guide was excellent. The accommodations were were comfortable and many were spectacular. Oh and Ireland was beautiful!!!!! Loved It!!!

Tour

Loved each and every stop along the way. There were no disappointments. The republic is so interesting and Northern Ireland and the Antrim Coast had spectacular Vistas. A most memorable tour.

Service

Wonderful trip. It went smoothly from start to finish. Great tour manager--John Fitzgibbon. Extremely knowledgeable. Really saw and learned much about Ireland. The sights we saw were fantastic. Nice to have wifi on bus. Hotels were wonderful.

Tour

Ken: giants causeway. It was magnificent! The site also had a terrific visitors center.

well organized and responsive

Service

Well organized trip and well organized office to answer my questions quickly and completely.

Tour

very busy tour and too much interest in shopping for me

Customer Service needs to think

Service

Collette Customer selected a horrible flights. Fly to Germany to get to Dublin, Ireland which caused us to miss an entire day in Dublin and then fly home through Germany.

Tour

Tour Manager and Driver made the tour even more enjoyable. Tour was great - the best part.

Questions answered; good followup where required. Only 'ding' was the resp...

Service

Questions answered; good followup where required. Only 'ding' was the response I received when I called from Dublin Airport to report that my driver wasn't there to pick me up. I initially got excuses; then she agreed to call him.

Tour

My first large group tour and I very much enjoyed it. Didn't love being 1 of 44 people. But I did really like that our tour manager, Jennifer, gave us a good amount of 'free' time, so I didn't feel 'herded' from one place to the other. The Medieval Banquet was surprisingly a highlight for me -- could have been really cheesy, but was fun and the food was the best I had in Ireland!

Service

Was a well planned tour, especially nice to have the sedan service to and from local airport and to meet us at our destination.

My tour guide was well versed and organized and made it into a great trip.

Service

worked well with me.

Tour

I enjoyed this tour and Ireland itself. I probably liked the Cliffs of Moher (plus the museum) and the Irish musical entertainment best.

Awesome tour and wonderful service

Service

Everything was very well planned and the tour went so smoothly. Our very knowledgable tour manager took wonderful care of us and our coach driver was the best!

Tour

This tour provided so many wonderful experiences and beautiful things to see. We especially enjoyed the Cliffs of Moher and the Giants Causeway. Our jaunting car ride through Killarney National Park was wonderful - our tour guide, Patrick, was such a delight! I have wanted to go to Ireland my entire adult life, and this was a dream come true.

Service

staff was very pleasant on any situation. They always seemed concerned about us travelers. Yes, I have recommended Collette to many friends. I certainly would travel with Collette again.

Tour

The tours that were planned were great, however, even though we were given suggestions for free time, I felt lost. I wasn't sure what to see and what I was missing. Possibly I should have anticipated this and researched more.

Service

Supported every question I raised and made the planning easy.

Tour

Blessed with sunshine and fair weather, our tour group was able to explore every outdoor wonder with full appreciation.

Service

Didn't like Limmerick so much. Would like more science, music, horse back, boat, fishing. Really loved your Iceland tour.

Service

My purchase experience was great from the moment we booked to the last day of the tour. They were very organized and the itinerary was well though out although the pace was very hectic. I would highly recommend them to friends and family and have already started exploring their website looking for my next adventure.

Positive! Will go with Collette again.

Service

This was our first trip and Collette was SO helpful. I called many times and they always seemed interested and helpful.

Tour

This trip was my wife's idea. She has always wanted to visit Ireland. Truthfully, I'm not sure who had more fun. Our tour guide shared a lot of history as we visited all the beautiful places. I've never learned so much in such a short time. I highly recommend a visit to Ireland and I highly recommend you do it with Collette.

Service

Staff members are very accommodating and answer all questions patiently. When I phoned to ask about hair dryers, the agent took time to check each hotel. I would travel with Collette again. My only regret is that they do not seem to offer small group (fewer than 20 people) tours. An included list of films to see and books to read before departure would be helpful. The website is to involved and cumbersome.

Tour

Ireland is lovely with friendly people. The food was tremendous. Visiting the Giant's Causeway and Cliffs of Mohr are unforgettable experiences. The inclusion of Neolithic tombs would have been a bonus.

Service

The guide and driver assisted in making the tour very enlightening. The knowledge of the country by the guide made the trip enjoyable

Service

Service was excellent. Everyone courteous and helpful. If I were to do another tour, I would look for a small group tour

Tour

Tour guide was excellent. His knowledge of Ireland and Irish history was outstanding. I did not like the visit to the dairy farm and whiskey manufacturer.They were unnecessary. I would much rather have visited an historic site. I sometimes felt that we were brought to places just to shop rather then see interesting sites.

I like that I didn't have to think when I got there just enjoyed my trip

Service

everything was organized for us. Tour guide was very helpful , knowledgeable and A very nice person.

Tour

Cliffs of Mohr was my favorite. The only thing I would've liked to have had added was when we were let off the bus for time on our own instructions were given to quickly. Many choices were given of places to eat and visit but by the time we exited we couldn't remember which way they were or the names of them.

Service

The service was fine in the US. We had problems when we got to Dublin a day early. The driver was not there and we had to wait and had a problem finding him when he did arrive. He was in a great hurry and ran off with our luggage and we had to figure out where he went. He finally came back to find us. He was very good after all of that, but it was a hard start.

Tour

The hotel in Limerick was not good!! The food and service was awful. Too often we were driven to a town and handed a map and told what time to be back at the bus. Should have been more actual "tours." NOT what I expected.

Service

Tour guide,was excellent; a great mother hen who attened to all details and answered all questions. The bus driver was an excellent driver, and I watched his physical efforts with loading and unloading; phenominal.

Tour

Gogarty's in Dublin; that's one of the two reasons I was there; pub music St. patricks; Gaelic Roots phenomenal; Moriarity's excellent; Ring of Kerry excellent; visiting the Molanna farm-I want to go back; fascinating; the "jaunt" in the Park-excellent; King John's Castle, Cliffs of Moher, Waterford Crystal, Tullamore DEW all great; Medievel Banquet and castle, Cabra Castle were excellent. I rode a horse near Cabra-yeah; The boat ride was NOT a sailing and the motorman was deficient-the only downfall of the trip. Killarney, Killkeney, Blarney are worth a more extended stay.

Martin and Jack were fantastic tour guides; they were certainly a highlight of the Irish trip. Would love to spend many hours with each.

Collette Support

Excellent service by Collette US

Service

Excellent

Tour

The picturesque giants. Causeway ,the. countryside ,the peoples on. our tour and the. Bus driver Bill. The people of Ireland were kind sincere and very accommodating.The trip was magical!! The pick up and return service was first class. A wonderful trip.!!!

Service

my grandson and I had a ball it was just awesome, his first time there. we had one of the most awesome tour Guides, the best of all the rest of our tours, with collette. he just know so much and pass the information on to us. Thank you Michael Ohgo

Service

No problems encountered.

Service

very well organized tour, the brochure was excellent, all the information was there. Getting picked up -to and from- the airport was great. We had a very pleasant and enjoyable trip.

Guided travel perks

Other tours you may enjoy

Experience Another Amazing Tour

Embark on a virtual journey that takes you to the lush rainforests, beautiful beaches and stunning resorts of Costa Rica.