The Ship is Only The Start of Your Collette Adventure
Welcome AARP members, it's time to set sail on the world's most famous rivers! Explore in style as you glide past incredible scenery. Unpack once and enjoy all the comforts of your ship. But remember, travel with Collette allows you to enjoy so much more. Our inclusive tours take you deeper into the destination. When you step off your ship with a Tour Manager by your side, you'll truly come to know the people and places along the river. Collette's river cruises are a complete travel experience.
10% off cruises to Egypt, China & Scandinavia †
Use offer code WAVE10. Offer expires 3/31/18.
AARP members save $50* per person on all river cruises
Featured Tours
Experience the magnificence of the ancient pharaohs and their queens when you journey to the land of Egypt, rich with unforgettable treasures such pyramids, temples, the Nile River, and Tutankhamen's tomb.
Eligible Departures for 10% offer:
1/24/18, 2/7/18, 5/2/18, 10/17/18, 10/31/18, 12/5/18
Tour Detail
Experience China's marvels, and tour the ancient, modern, rural and cosmopolitan on a journey featuring a scenic cruise along the Yangtze River.
Eligible Departures for 10% offer:
4/11/18, 5/2/18, 9/5/187, 9/26/18, 10/10/18, 10/31/18
Tour Detail
Explore Scandinavia's fascinating capital cities of Stockholm, Copenhagen and Oslo and sail by majestic mountains, breathtaking fjords and charming fishing villages.
Eligible Departures for 10% offer:
3/8/18, 5/17/18, 6/22/18, 7/12/18, 8/16/18, 9/20/18
Tour Detail
Order your River Cruise Brochure
Explore in style as you glide past incredible scenery on some of the world's most famous rivers.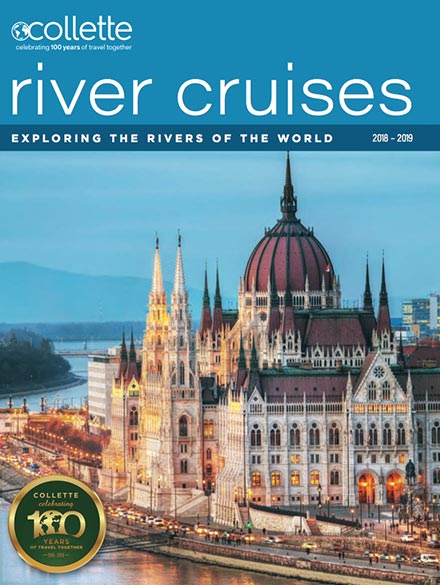 View Online
*AARP member benefits are provided by third parties, not by AARP or its affiliates. Providers pay a royalty fee to AARP for the use of its intellectual property. These fees are used for the general purposes of AARP. Some provider offers are subject to change and may have restrictions. Please contact the provider directly for details.

† SAVE 10% on the land/cruise portion of select departures of Treaures of Egypt, Wonders of China & the Yangtze River, and Norwegian Coastal Voyage. Valid for bookings made 1/1/18 - 3/31/18 for travel on specified dates only. Offers are not valid on group or existing bookings, and not combinable with any other offer. Offer is combinable with AARP member benefit. Other restrictions may apply. Offer may be withdrawn at any time. Call for details.