Today, AARP members like you expect something more than just incredible destinations. From Alaska and Australia, to South America and Scandinavia, Collette delivers the freedom to explore combined with outstanding guest service. Wake each morning on tour with a new experience in front of you, all without having to worry about a thing. We seamlessly handle all the details of your adventure. That's the beauty and freedom of guided travel with Collette.
The world is within your reach. You've earned it - reserve you next amazing experience today!
Exclusive AARP Member Benefits*
AARP members save up to $100 per person* OFF guided tours
$100 Discount per person applies to the following tours: Antarctica, Beauty of Japan, Alaska & the Yukon, Complete South America, Exploring South Africa, Victoria Falls & Botswana, The Galapagos Islands & Machu Picchu, Legendary Waterways of Europe, Norwegian Coastal Voyage & Scandinavian Capitals, Portugal's Douro River Cruise & Pousadas. AARP members save $50 per person on all other Collette tours.
AARP Members' Top Tour Picks
Better yet, your AARP member benefits are combinable with other offers! Call for details.
Now's the Time to See the World
Embrace the Journey - The Trip of a Lifetime Awaits | Collette Tours
At Collette, we understand travelers, their priorities, and exactly what motivates them: "Those beautiful moments of anticipation, right before the world reveals itself." So set your course! Make travel a part of your story, and embrace the journey. That's what the Trip of a Lifetime is all about. The time has come, what are you waiting for? Don't miss out on The Trip of A Lifetime! Create lifelong memories in places like Australia, Asia, South America, and Africa when booking your Collette tours. Learn more at: http://www.gocollette.com/lifetime With Collette, the world is within your reach. Collette offers travel tours across all seven continents. Operating in the United States, Canada, United Kingdom, and Australia, Collette has been alongside thousands of travelers and are the experts in travel. Join the conversation... tag your photos with #GuidedByCollette Connect with Collette: Official Website: http://www.GoCollette.com/ Official Facebook: https://www.facebook.com/GoCollette Official Pinterest: http://www.pinterest.com/GoCollette/ Official YouTube: https://www.youtube.com/GoCollette
Discover the difference of guided touring with Collette
There are so many benefits to choosing a guided tour. Besides letting us take on all the details that come with having the perfect trip, there's even more. Here's why more and more travelers choose to Go Guided – and why they choose Collette.
---
Professional Tour Managers
From the moment you embark, you have a trusted travel guide that knows your destination. You've got an immediate friend!
All the Must-See Sights
When you travel with Collette, you can be sure we'll show you the dramatic landmarks and iconic historical sights while on tour, at no extra cost.
Authentic Local Experiences
Whether staying overnight in an Irish castle or rolling dough with an Italian chef to make the perfect pizza, it's about diving into another world to create memories you'll never forget.
Travel Protection Plan
You're covered. Should something happen before or while on tour, you'll get refunded. It's about peace of mind.
Sedan Service
We believe travel should be easy and convenient, from start to finish. That's why we have included sedan service. Offered with air-inclusive tours, you'll receive round-trip door to airport pick-up/drop-off. What a benefit!
Order your Worldwide Travel Guide
Your next big adventure starts here. Dive into our complete collection of worldwide travel experiences. Find seven continents in a single stunning book.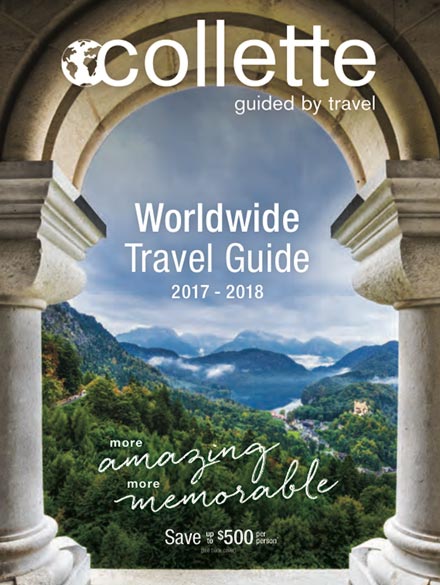 View Online
AARP member benefits are provided by third parties, not by AARP or its affiliates. Providers pay royalty fees to AARP for the use of its intellectual property. These fees are used for the general purposes of AARP. Some provider offers are subject to change and may have restrictions. Please contact the provider directly for details.