Spain's Classics & Portugal
From
$2,949*
pp
|&nbsp 14&nbsp Days •&nbsp 19&nbsp Meals&nbsp
*Rate is per person, land only, double occupancy, tour inclusions and available options may vary based on departure date.
Please select a date below for more details.
Explore Lisbon, Portugal, Europe's second oldest capital city. Visit the pilgrimage center of Fatima, the picture perfect fishing village of Nazare and the medieval walled town of Obidos. Experience Spain's colorful pageant of art, history and culture. Set against a backdrop that spans sunny Mediterranean shores and grand mountain ranges, this stunning destination is dotted with white pueblos and groves of oranges and olives. Explore the priceless treasures of the Royal Palace, Europe's 2nd largest palace. Visit the exotic and expansive Alhambra palace, resplendent with Moorish regal flair. See the Cathedral of Seville, the 3rd largest in the world. Enjoy reserved seating at a flamenco show and feel the passion of this famous dance. Explore Madrid, Valencia, Barcelona, Granada, Cordoba and Toledo. Become part of an authentic "paella experience," and learn how this rice dish is made and where it originated. Marvel at Valencia's "City of Arts & Sciences." See how precious lladro figurines are made by hand. View Antonio Gaudi's architectural masterpieces, including La Sagrada Famila. Spain travel beckons.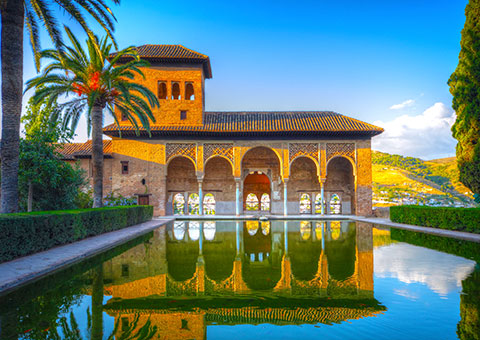 Available Offers

Special Offers Disclaimer

Savings amount varies by cabin type. Use source code "$offercode" for savings. Offer valid on new bookings only made between $offerstartdate – $offerenddate. Offer valid on new bookings only and can expire earlier due to space or inventory availability. Savings amount will vary by tour, departure date and cabin type. Offer is only available on select departures. Savings amount will vary by tour and departure date, and is only available on select departures. Space is on a first come, first served basis. Offers are not valid on group, existing bookings or combinable with any other offer. Other restrictions may apply. Promotional pricing may remain in effect after the expiration date.

Pick Your Dates

Pick Your Dates

*Price shown reflects highest available savings amount. Restrictions apply.

Please Wait...

We are loading your tour's dates.

Please Wait...

and get excited!

We are currently building the itinerary for the tour date you have selected.

Early Booking Bonus Disclaimer

Seasonal Offer,Seasonal Offer Disclaimer

Your Itinerary

Your Itinerary

Please note: tour inclusions and available options may vary based on departure date. Please select a date above for more details.

View Itinerary Details

Tour Cruise

Close

Hotels & accommodations

View More

Tour Extensions

Close

Things to know

Tour Activity Level

Travel Tips

View More

Optional Excursions

Close

Reviews Of Spain's Classics & Portugal

Reviews Of Spain's Classics & Portugal

Service

Everything was on time. Accommodations were adequate. Tour was very organized. Bus was comfortable and immaculate. Driver was excellent.

Tour

Montserrat was wonderful. Too much packing and unpacking. Would have preferred more in depth tours in Madrid and Barcelona.

Service

Hotels were business hotels and not located in convenient locations ( tourists spots) Single rooms in 3 of the 5 hotels were like cells I hesitate to book with Colette again On. A positive note the tour guide was excellent

Tour

Have reviewed and indicated my thoughts on the previous page

Service

From the tour we got a very good feel about Spain. We now have visited many of the cities that define Spain.

Tour

For me the highlight of the tour was Valencia; the Arts and Science buildings. They were amazing, futuristic and forward thinking.

Service

This was my 5th trip with Collette and once again I was not disappointed. From the booking process and through out the trip I was impressed. I included air fare, transfer to hotel and chose every optional tour. All experiences were great. The tour was exceptional. We were very busy every day and packed wonderful experiences everyday. Our tour guide *Personel details removed by Feefo* was exceptional. Anxiously looking forward to another booked tour with Collette this fall. Thanks Collette.

Tour

Every detail taken care of giving us a carefree experience. The hotels, restaurants, and tours were exceptional. We could not planned and found these on our own without pre trip stress!!! Love touring with Collette!!

Perfect Portugal and Super Spain by Collette

Service

Our trip leader was awesome, very knowledgeable and efficient in every way, and his personality was so perfectly suited to the job. The accommodations in each city were really great in terms of both location and quality. Overall the itinerary was also wonderful, but I felt only one evening and overnight in Granada was not sufficient. I just think a minimum of 2 nights in any one locale is preferable. The included tours (and the optional ones) appropriately showed us the best each location had to offer. Some other tour companies are now including all gratuities in their price (local guides, bus drivers, tour manager). I would like to see Collette follow suit in this.

Tour

As already stated, the itinerary was really great. I had never heard of Gaudi before this tour and found his creations in Barcelona (Guell Park and the Sagrada Familia) so amazingly awesome. And the extra side trip to Monserrat was breathtakingly beautiful. Experiencing paella at the source was delicious as well.

Worthwhile but not for the slow.

Service

We had an excellent guide who went above and beyond expectations. The trip was not for the slow...up early, to bed late, but we saw an incredible amount of quality sites.

Tour

I actually prefer our free days because my husband and I are active travelers and we can cover a lot of ground pretty quickly. On the other hand, we would probably not have seen so much on our own because we didn't know the region well and we appreciated our excellent tour guide and local guides.

Service

The only complaint I would have, in your paperwork, it said I could pay for excursions with a check, but our guide only wanted charges to a card. Also, a group of 44 is a little large. We also expected to go inside Alhambra, but tickets were not available. A big disappointment.

Tour

Area was very clean. Cities were beautiful. Local guides were excellent. It was nice having "the Whispers".

Service

The accommodations were excellent. Our tour guide (personal details removed by Feefo) went out of his way to make the experience enjoyable. The places we toured along with the individual guides gave us an in depth and varied view of Spain. I will definitely use Collette in the future.

Tour

Loved Seville. But everything was my favorite. Couldn't have been more enjoyable

Service

Well set out itinerary. Prompt response to any queries Excellent tour manager, responsive to the needs of all the party members

Tour

Visit to Granada and Valencia

Good service by Collette US

Service

tour was great but the extra/optional tours are very expensive...

Tour

la Alhambra was the best tour...and the flamingo dancers...

well organized and hotels were very well situated....close to restaurants

Service

Excellent tours and guides and our director was great!

Tour

Valencia paella and boat ride! BEst paella! yum!

A good tour. Saw some great highlights of Spain. It would have been bette...

Service

A good tour. Saw some great highlights of Spain. It would have been better if there wasn't so much time on the bus.

Local office outstanding, otherwise very US-centric.

Service

The people in the Sydney office were fantastic, the arrival of the information package I thought was rather late and the US emphasis in all the written advice was annoying.

Tour

Outstanding tour guide and bus driver. Local guides and activities were excellent, almost all of the expected highlights and so much more. Missing the Alhambra was a huge disappointment but not Collette's fault in any way. The boat tour and huge paella in Valencia were fantastic after all the cathedrals!

Every detail was well covered, quite professionally and very, very friendly...

Service

Every detail was well covered, quite professionally and very, very friendly. Each member of the staff was courteous and approachable.

Tour

loved the blend of old and new -- from Al Hambra, Moorish mosque, and other sights to Gaudi's Barcelona treasures..... with time on our own for the modern buildings from the aquarium to opera house in Valencia

Service

Dissatisfied with Tour Manager--inexperienced as Tour Manager even though he had been a local guide previously. Lacked control of group. Not forceful enough to keep group focused. Collette had two tours covering the same sites at the same time. One started several days earlier and from Madrid forward (where we started), both buses were going to the same sites/attractions almost at the same time. Collette should have staggered one to be in different cities thus eliminating two groups in same places such as service stops together

Tour

refer to above comments. Inexperienced Tour Manager even though knowledgeable of Spain. Hotel Colon was excellent--definitely a high point especially since we extended for 3 days in Barcelona

Itinerary good, experience could have been better

Service

Inexperienced tour director even though he had been a local guide previously. Also, had 2 Collette tours covering much of the same sites, one started several days earlier and from Madrid (our starting point) on, always 2 Collette groups at the same sites. Maybe one should have been ahead of the other so never both in the same places within 30 minutes of each other. Excellent hotel in Barcelona (Hotel Colon).

Tour

See previous comments in Your Customer Experience

Everything was beautifully organizef and hotels well chosen. Tour Manager w...

Service

Everything was beautifully organizef and hotels well chosen. Tour Manager was excellent!

Tour

La Alhambra in Granada, also dinner in Madrid and Seville sights and dinner. Madrid Prado we did on our own-a must. Old cities of Toledo, Cordoba and Valencia.

Good service by Collette US

Service

The tour guide was very good, and the hotels were all excellent

Service

I was very pleased with the tour guide that traveled with us Ernesto and with the guides that met us at tour locations. They were all very well informed, personable and had personal tidbits to share that made the tours very interesting.

Tour

Spain Classics hit all the right notes all of the stops were great but Valencia and Barcelona were my favorites.

Service

Remarkable tour guide. Great itinerary. Wonderful experience.

Tour

Our tour guide was remarkable. Dealt easily with several serious health issues w/o missing a step with the rest of the tour. Adapted our itinerary quickly to accommodate closure of one of the highlight locations we all wanted to see. More than made up for that closure. Ernesto was the best!

Tour Guide, tour guide, tour guide

Service

Great tour guide! Responded quickly to multiple health disruptions and sight closings w/o any inattention to the tour. Excellent.

Service

The 2 stars are both for *personal info removed by Feefo* our tour guide. He was beyond terrific. Unfortunately, I spent the tour in a hospital or my hotel room ill with a virus that gave me a 102 degree fever.

Tour

Done already in previous box

Hello,
We're so sorry to hear that you fell ill while on tour.  We will be sure to tell our tour manager team about how great the tour guide was.  If you felt he was great, please change your star rating to a 4 or 5 star.  We appreciate your business and hope to travel with you again very soon. 

Collette Support

Service

Most of us were Seniors. The days were very long with almost too much scheduled to do.

Average service by Collette US

Service

I've already reviewed this trip and mailed it to you.

Service

Good trip - very enjoyable. Had been to most of central and northern Europe, and found the terrain, architecture, food, etc. very different in Spain and Portugal.

GREAT- One of the best we have taken !!!!!!!!!

Service

The places we visited were exceptional- beautiful and historic - Our Tour Manager *removed by Feefo* was outstanding- she was very knowledgeable and had an outstanding personality

Tour

Toledo - The old buildings, the narrow streets, the beautiful places of worship - and the friendly people as well as the great wine

A bit underwhelming in terms of accommodations and included meals.

Service

I had higher expectations as to the quality of the accommodations and the quality of the included meals. We took a Globus Portugal tour immediately following the Collette Spain tour, and it was far superior in both areas, which was a real surprise to us, as Collette is rating a 5 star company vs. the 4 star rating for Globus.

Tour

As previously stated, a bit disappointed in the quality of the accommodations and the included meals. Also, it would be reasonable to expect to know the available additional excursions more than 7 days prior to departure.

I enjoyed all the sites,tours and the guides. A great adventure!

Service

The itinerary is great--time to shop and wander on your own near the hotels. The guides are very knowledgeable and friendly and fun. The drivers are very good and friendly. We appreciate the value we get for the money and the places we see. We had a great time!

Tour

I meant to do 5 stars but could not redo--- tours were very good

Hello Elsie,
Not to worry!  You now have the chance to change your review to a 5-star rating.  We're looking forward to traveling with you again soon. 

Collette Support

Not at all sorry I went on this amazing tour but it could have been better

Service

The service was great and our tour manager did an exceptional job however the itinerary itself was simply too crowded. I love history but I don't need to know every date and every detail of every historic site we visited. More time to simply wander and appreciate without the "whisper" in my ear would have been so much more enjoyable.

Tour

My previous review is sufficient. Fatima rates very high on my favourite memories; also would be Obidos. On both these stops we spent most of the tours on our own. Alhambra ranks right up there. Our tour of th Lladro factory and the Paella experience are two of my favourites as well.

great group of people to send 10 days with. The tour guide was great. All t...

Service

great group of people to send 10 days with. The tour guide was great. All the problems of getting around were taken of our hands so we were able to enjoy our time better.H

As a tour coordinator with Collette I thought I would be notified about upd...

Service

As a tour coordinator with Collette I thought I would be notified about updates and when travel papers and payment was due I was not.

Tour

Too many to mention loved the cities visited and all the attractions in all the cities we spent time in.

Good Experience, particularly enjoyed the local guides (Cordoba stand out).

Service

Overall experience was good, we were a little frustrated with the mix of our particular group, which included several people with mobility issues. This made it difficult to do some of the tours in a timely manner. I realize that this is "the luck of the draw", and applaud the people with issues, who made a valiant effort to not inconvenience anyone!

Tour

As stated above, good overall tour. The Flamenco evening was memorable, as was the tour of the Cathedral/Mosque in Cordoba, was great.

Beware, only those in excellent physical shape should take this trip.

Service

The 3 pace, while maybe correct, was very demanding because of all the stairs and cobble streets and sidewalks, This is what made it so strenuous compared to other 3 pace tours we have taken. Although my wife and I could handle it, many on our tour could not and I do not believe this was clearly indicated before the trip. A warning should have to be acknowledged before booking this trip because when others could not keep up, it delayed everyone else; making for long days with late arrivals at the hotel. As a result, we often could not change clothes or shower before dinner or was rushed in doing so. Two of the people could be legally classified as handicapped, two others frequently used canes, and one had bad knees and moved very slowly. Made for a waiting for them throughout the day, even though they often used cabs when possible. One person fell and broke a knee cap, one fell and broke a foot, while we saw two others fall without any apparent injuries. As far as the content of the tour itself, we felt there was not enough opportunities to be involved in the cultural aspects or Portugal and Spain such as the paella experience. The aboriginal experience and barbecue in Australia and dinner with locals in NZ are examples from our other Collette tour which we enjoyed. Many beautiful churches and old walled cities, but we became numb to their splendor and history after a while and wanting some more variety on local way of life. Also, we have found you miss out too much on these tours if you do not take the optional excursions, but on this trip when we did it there was not enough time for independent exploration on own which has been at times our most rewarding part of our journeys. We have now taken 7 similar guided tours and content wise, this was the worst. Conversely, the Outback to the Glaciers was the best with others by cruise companies and Globus rated in between. We do not regret taking this trip because we did see a lot, albeit hurriedly; but will forewarn others of what to expect.

Tour

See above for more specific tour comments. Most enjoyable times for us were walking around Seville and Valencia, beautiful cities. Also, a tour of the Seville bullfighting museum was a highlight and not a part of the tour. Not including the heritage of Spain in the tour would be like skipping the Civil War battlefields in the USA. We understand that bullfighting is not politically correct and controversial but part of their culture in the past and still occurs in many places.

Service

Wonderful service cannot fault.

Tour

Variety and organisation all done efficiently and smoothly

Service

Very nice tour, Guide & driver were top-notch excellent!!! The pace was a little busy (needed one or two days off). Maybe use high speed train for longer disrNCES.

Tour

Granada, Toledo, Barcelona streets.

Good service by Collette US

Service

Missed the Alhambra.

Tour

The tour was very nice and the guests were very congenial. I most enjoyed the Sagarada Familia in Barcelona.

Service

Because of the failure to check well in advance that the tickets for Alhambra Palace & Gardens in Granada for an afternoon visit were definitely reserved.

Tour

First class tour manager and coach driver took us to a good variety of must see sights. Favourite was the interior of the non-scheduled Segrada Familia in Barcelona. Otherwise the Mesquito in Cordova. You should include this!

Don't use Collette; they promise and don't deliver.

Service

I am tired of paying for Collette trips and when you get to Europe they all of the sudden cut out one of the most amazing tours out of the trip with flabby excuses. I surely am spreading the news that your company is not one they should use.

Tour

This should have been rated 5 because of all the walking, up and down hills.

Excellent service by Collette US

Service

They are a a great price and the trips are always excellent

Tour

All of it. It was a wonderful tour and are guide was excellent and caring.

They did not deliver as promised in the itinerary. Missed seeing Alhambra b...

Service

They did not deliver as promised in the itinerary. Missed seeing Alhambra because company did not purchase tickets for us and we missed a light tour in Barcelona.

Service

Fabulous trip! Great hotels, great guide. The trip was everything the brochure promised.

Tour

Since this was the first time in Spain and Portugal I didn't know what to expect. The countries were amazing while different from some of the other European cities I've visited. I really enjoyed getting to see the countryside and the excursions taken outside the large cities. One complaint was not being able to go to Al Hambra. I was really looking forward to it. But Collette and the guide did an excellent job on making up for the mistake. As well, I was really disappointed in the extra excursion I paid for - the night tour of Barcelona. While the dinner was good, what I really paid for was the tour of Barcelona at night. But we never got the tour. The bus driver drove us around pretty much where we had already been that day, and it seemed like all we did was drive around and around the tunnels. I was pretty disappointed and in the future will not pay for any extra excursions ahead of time but will make the decision while on the trip.

Poor planning lead to always being in a catch-up mode

Service

The tour manager was great, as was the primary bus driver, but Collette dropped the ball on a number of important issues (reservations not completed, promised activities not realized, overpriced optional excursions, and VERY inferior hotels.

Tour

Optional excursions were overpriced. Made relatively few personal purchases while on tour other than nominal gifts to bring to people back home.

Hello Elliott,
Thank you for bringing this to our attention. It looks like you have spoken to a member of our guest relations team already, but we wanted to let you know that we have also passed along your feedback to our Tour Manager and Product Development team for review.  
We are thankful for your business and look forward to seeing you on another tour.

Collette Support

Unforgettable experience, Spain is wonderful!

Service

I would have rated Excellent if not for the hotel accommodations that we had, very tight for 3 people. We expected bigger, adjoining rooms like what we had with our London Paris Tour in November 2014, we paid about $4000/person after all. But our Tour Manager was great during the trip, our bus was comfortable and the itinerary was well coordinated.

Tour

I would love to go back to Sevilla and spend the whole day at Plaza de Espana.

Overall very good- quite energetic at times.

Service

I would have preferred a slightly smaller group Not all the restaurants were of the standard I expected. Some outdoor venues would have been welcome A bit more flexibility should have been shown with the temperatures above the norm for the time of the year.eg a refreshment break in Toledo.

Hotels were uncomfortable. Walking was much more than moderate. Missed Al H...

Service

Hotels were uncomfortable. Walking was much more than moderate. Missed Al Hambra during the day and were only scheduled to see the outside of Segrata Familia

Service

The service provided by the tour director and driver was excellent.

Tour

The tour group was too large.

Service

Well planned and thought out.

Tour

Outstanding leader. Very professional and friendly.

Spain Classics trip was a real adventure in all respects.

Service

We enjoyed every aspect of the trip except for the flights you lined up for us. We have travelled with Collette before and we know it is a quality program. We do not like going to the airport with no assigned seat. For a seven hour trip to Spain we wanted to sit together. Fortunately we happened to get the last two seats at the very back of the plane together. For the return trip we flew from Barcelona to Heathrow , not together. Then we had a 4 and a half hour lay over which required us to frantically ride busses, go through security twice, run around like cattle, barely making our flight to Boston, still not together. We were not at all happy with this aspect of the trip!

Service

Collette is an excellent tour company.

Tour

This was an overall fantastic experience. The included sites were wonderful, and there was time to explore independently. Hotel locations were excellent. This is a great tour for those who enjoy art, history, culture, and having a good time! It is a busy tour because travelers are exposed to so many places and experiences. Spain is a big country, and we were able to see so much of it on this tour. Our tour manager facilitated and orchestrated the trip very well. She really provided a top quality experience that we could not replicate on our own. Collette takes the worry out of logistics so that you can really enjoy your trip.

Wonderful tour. One of the best.

Service

Itenery was great. Excellent selection of sites to visit in both Spain and Portugal. Accommodations were wonderful. Would recommend tour to others.

Service

Information provided throughout booking and leading up to departure was great. Didn't really have any questions.

Tour

Great experience, loved Barcelona, and all tours during trip. Had wonderful weather, which was a pleasant surprise.

Service

whole experience was seamless and timely

Tour

Loved Lisbon and Barcelona, Alhambra was amazing

Service

Good trip. Tour manager was organized and knowledgeable. Included meals good.

Service

Service ok. Dinners were mostly excellent. Hotels were mostly fine.

Tour

Felt their was too much time on a bus and not enough diversity in what we were taken to when off the bus.

Beautiful Portugal and Spain

Service

Had the most wonderful experience on this tour. Restored my faith in Collette. *Personal Details removed by Feefo* was a wonderful tour manager. Saw everything I wanted to see and was greatly impressed with the guides that were hired by Collette.

Tour

Cannot choose any specific tour. All were wonderful.

Generally an enjoyable tour little niggles but that's personal

Service

Another day or two would've been nice to give us time to assimilate what we'd seen. Still trying to sort it all out. Organisation good, far too much food on included meals out, and there must be other meals than Tapas! Got a bit samey

Guided travel perks

Other tours you may enjoy

We pick you up and bring you home again when you reserve air with us.