Jambo,
I have just returned from The Plains of Africa tour and I am so excited to share my experiences with you!
First and foremost, the flight takes about 16 hours from the east coast of the United States, but the destination is certainly worth the time it takes to get there. I enjoyed the rest time on the plane and got a chance to catch up on some reading. Out of all of the trips I have been on, this has certainly been one of the best I have ever had! Kenya is a fabulous, safe destination and you WILL have the trip of a lifetime in Kenya with Collette.
Fun Facts About Kenya: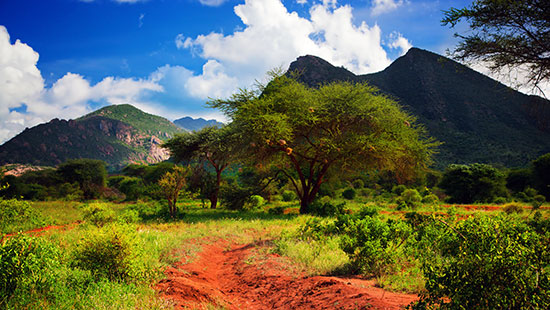 The currency is the Kenyan Schilling (About 121 to 1 USD)
Kenya is about the size of Texas.
Everyone in the city of Nairobi dresses up very nicely.
The official languages in Kenya are English and Swahili.
The population is approx. 43 million people. 
Coffee is a major export, but Kenyans do not drink it. In fact, Kenyans prefer to drink tea and beer.
Kenya only has 2 seasons: rainy or dry.
Sarova, Stanley Hotel
This hotel in Nairobi is about a 20-minute drive from the airport and is right in city centre. It is a beautiful property and has a variety of restaurants on the location including Thai food. It also has a nice spa where guests can get 1 hour massages for only $35 USD. There is a pool and a gym available to guests that are both complimentary.
Sarova, Mara Tented Camp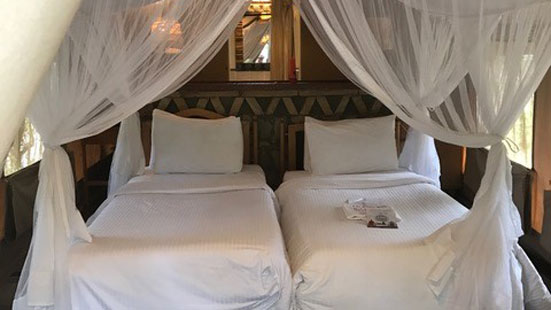 Masai Mara was absolutely a highlight for me on this tour as I have never stayed in a tent, but this has to be one of the nicest tents I have ever seen! Add in the wild life that can be heard outside of the tent and the accommodations were a treat in themselves. At night, you can hear the animals in their natural habitat and it really sets the tone for the next day of safari. I know I was so excited the first night I could not sleep. Above is a picture of the inside of the tent. As you can see, it is not really a tent at all since it's quite luxurious. Breakfast, lunch and dinner are served buffet style along with some ordering options. The food was some of the best I have ever had on any tour!
Sarova,Lion Hill
Lake Nakuru was also another very nice location. The Property looks out over the area of Safari and this is the area that focuses on the rarest of the "Big Five," the Rhino. This Property also has buffet style eating for breakfast, lunch and dinner. In this location, we had the unique opportunity of having breakfast in the bush and it was certainly a highlight of the trip.
Sheldrick Elephant Orphanage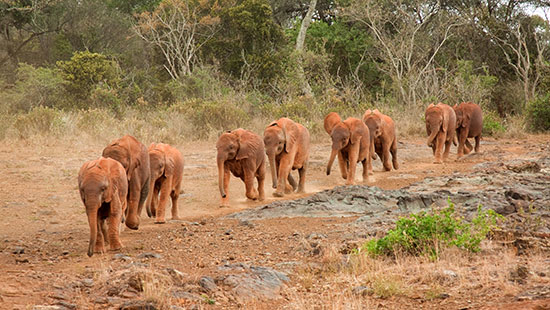 Nairobi sets the tone very nicely. En route to the Elephant orphanage, we become immersed in the culture and got a good feel of what life is like in Nairobi on a daily basis. Once in the elephant sanctuary, we learned about the baby elephants and how they come to live at the Sheldrick Elephant Orphanage, an internationally renowned orphanage located in Nairobi National Park. It was great to learn about their efforts to protect and rehabilitate elephants who have been orphaned by poachers or have lost their habitat due to human population. We also had the opportunity to feed and pet the baby elephants!
Rothschild Giraffes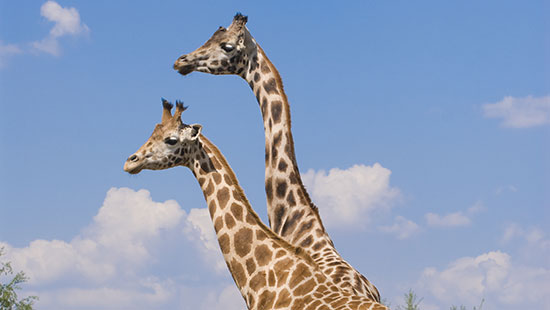 Next, we experienced the local wildlife firsthand as we had the opportunity to feed the endangered Rothschild giraffes from a raised platform at the Giraffe Sanctuary. Lastly, we travelled to Karen, and visited the farmhouse of Karen Blixen, author of Out of Africa.
Masai Mara Game Reserve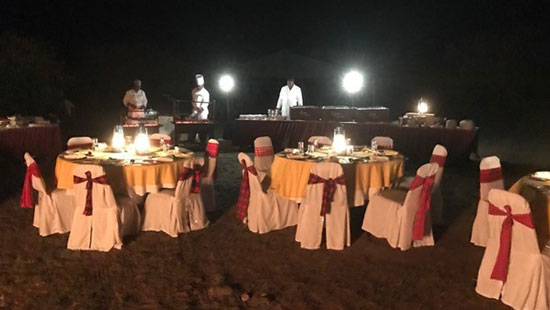 This next day we travelled to the Masai Mara Game Reserve. The Masai Mara – an extension of the great Serengeti Plain – is considered the most stunning game viewing spot in all of Kenya: lions, giraffes, zebras, elephants and other wildlife reside here. The tent provides all the deluxe amenities of a lodge, complete with the adventure of being out in the wild. We got to visit a Masai village prior to our game drive and enjoyed a traditional bush dinner featuring a Masai dance performance.
Game Drive
The next day we continued our tour searching for the "Big Five" (Rhino, Leopard, Cape Buffalo, Elephant, and Lion). We found 4 of the Big 5 that day along with seeing hippos, cheetahs and even a few kills. It was a perfect day filled with all the excitement Erik and I could have hoped for.
After a nice morning game drive, we spotted a leopard with its prey up in a tree, which was something I never expected to see, and after seeing millions of zebras, a few elephants and an ostrich, that evening we spent time with the Masai Mara and learned in depth details about their daily life. They are nomadic, meaning they pack up and move every 15 years or so, basically moving with the rain cycles.
We Departed for Lake Nakuru, in search of the rhino and had success on the first drive out. We saw a black rhino, one of the rarest rhinos to see because they are solitary and there is only 1 about every 100 miles. We settled down for a nice evening around a fire after dinner and reflected on all we had seen up until that point. It had all been so spectacular that we couldn't choose a favourite part.
After the morning game drive, we were all completely surprised to find an amazing breakfast prepared for us in the bush, complete with champagne! That afternoon, we were fortunate enough to see a few white rhinos, which are a little more prevalent and unlike the black rhino, they travel in herds. We actually saw a mother rhino with her baby.
I have never in my lifetime ever been so moved by a destination. Every animal in the wild, the untouched and un-altered scenery was absolutely awe inspiring. I cannot believe I was so fortunate to be blessed to have witnessed these animals in their natural habitat and not in a zoo on a schedule. This experience changed how I look at these animals.
Because of my wonderful experiences, part of Africa will always be with me for as long as I live.You have worked and saved up your hard-earned money to see bucket list destinations such as this, and I promise that you will be absolutely blown away when you experience the Plains of Africa.