Collette Offers AARP Members More
AARP members like you deserve more. With over 100 years in the travel industry, Collette gives you more peace of mind, more expertise, more flexibility, and more on tour. Not only do our expertly-crafted itineraries ensure you don't miss a single iconic site, but we also arrange for you to delve into local culture and cuisine, relax at hand-selected accommodations, and enjoy the freedom to choose between possibilities included on tour. Choose your trip of a lifetime from over 160 tours to all 7 continents.

AARP members could save $50-$100 off Collette tours!
Order your Travelers' Worldwide Guide
Your next big adventure starts here. Dive into our complete collection of worldwide travel experiences. Find seven continents in a single stunning book.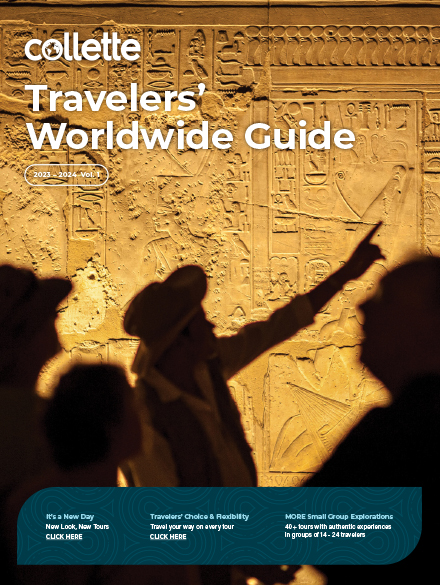 View Online
**Member benefit is $100 off per person on all tours to Australia, New Zealand and South America. All other tours have member benefit of $50 off per person.

AARP member benefits are provided by third parties, not by AARP or its affiliates. Providers pay royalty fees to AARP for the use of its intellectual property. These fees are used for the general purposes of AARP. Some provider offers are subject to change and may have restrictions. Please contact the provider directly for details.