A nature cruise along the rivers and canals of Tortuguero National Park in Costa Rica has you simply enraptured. Lush tropical scenery surrounds you as you float through the rainforest on a Costa Rica wildlife tour, the water gently lapping up against the boat as it glides along. The spellbinding scent of so many flowering plants has you entranced when suddenly, your local guide gestures to your group to look up into the trees. You can hardly believe your eyes when they land on an adorable sloth, the very animal you hoped to find on this trip! This is the moment when you realize that you're in paradise and you can't wait to see everything.
Birds
The birds of Costa Rica are legendary. 600 species call it home year-round and another 200 migrate there. Even novice bird watchers will find colorful Toucans, pretty Quetzals, 16 varieties of parrot, hummingbirds and many other bird species. Your binoculars and your local guide are your best friends as you scan the trees to see these beguiling beauties.
Sloths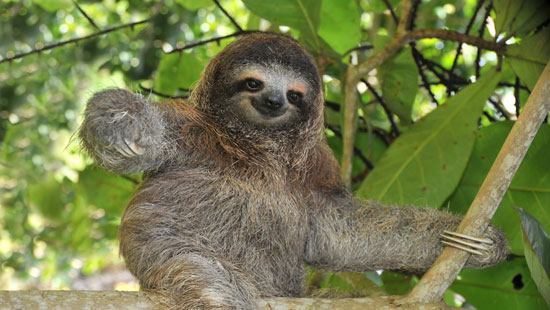 If there's an animal that every visitor is hoping to see, it's the sloth. Sloths have become a symbol of Costa Rica and it's easy to see why. They're adorable, snuggly and very relaxed. While sloths are common in Costa Rica, they're more elusive than you'd expect because their camouflage protects them from sight. Your guide will help you spot these darling creatures as they lounge around high up in the trees.
White-faced Capuchin Monkeys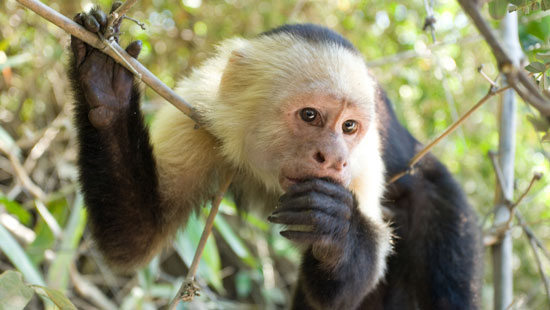 Right up there on the adorableness scale with sloths are capuchin monkeys. The population is very healthy in Costa Rica with Manuel Antonio National Park being one of your best bets for a sighting of the lively and intelligent capuchins. They live in large social groups that can range from 10 to 40 members, so there's a good chance that if you see one, you'll see many.
Ocelots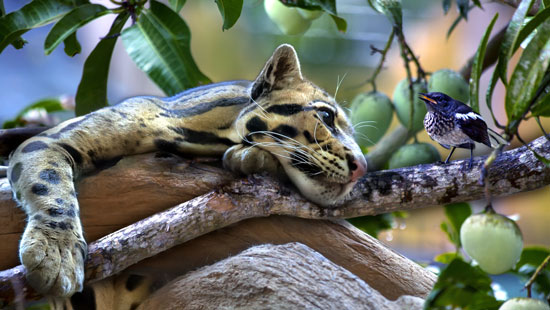 The stunningly beautiful Ocelot is a secretive and hard-to-find primary and secondary rainforest cat. If you happen to see one in the forest, you're very lucky indeed! (Pro Tip: Look up! Ocelots are nocturnal and sleep in the trees during the day.) If you don't spot one, no worries. You can see them at wildlife sanctuaries like the Monteverde Cloud Forest Reserve.
Costa Rica is a wildlife lover's dream come true. You'll see these and countless other animals that previously only existed in photos, now just a short distance away from where you stand—so close you can almost touch them. Return home knowing that paradise is real and that sloths are even more adorable in person than they are in pictures.
For more experiences for wildlife lovers on tour, check out our Wildlife Collection! Plus, find other collections that appeal to those who enjoy history, culinary delights, outdoor activity and much more.