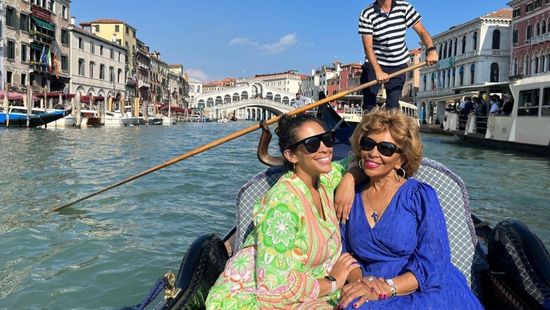 Italy's Treasures: Art, Food and Wine of Italy was the name of our mother/daughter guided tour we took with Collette, and a more perfect name I can't imagine. I have thought a lot about this after visiting Italy for the third time, and I think I am comfortable saying there isn't a country that has more major magnificent cities than Italy. We discovered and experienced the wonderful "Italy's Treasures" alongside 14 fellow travellers on this guided tour of the breathtaking Lago Maggiore, then the no less spectacular Ligurian Riviera, inland to Tuscany and its tranquility and savoury flavours, and on to the Serenissima on the Adriatic Coastline where we finished to our exploration in incomparable Venice.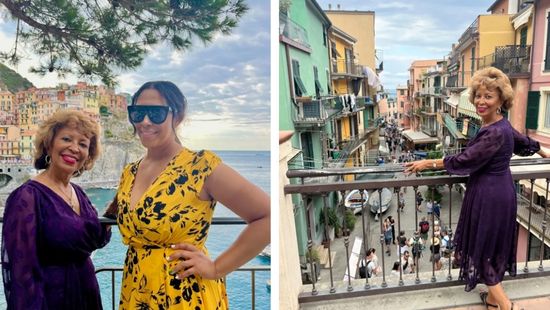 With each city that we visited, I would think, "okay, this is my favorite… it can't get better than this…" and then we would go to another city, and I would think it all over again! When people think of Italy, they think of, among other things, the most famous artists our world has known (Michelangelo, da Vinci, etc), but the country itself is art. It's exquisite and beautiful and an artist or photographer's dream to make art of the country itself.

Our itinerary included two nights in Cinque Terre – the Italian Riviera! We'd seen the pictures, those iconic pictures of colourful homes reaching into the rocky hills, and now we were there! We stayed in a town called Sestri Levante at the Grand Hotel dei Castelli, a unique location as it is a castle – on a hill!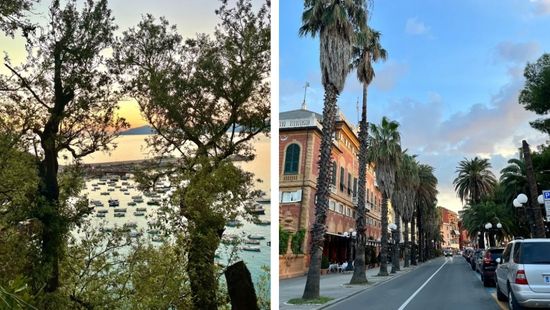 Cinque means five, and Cinque Terre is a stretch of land with 5 medieval villages/fishing towns that have become a UNESCO World Heritage site. From Sestri Levante, we took a comfy train about 20 minutes, first to Manarola and then Vernazza.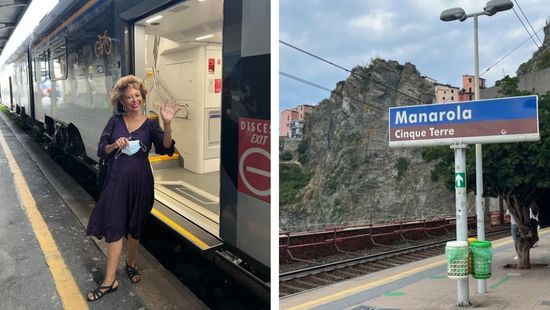 If you've ever seen a picture of Cinque Terre, the views from these two towns are what you've seen. The views are perfect and like nowhere else in the world. Homes in bright yellows, corals, and pinks with evergreen-colored shutters, seemingly one on top of another, in the rugged mountainside with non-native cacti peeking through mountain crevices that look out over the sea, dotted with fishing boats. Manarola and Vernazza are different but the same. The angles of the homes perched in the mountains and where the mountains curve into the Ligurian Sea make each town unique. We were there on a cloudy day and as the clouds moved and the sun would poke through, it would make the views a little different.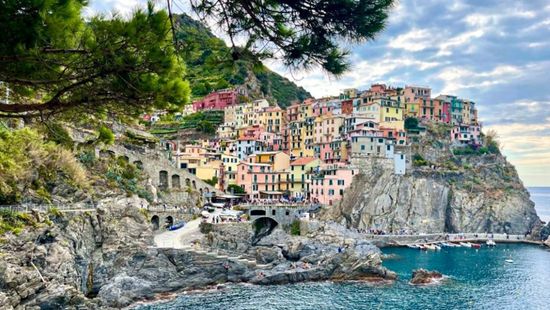 Packed with tourists and vying for space to get the perfect photo to show your friends and family at home – the picture where they will go "Oh! I've seen that before!" The view that amateur and professional photographers are wanting to make a print of to put on their office or home wall. Tourists bump into each other, enjoying gelato, fried anchovies in paper cones, and thick slices of focaccia bread.
For lunch, we sat outside and enjoyed pasta with local seafood, of course – remember, these were once tiny fishing villages!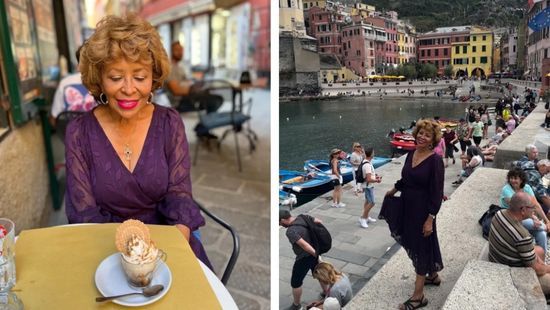 Cinque Terre is a delight to the eye. The contrast of the homes against the hills is like nowhere else in the world and deserves to be seen by any world traveler!
Have you travelled to Italy? What were your favourite locations in this stunning country?