Vietnam, a nation with a long history, boasts a wealth of natural and cultural treasures. Vietnamese Buddhism has given rise to unbelievable religious structures. Rivers such as the Mekong run throughout the country, adorned with picturesque islands. Welcoming villages rest along their shores. Its street food has become a must for international foodies. Cities such as Hanoi bustle with energy and ancient places such as Hoi An welcome travellers. All told, Vietnam is simply a feast for the senses.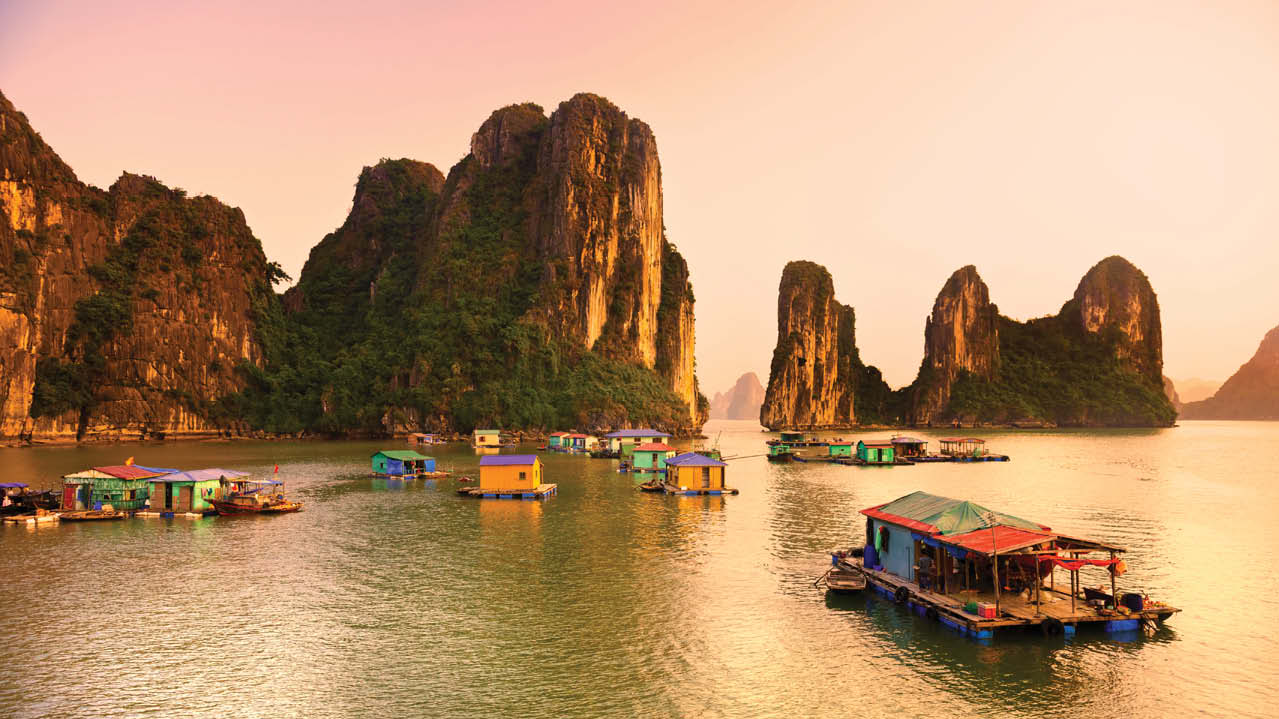 Halong Bay:
According to legend, Halong Bay—or "descending dragon bay"—was formed when a god sent down a dragon that was the source of the 1,600 limestone pillars that populate the bay. Now you can wind your way through this karst landscape by boat and view these impressive outcroppings, some of which rise up more than 91 metres. Most are uninhabited, but those that are provide a prime habitat for fishermen. Halong Bay was designated a UNESCO World Heritage site in 1994.
Hoi An Ancient Town:
Located at the mouth of the Thu Bon River, Hoi An's ancient town is an example of a well-preserved South-East Asian trading port. Most active from the 15th to the 19th centuries, the influence of Chinese and European travellers combined with that of the local inhabitants to make Hoi An exceptional. Its structures are mostly made of wood, and include more than a thousand timber-frame buildings. Whilst its economic contributions today are primarily from fishing, the trading port's decline in the late 19th century helped it retain its traditional urban atmosphere. Hoi An Ancient Town was designated a UNESCO World Heritage site in 1999.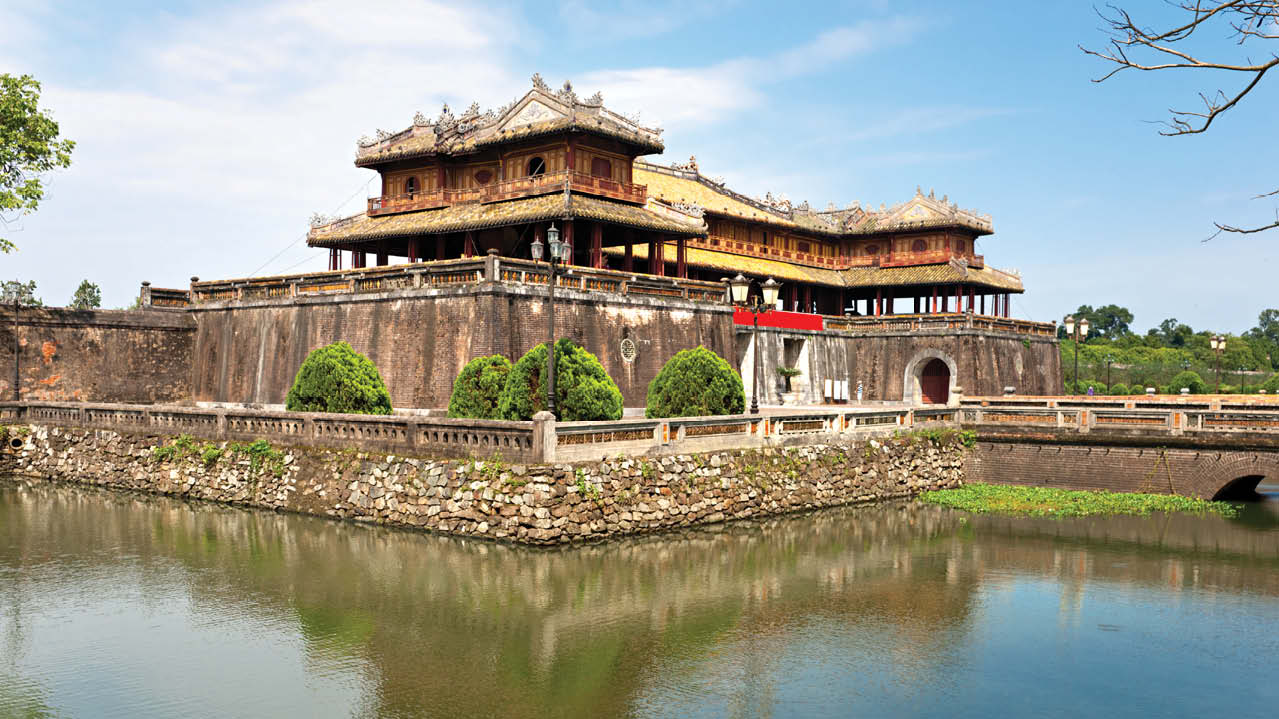 Hue Complex of Monuments — Hue City:
Hue was established as the capital of unified Vietnam in 1802, and until 1945 it was a key political, cultural and religious centre. Today it is a fine example of a unique feudal capital. The Nguyen Dynasty, Vietnam's last royal dynasty, left its indelible mark here. Hoang Thanh (Imperial City), Tu Cam Thanh (Forbidden Purple City), the Imperial Residence, and other royal palaces comprise the Hue Complex. Wars and natural disasters took their toll; in response the area was designated a World Heritage site by UNESCO in 1993. This has led to the restoration of 132 monuments so far.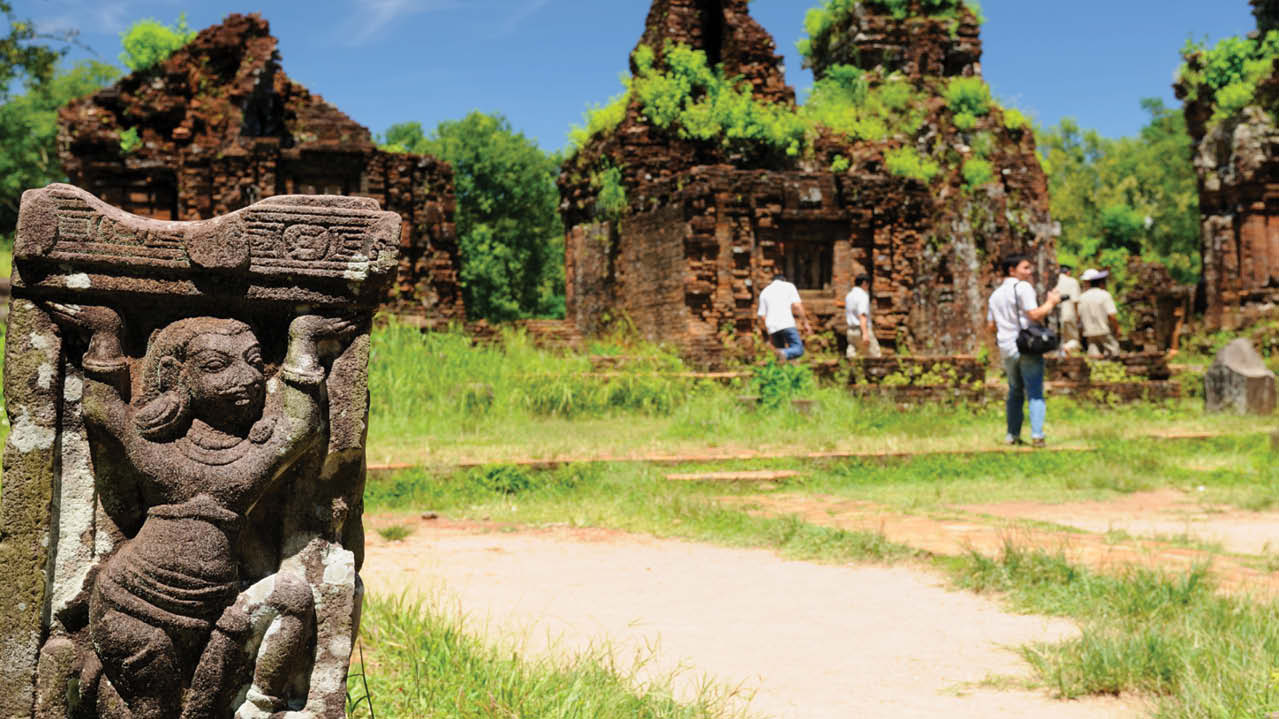 My Son Sanctuary—Hoi An:
My Son means "Kingdom of Cham." This cluster of partially ruined temples and tombs sprang from the ancient Champa Kingdom of southern Vietnam. The religious buildings, made of red bricks and sandstone, were constructed from the 4th to 13th centuries—spanning 10 centuries of continuous development. The sacred Thu Bon River flows past the monuments, which have Hindu rather than Buddhist origins and were devoted to Hindu divinities such as Shiva. Partially destroyed by the U.S. during the Vietnam War, 70 structures remain and have been safeguarded by UNESCO since 1999.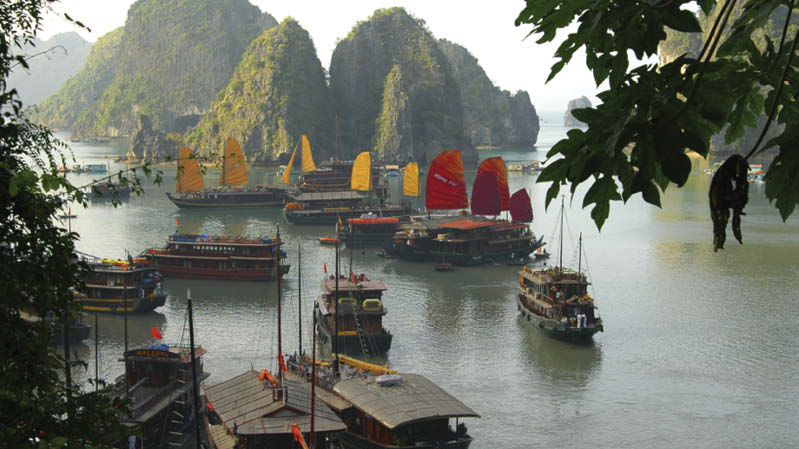 Travel by boat:
One of the longest rivers in the world, the 2,500-mile-long Mekong River runs through Laos, Cambodia, and Thailand in addition to Vietnam in its "lower course." Partake of a cruise on this bustling river and experience the Mekong Delta like a native. Don't let the name fool you: a "junk boat" is an ancient Chinese sailing vessel with striking rectangular sails, and is the perfect way to cruise the emerald waters of Halong Bay. View rice paddy fields and the 1,000+ limestone "islands." A cruise along the Perfume River reveals Hue's Imperial past. Wind your way through the Capital City, the Imperial City, the Forbidden Purple City, and the Inner City. Travelling by boat is truly an ideal way to get to know Vietnam.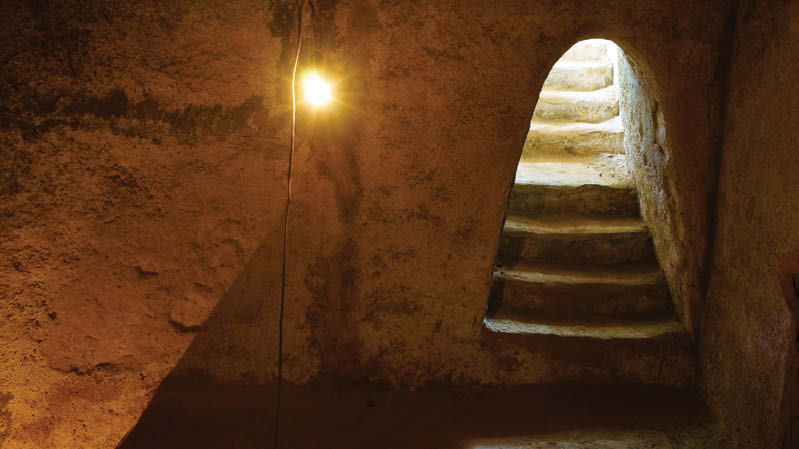 The Vietnam War:
Or, as the Vietnamese call it, the American War. One cannot escape the vestiges of the war when in Vietnam. In response, the Vietnamese government has developed a nationwide network of war memorial theme parks. The Vietnam War memorial park in Ho Chi Minh City (formerly Saigon) is host to the Cu Chi Tunnels. During the war, the Viet Cong dug tens of thousands of miles of tunnels that run underneath the Cu Chi district. The term "tunnel rats" was born here. They are now a popular tourist destination.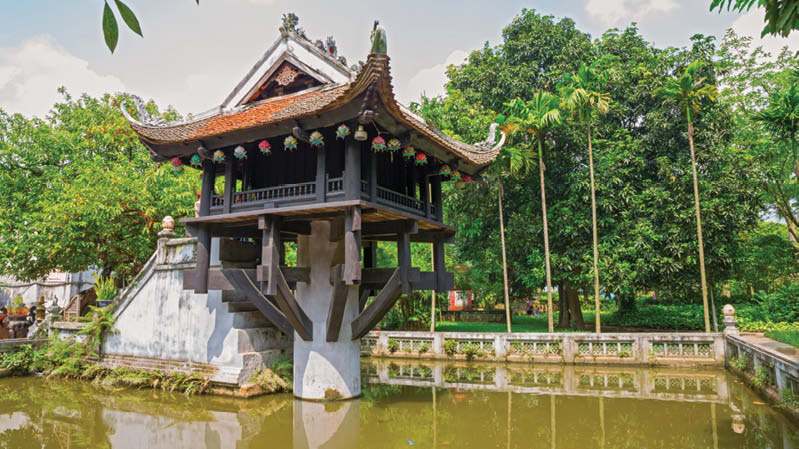 Pagodas:
A pagoda is a tiered tower with multiple eaves that is associated with the Buddhist temple complex. Vietnam has many pagodas worth a visit. The Thien Mu Pagoda, or the Heavenly Lady Pagoda, is located in Hue, on the north bank of the Perfume River. One of Vietnam's oldest and most remarkable religious buildings, construction on the seven-tiered Thien Mu Pagoda began in 1601. The Mia Pagoda, located near Hanoi, is known for its statues. It has 287 Buddha statues, each with its own expression, design and colour. Hanoi's One Pillar Pagoda is located in a lotus pond. It is said to represent a lotus flower, the Buddhist symbol of purity. Built of wood on a single stone pillar, the One Pillar Pagoda is one of Vietnam's most iconic Buddhist temples.
Get a taste of Vietnam:
What better way to experience Vietnam than through its food? When in Hoi An, you can visit a market, interact with vendors, and learn about traditional ingredients. Afterward, enjoy a lunch made with these ingredients. In the rural Ky Son Village, a local chef demonstrates local culinary traditions before a lunch highlighting regional cuisine. Visit the Tra Que Herb Village, a small farming community. Observe the farmers tending their crops and sample some local delicacies. Savour the experience!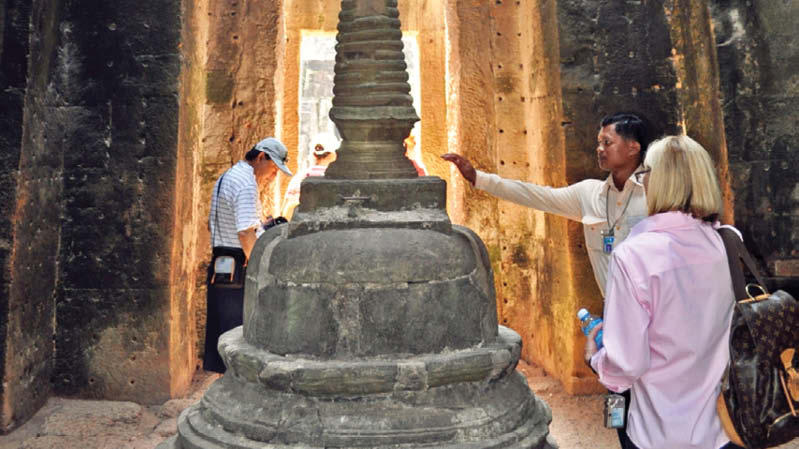 As you prepare to explore Vietnam pack clothing that is appropriate for visiting temples. Be sure to pack comfortable walking shoes as there are areas where the terrain is uneven. We recommend comfortable clothing that has no bare shoulders or short skirts or shorts. You may need to take off your shoes to enter temples or other religious sites.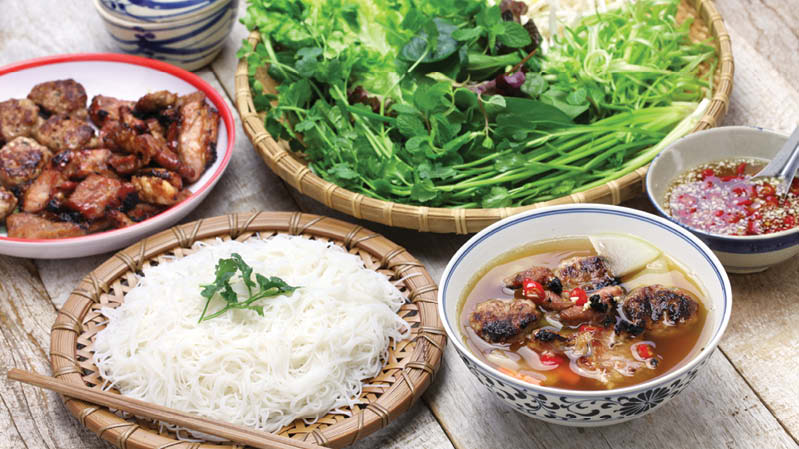 Meals typically consist of either a single dish or a selection of rice, fish and a variety of sauces and spices with many complementary dishes served concurrently and shared by all. It is customary to serve more dishes than there are guests at a table. Some of the highlights include fresh fruit and vegetables like mangoes, dragon fruit and pomelo. Seafood includes shrimp and local fish.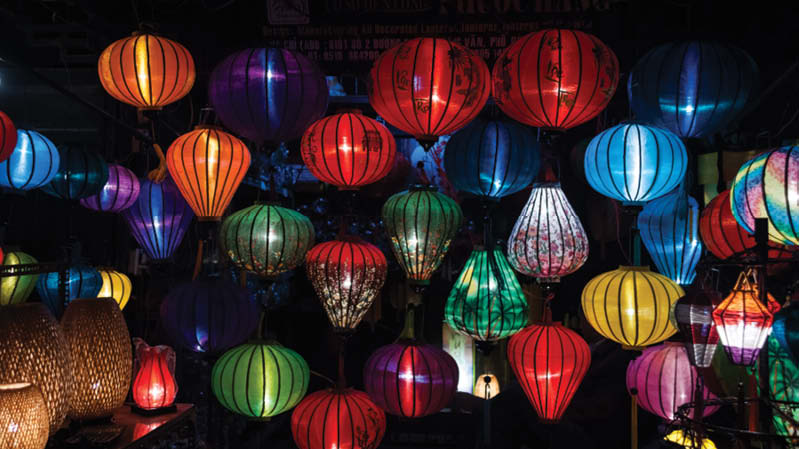 Vietnam is well known for silks, gemstones, pottery, silverware, tailor-made clothes and traditional handicrafts. Many popular items are ao dai (women's dresses), coffee, lacquerware, men's tailored casual suits, basket weavings, wood carvings and rice paper prints.
Featured Tours to Vietnam
Brochures that Feature Our Vietnam Tours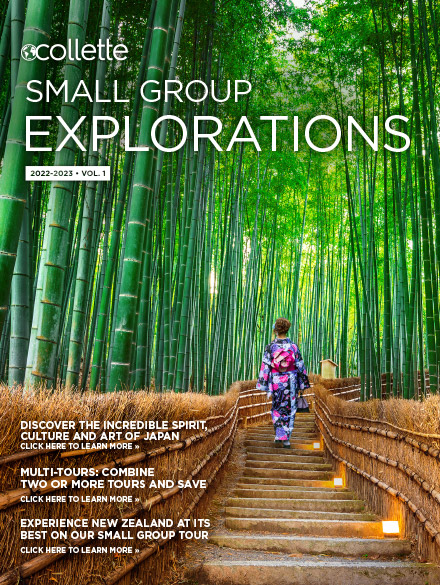 Explorations
This is your time to head off the well-known path and appreciate all the extraordinary moments held in the everyday.