There I was in the food court of Terminal 21, a 9-story airport-themed shopping mall. Located on the busy Sukhumvit Road in Bangkok, the mall has over 600 stores, but Terminal 21's most impressive part is its food court occupying an entire floor. The hundreds of vendors sold sit-down meals, quick bites, desserts and everything in between. For an occidental, food in Terminal 21 is cheap. Most noodle bowls and rice dishes were listed at 30 or 40 Baht, with the occasional 70 Baht dish. These prices in US dollars can be converted to 85¢, $1.15 and $2 respectively.
With so many options to choose from, settling on one dish is a futile task. If you're like me, you won't just order one item –  you'll order a few. My purchase of one oyster pancake, one small plate of sticky rice with mango and one bowl of noodle soup totaled to USD $5.
It's staggering how many food options there are in Thailand. I've shortlisted 10 foods to try, with photos to help you identify them.
Pad Thai Wrapped in Egg Omelette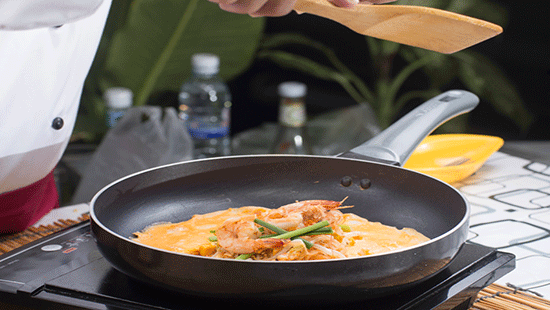 One of the country's iconic dishes is pad thai wrapped in egg omelette. Unlike the pad thai we are accustomed to in the United States, Thailand's pad thai is stir fried flat rice noodles with bean sprouts, scallion, shrimp, tofu, chilli flakes, peanuts, and special sauces wrapped in crepe-like omelette.
Pad thai is a comfort food and a staple in almost every food court, street cart, fresh market and restaurant.
Hoy Tod or Oyster Pancakes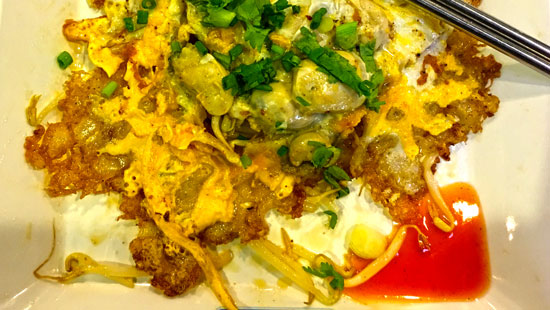 Hoy tod is similar to pad thai. It is oysters lightly coated in rice flour stir fried with eggs, bean sprouts, fish sauce, chilli and scallion. Usually, you get to choose crispy or soft dough hoy tod. Instead of oysters you can ask for mussels, both prepared the same style, served with sweet chilli sauce on the side.
Khao Soi or Northern-style Curry Noodles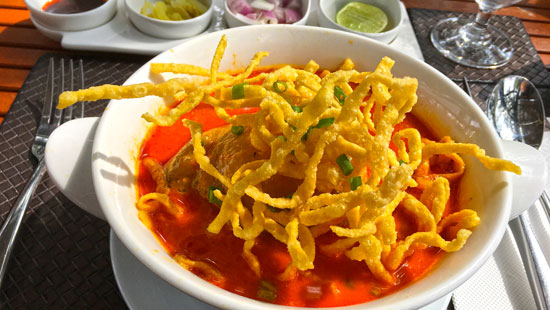 Khao soi is a northern Thailand's signature dish and a must try food if you're in Chiang Mai. It is a dish of egg noodles in creamy curry broth. The broth ingredients include coconut milk, spices and chicken. A bowl of hearty khao soi is topped with crispy noodles, shallots and lime wedges.
Some restaurants offer the meat options, either chicken (kai), beef (neua), pork (muu) or meatballs.
Khao Soi is also available in Bangkok and other parts of Thailand.
San Oua or Northern Thai Sausages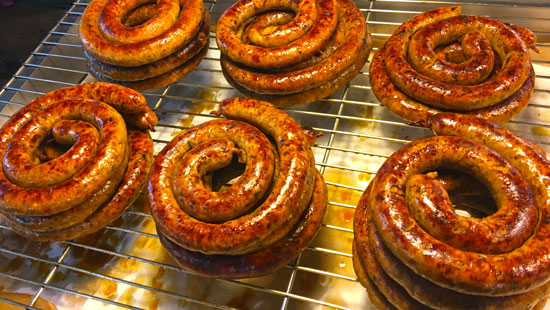 San Oua are northern Thai sausages made from pork, garlic, chilli, kaffir lime leaves and lemongrass. I found a few vendors selling these coiled up golden brown sausages in the fresh market in Chiang Mai. San oua tasted almost like any sausage in the US but with a more lemony taste and spiciness.
Fish Balls with Noodles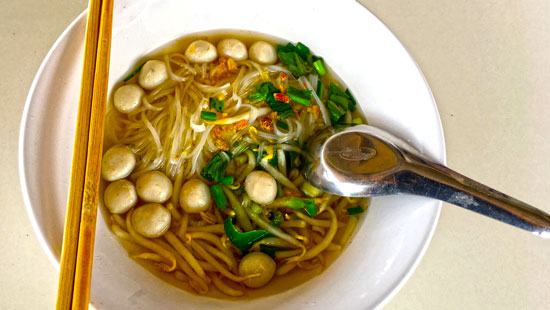 Fish balls with noodles is another essential Thai dish. I had one bowl of thin rice noodles and fish balls in broth on my way from Bangkok to Chiang Mai for 30 Baht (about $1).
Choose egg noodles (bamee), thin or wide rice noodles with broth (nam) or without broth. We had one in Chiang Mai that included sliced barbecue meat, and a bowl of clear soup on the side.
Gai Tod or Thai Fried Chicken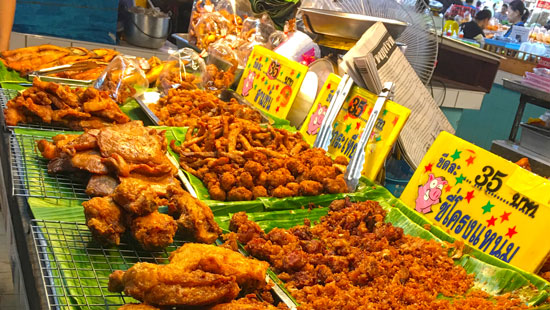 Thai-style fried chicken or gai tod is a popular street food in Thailand. Flavored with lemongrass, garlic, chilli, sugar and fish sauce, this finger food tastes the best with a spicy dipping sauce.
Thai Duck Noodle Soup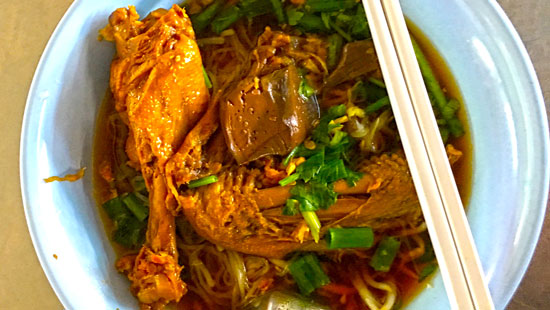 It seems every vendor has its own take on this dish. Influenced by Chinese duck noodle soup, the duck is slow-cooked in peppercorn, soy sauce, five spice, anise seed, galangal, sugar and coriander. Before serving, the vendor sliced the duck meat and placed it on top of the egg noodles before adding the soup.
In Chiang Mai the duck noodle soup has a cube of duck blood, a duck leg and a wing.
Coconut Ice Cream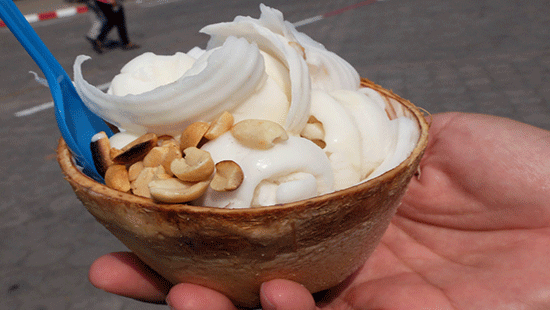 Thai coconut ice cream served in a coconut shell is the most refreshing dessert you can find when walking in the hot and humid streets of Bangkok or after a boat ride at Damnoen Saduak Floating Market.
There are a few vendors selling this ice cream from their long boats at Damnoen Saduak Floating Market. Sellers scrape out the flesh of a young coconut and add two scoops of ice cream to the shell. Then the flesh is put back into the coconut along with roasted peanuts on top of the two scoops of coconut-flavored ice cream.
Coconut ice cream served in a coconut shell are also available in food courts.
Sticky Rice with Sliced Mango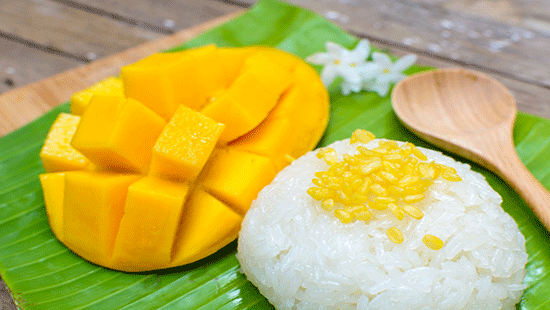 If there's an award for Thailand's most popular dessert it would be sticky rice with sliced mango or a dish known locally as khao niao mamuang. There are two parts to the dish - a perfectly ripe mango and sticky rice. The sticky rice is made of glutinous rice, sugar and coconut milk.
Tao Teung Thai Iced Dessert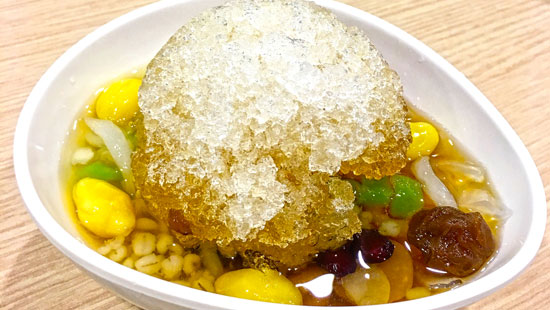 This is a palate cleansing dessert made of sweet corn, longan, pearl barley, grass jelly, sugar syrup and shaved ice. You can find different versions, some are more elaborate than others. But the constants are shaved ice and sugar syrup.
Every visitor to Thailand has memories of their favourite food. Get to Thailand and discover the Thai food culture and let us know your favourite Thai food.
Note: If in doubt, don't eat it.