When we think about a tour of Europe, most of us immediately picture all of those big iconic must-sees like the Colosseum, the Eifel Tower and Big Ben. While you should still see all of those places, in order to truly discover a country's soul, you have to get a little more granular. Take a closer look and explore the lesser known treasures as well as the big ones.
Here are a few places and experiences we bet you didn't know about.
Having dinner at Queluz National Palace is a big treat. It's one of the country's most sumptuous palaces and was used as the summer home for royals way back in the day. Built in 1747, it's one of Portugal's best examples of Rococo architecture. Located in one of the palace's wings is the Cozinha Velha Restaurant which was once the palace's kitchen. It has retained all of its colorful original charm and is a favorite among diners who are seeking a gourmet dinner in a romantic setting. Indulge in a 3-course dinner prepared using traditional Portuguese recipes for a truly authentic experience.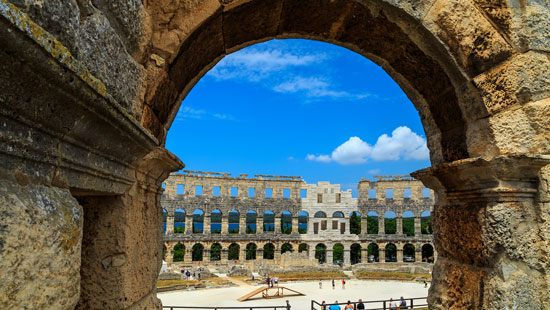 The coastal city of Pula, located on the very tip of the culturally-rich Istrian Peninsula dates back to the 10th century B.C. It has been home to Romans, Greeks, Venetians and many other cultures. A walking tour reveals an imposing and well-preserved first-century amphitheater and many more artifacts from the city's time as a Roman colony. Step back in time and explore!
Credit:Kakslauttanen Arctic Resort, Lapland, Finland
Spend a night under the stars in a glass igloo. The igloos are set far away from the lights and activity of the Kakslauttanen Arctic Resort, and visitors feel like they've wandered into a magical new world. Lie in bed and enjoy an unobstructed view of the night sky above you. Wait for the Northern Lights to reveal themselves and have the most unforgettable night of your life. You won't want to close your eyes for a second. You probably won't get much sleep, but it's so worth it!
The Wieliczka Salt Mines are the only mining site in the world that has been functioning without stop since the Middle Ages. It occupies nine levels with its original excavations stretching for 300 kilometers. Explore longitudinals, traverses, chambers, lakes and shafts. A miner guide will take you through a maze of unique rooms, tunnels, chapels and salt statues. This is truly an unforgettable and otherworldly place with something unexpected at every turn.
Europe has an abundant supply of experiences like these that bring you in for a closer look. Whether it's having fun pretending to be a royal eating dinner in a palace or falling asleep under the stars, these are the details, these smaller parts of the whole, that make for an even more memorable visit.