To find adventure in a new country is a traveller's dream and my trip to Japan was unlike anything I have ever experienced. This was an amazing opportunity to dive in to a culture where experts coordinated everything I needed. Visiting foreign countries can be complicated but it doesn't have to be. When Collette Travel invited me to join the Cultural Treasures of Japan Tour, I wasn't exactly certain that a group tour would be my favourite way to travel. Typically I either travel with my husband Craig or I travel solo. I am so glad that I let my natural instincts kick in and jumped at the chance to join this group Travelling to Japan.
Group travel is the only way to see to Japan and here is why!
Insider Itinerary
Truthfully, a tour is a must! I am not saying this because Collette Travel invited me to experience the Cultural Treasures of Japan Tour, but because I can say unequivocally, I could have never planned a trip like this. Even if I researched for weeks, there were so many unique opportunities and nuances that were impossible to duplicate.
Expert Commentary
The word "authentic" certainly describes our tour experience, but it's more than that. It was personal, intimate and enlightening. Combining Japan's long and unique history with an expert guide can be a powerful duo! Our delightful guide Kazumi, was our personal liaison and she made sure that every detail was accomplished and her expert commentating created the perfect travel scenario. We were so well prepared for every day of touring.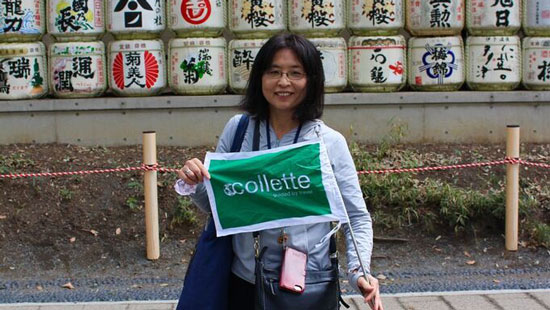 There is always a friend to grab a drink or take a photo
I met nineteen fantastic individuals from four different countries! We got to know each other and for me, my tour was greatly enhanced because of all of them. At the end of the day, if a having a cocktail sounded like fun, I had a friend to grab a drink and talk about our day. Our guide always knew just the right place to take the perfect photo. Kazumi would say, "Just around the corner is where you need to take your shot!" It was like Travelling with an art director and personal assistant. She was always making sure all of our wishes were attended to!
No worries, ever
Everything was planned for us, but there was still a little wiggle room for me to go and meander on my own. No worries, no confusion, all handled seamlessly. Every day was organized, every ticket purchased, every hotel room ready and waiting for us after a long day. Now that is the way to travel to a country that could present challenges with language and creating just the perfect itinerary could be quite daunting. Collette created a tour of Japan that was easy to navigate and such an enjoyable experience!
As a travel writer/blogger and photographer, I am living my dream of Travelling to spectacular destinations and then sharing it with others. However, with experience comes wisdom and I now know there are many ways to travel successfully and group travel is now something I would consider for every adventure. I just loved it and I know you would too!