Whether you're a seasoned chef, enthusiastic home cook, or a foodie who can't wait to visit the Big Apple, there's something to please every palate in New York City. However, there are certain foods that have ranked supreme over several decades as king of the concrete food jungle. If you don't try at least one of these five classic foods, the biggest question will be: did you really go to NYC?
Pizza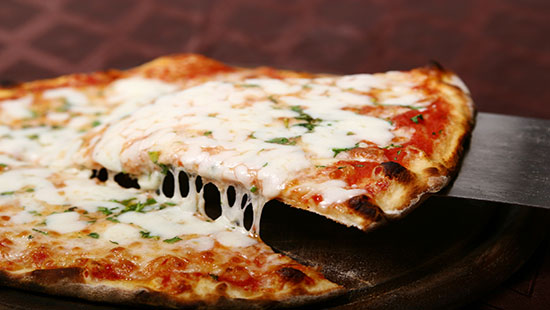 Pizza is more than just America's favourite meal—it's a pop culture icon. You will hear different opinions from passionate individuals about where to get the best New York slice (check out this fun video from Bon Appetit) but the truth is, you can get great brick-oven pizza at a great value from several businesses. Most slices are less expensive than a cup of coffee, so this is the perfect excuse to conduct your own city-wide taste test. Whether you've ventured over to Brooklyn or staying in Times Square, we are confident that you'll find a pleasing, piping-hot piece of pizza pie in close proximity (phew, try that ten times fast!)
Bagels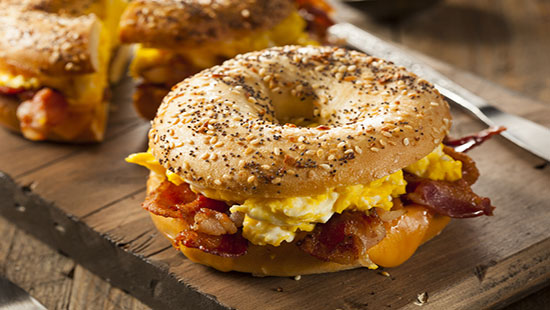 If you're noticing a theme here, it's that New Yorkers like delicious carbs--and they like 'em hot, portable, and fast. A bagel is another comfort food staple you'll find on every corner, just waiting to be loaded up with eggs and bacon, salmon and avocado, or a generous smear of cream cheese. You could even top with creamy, hazelnut Nutella for some international flair. I sound a bit like Forrest Gump here, but that's because there are many magical ways to enjoy a bagel! Wash it down with an iced coffee for the ultimate experience.
Steak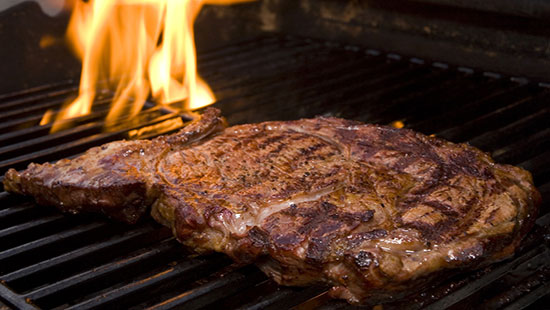 Delmonico's, home of the original Delmonico Steak, might be the most famous restaurant in all of New York City. Back in 1837, during the height of New York's own industrial revolution, Delmonico's opened the very first fine dining restaurant in the country. Since then, thousands of restaurant owners have followed suit, which (luckily for us) means it's not hard to find an excellent cut of beef. Whether you're dining in an establishment that's refined and traditional, or modern and experimental, we're sure you'll never run out of options for a well-deserved steak.
Pastrami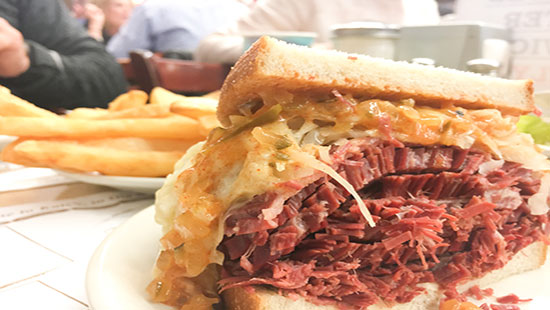 Why are locals so devoted to the pastrami sandwich? It's been an east coast favourite since the late 1800's, when the recipe was shared by Romanian immigrants making their way to New York City. The preparation of this meat is no easy task—it involves slow-cooking a beef brisket, then brining, smoking and coating in spices. It's often served exactly how it was over 200 years ago: piled high on rye bread with spicy brown mustard and kosher dill pickles. I'm so thankful that some traditions never change, and after having one of these delicious sandwiches, you will be, too.  
Cheesecake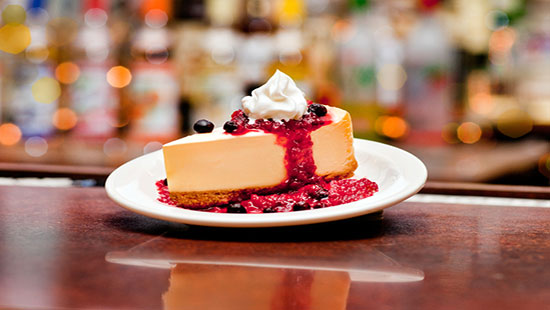 Have you ever heard the term "save room for dessert?" We're pretty sure those words were first spoken upon the invention of cheesecake. If you're not familiar with cheesecake, you will be amused to find it's less of a cake and more of a creamy, dense custard. There are so many flavour variations to try, but for an authentic taste we highly recommend a plain slice with fresh strawberries. For the most famous slice of cheesecake, head over to Junior's at their original location in Downtown Brooklyn, or find them in Times Square. Fun fact: Did you know that on the set of "The Golden Girls," the cast consumed over one hundred cheesecakes throughout the series?
What do you think of these five iconic NYC foods? Did we miss a favourite meal of yours that should have made the list? Let us know if you would prefer to see more traditional or more trendy dishes from cities around the world.