When you're faced with a closet full of clothes and shoes, gadgets and preventative medicines, packing can wear you out. This is especially so when preparing for travelling around China, where your two-week or longer trip may include all types of terrains and climate. Fortunately, there are tips and tricks you can follow to fill your suitcase before your trip.
For Collette's Wonders of China and Yangtze River tour, here's my list of things to bring in my checked bag and carry-on bag. Don't forget to check out my handy packing tips infographic at the end of this post.
Clothing
There's no doubt that a comfortable trip starts with the clothes and shoes you wear. You need clothes that give you the freedom to move and shoes that won't cause sore muscles or calluses. One thing I realized after clocking hundreds of hours Travelling in China that there's more to it than just a list of clothes and shoes.
The list should depend on when and where you go. For example, Collette's China tours usually run from April to October, so you don't need to worry about winter gear. You also need to consider the type of day-to-day activities you'll be doing. The key is to create a list of clothes that you can mix and match, and clothes that are suitable for layering.
Generally, you'll need the following items if you're going to Beijing, Xian, Yangtze River Cruise, Chengdu, Guilin and Shanghai:
Business casual
2 pants and 3 shirts for men, 3 dresses or 2 dresses with 1 pants and 1 blouse for women. Bring a red top or a red dress if you're attending a festival, a wedding or a special occasion. Red symbolizes good luck in China.
Business casual shoes like loafers or oxfords for men, wedges, loafers or pumps for women. Bring one that can match with all your business casual clothing.
Casual wear
2 pants (for men)
2 skirts (or 1 skirt and 1 pants for women)
1 casual dress (women)
1 shorts
7 casual shirts and t-shirts (2 long sleeves)
7 underwear
2 bras for women
1 spring/autumn coat (you can layer with a sweatshirt if it gets cold)
1 jumper
1 swimwear
Pyjamas
1 hat
Sunglasses
Scarf
Costume jewellery, belts
4 pairs of socks
Rain jacket or umbrella
1 hiking boots (if hiking)
1 walking shoes
1 daypack/personal bag
Toiletries
Deodorant
Hair gel/styling foam
Favourite soap and shampoo (not required if you're not fussy)
Toothpaste and toothbrush (most hotels in China provide toothbrushes)
Sunscreen
Makeup essentials
Lotion
Contact solution and an extra pair of contact lenses (if you wear contact lenses)
Extra pair of glasses
Feminine hygiene products
Vitamins
Shaving kit
Toilet paper (you may need it in smaller towns when you're out and about)
Tissue paper (doubles as napkins, as some restaurants do not provide napkins)
Masks (in case of bad pollution in Beijing)
First aid kit (health kit)
All prescribed medication (if you are currently on prescriptions)
Diarrhoea medicine
Peppermint essential oil and lavender essential oil. Some people use activated charcoal. According to Dr. Axe, it's known to reduce bloating, gas, and help prevent hangovers.
Wipes and hand sanitizer
OTC pain relieve medication
Allergy medicine
Electronics and other essentials
Universal power adapter - China uses 220 V/50 HZ
VPN (Virtual Private Network) for your phone or laptop if you want to share photos and messages with friends and family back home. I've used StrongVPN and VyprVPN. Buy the preferred VPN, download it on your devices before you leave for your trip.
Camera to capture photos and videos of fascinating places.
Also, an extra memory card and a charger
Portable power chargers
Filtered water bottle or thermos
Ziploc bags
Small lock
Headphones
Journal
Pen
A book
Smartphone loaded with eBooks and music. Make sure you have plenty of storage space for photos and videos.
Important documents
Visitor visa to China
Passport (valid for at least 6 months)
Copies of your passport
Emergency contacts
Travel insurance
Travel documents - airline tickets, confirmation and tour itinerary
Beijing and Shanghai are loaded with shops where you can get almost everything you need in one super mall. If you forget an item, don't sweat over it. Get it in one of the stores.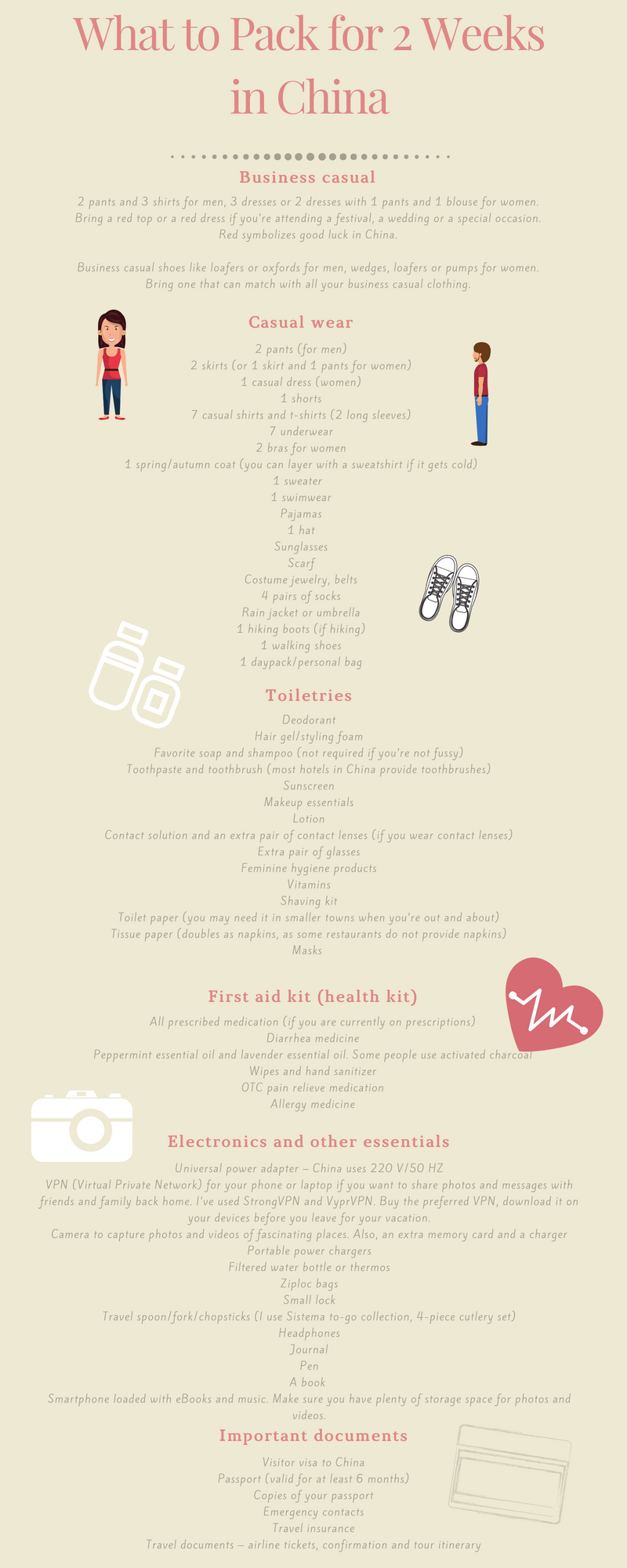 For advice on what to pack in your carry-on bag, check out my blog post here.