Situated in Central Europe, the country of Slovenia may be small but it is the perfect place to get a big taste of Europe in a short amount of time. With a short stretch of coastline along the Adriatic Sea, you can experience Slovenia travel from a sandy beach to the snowy mountaintops of the Alps in a single day. But why rush? Slovenia is rich with beautiful diverse landscapes that include lakes, rivers, caves farms, and mountains. The region is also known for its health spas that offer weary travelers many ways to relax and unwind from their daily lives or exhilarating tours. Hugged by the countries of Austria, Italy, Hungary and Croatia, Slovenia is also the prime spot to use as a starting point of a multi-country tour. Slovenian cuisine is also influenced by these neighboring countries as well as inspired by what its local farmers specialize in producing.  All in all, a Slovenia vacation is well worth the trip and then some..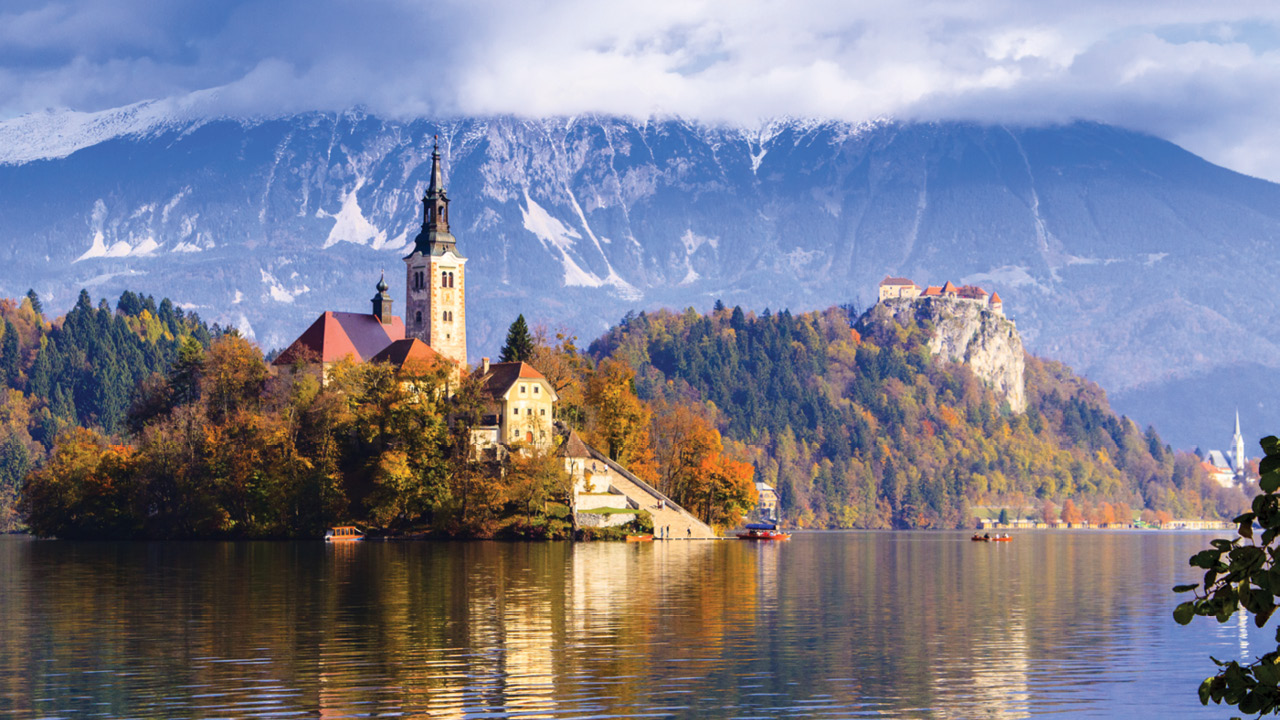 Bled:
You will find an idyllic setting in this popular resort town. Home to Slovenia's only island, this alpine village sits on the edge of a big blue lake. This tiny island seemingly floats in the center with a white church steeple standing tall, and its historic castle majestically perched high on the hill, offering stunning views of the landscape below.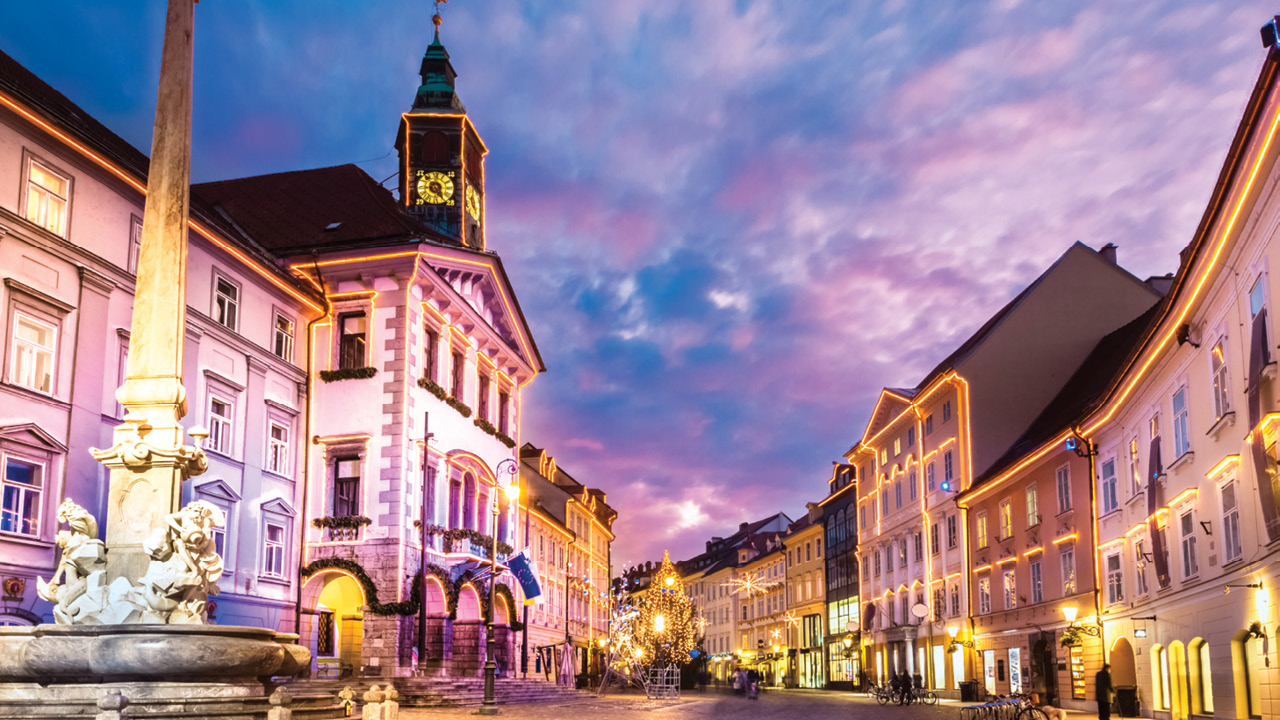 Ljubljana:
This picturesque capital city was awarded the name of Green Capital of Europe in 2016. One reason for its beauty is its location, the tree-lined banks of the Ljubljanica River runs through the heart of the city. Its largely pedestrian city center is the perfect place to explore or simply sit at a charming sidewalk café and enjoy a slice of local life.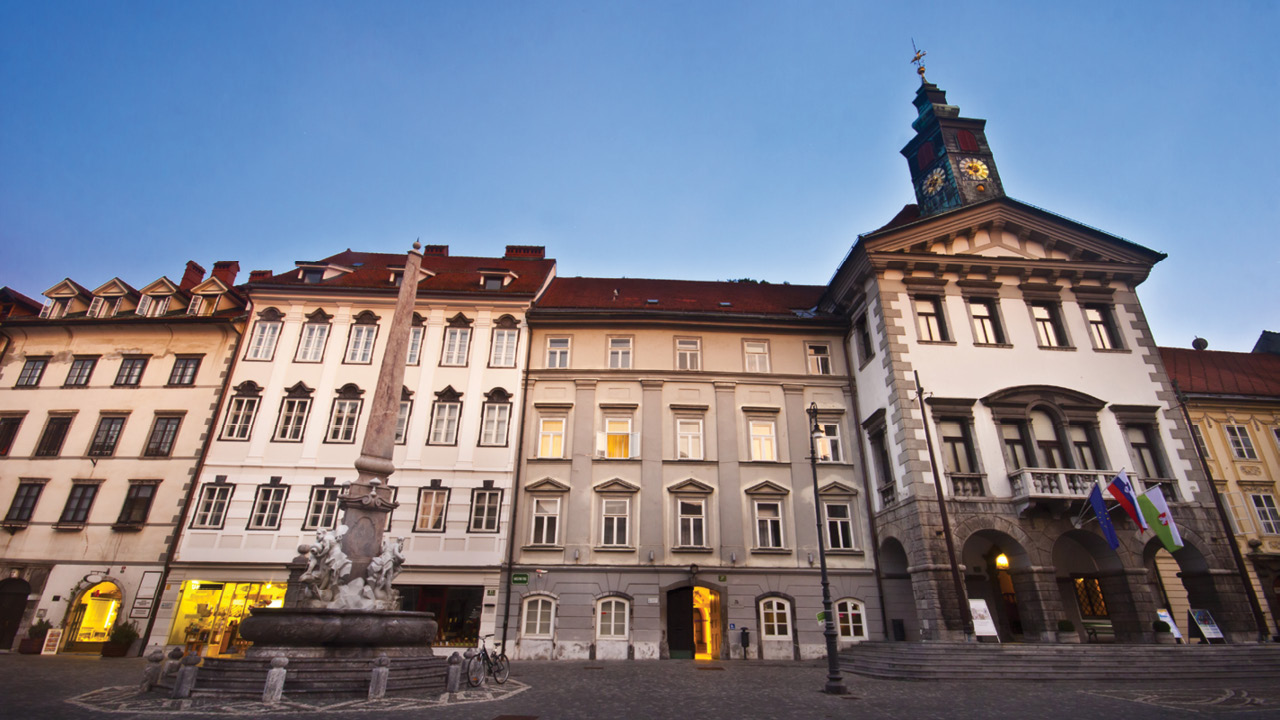 Town Hall of Ljubljana:
Constructed in the late 15th century, it is used today as the seat of the Municipality of Ljubljana. Its present façade was updated in the early 18th century and is reminiscent of Venetian architecture. The inside is grand, and you will find many relics including a late Gothic plaque with a coat of arms that dates back to the original Town Hall.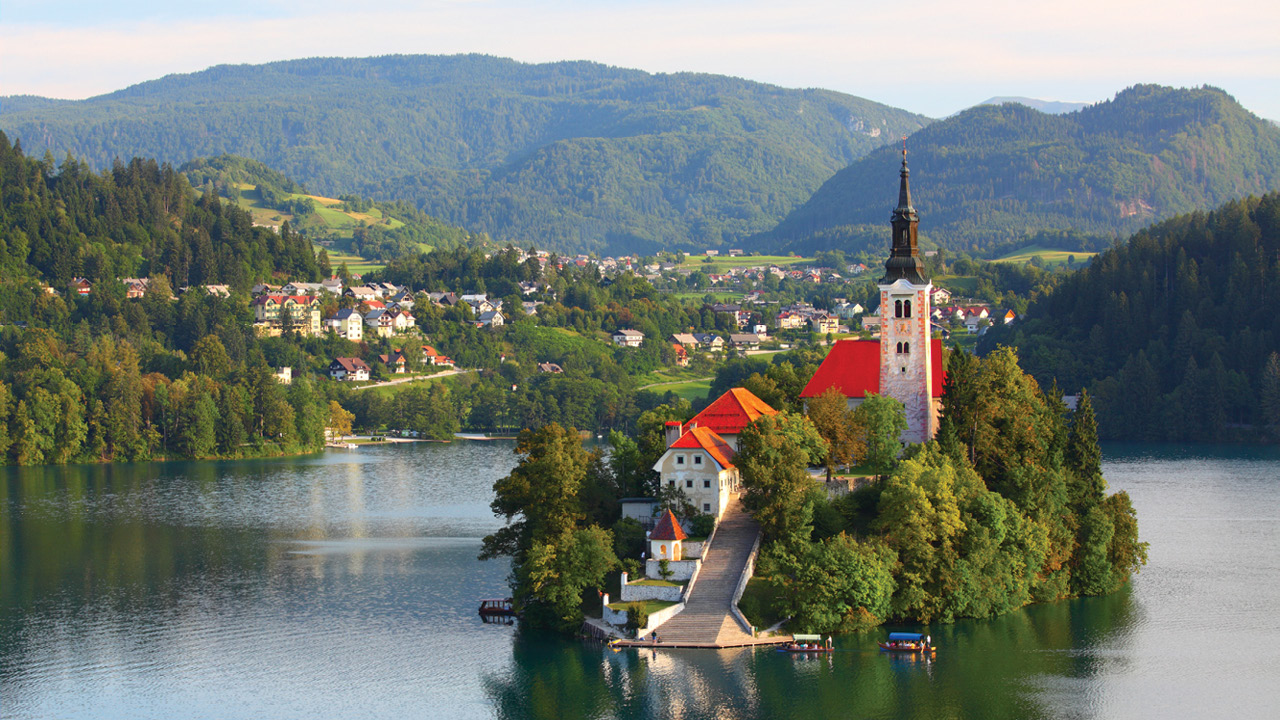 Beautiful landscape:
Driving through Slovenia you will see an extraordinary variety of landscapes. In this small corner of Europe, you will often wonder if you have driven across several countries. At the crossroads of the Alpine, Mediterranean, Pannonian and Dinaric regions, you can see a bit of them all as you go. Towering mountains, rolling hills, vast plains, peaceful lakes, and the rugged sea…this is Slovenia.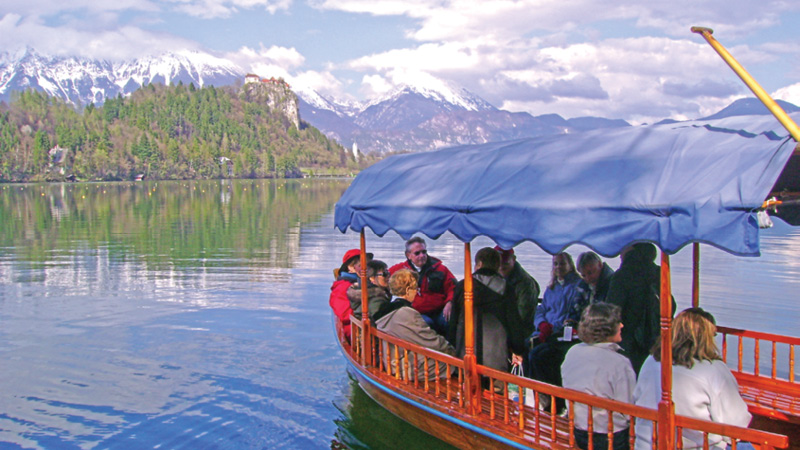 Pletna boat:
Cruise along tranquil Lake Bled as people have done for centuries. Board a traditional Pletna boat made by locals that is unique to this lake. These boats with origins in the late 16th century seat about 20 people. They are wooded flat-bottom boats with colorful awnings that are powered by an oarsman rowing with two oars standing in the back of the boat. It is a truly local experience.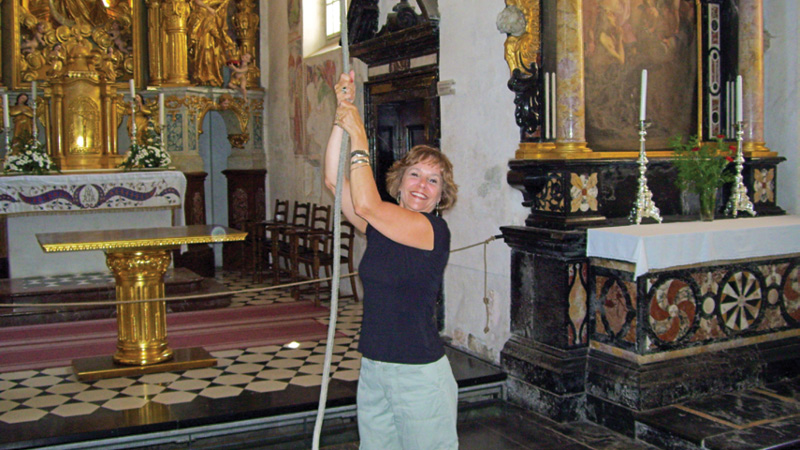 Lake Bled's Wishing Bell:
You'll find a small but impressive 17th century church with a 15th century bell tower that houses the famous "wishing bell." Legend says that a bell, created for the church in memorial of a lost love, sunk in depths of the lake along with its transport crew. After this tragedy the Pope consecrated a new bell for the tower. It is said that whoever rings it gives honor to Virgin Mary, and their wishes will come true.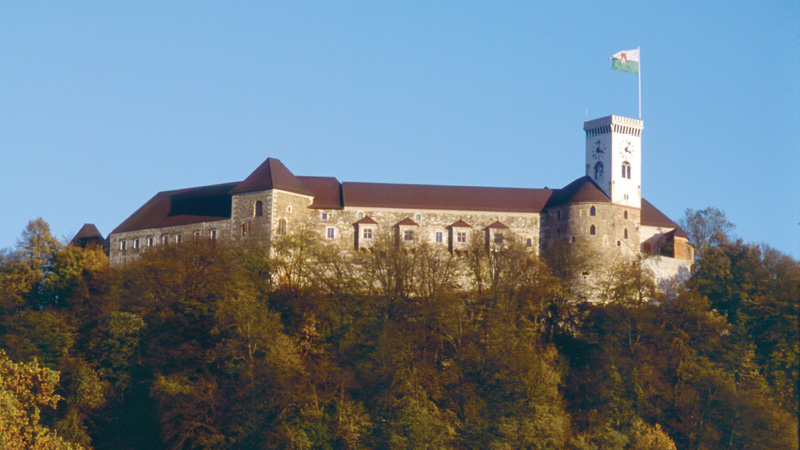 Ljubljana Castle:
Explore this sprawling medieval fortress that overlooks the Slovenian capital city. Built by the Habsburgs in the 15th century with only a façade, towers and wooden barracks, it has evolved over centuries to a grand, romantic castle with an idyllic landscape. It is the perfect place to take a step back in time and watch the sun set, taking in the beautiful views of the town below.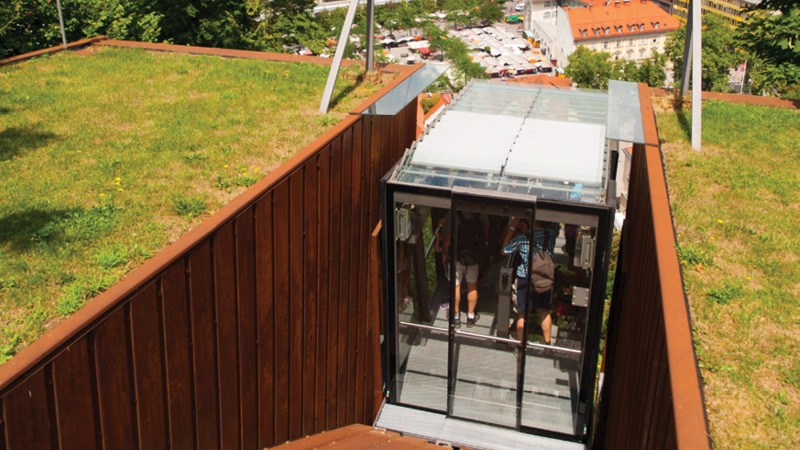 Funicular ride to Castle:
Take a ride from old town up to Ljubljana Castle, an experience in itself. This modern convenience is more than a century in the making. Launched in 2006, this glass enclosed rail system transports visitors up and down a steep ledge of rock just outside the old city that was once a medieval defensive wall. The views are amazing and the ease has transformed tourism in the city.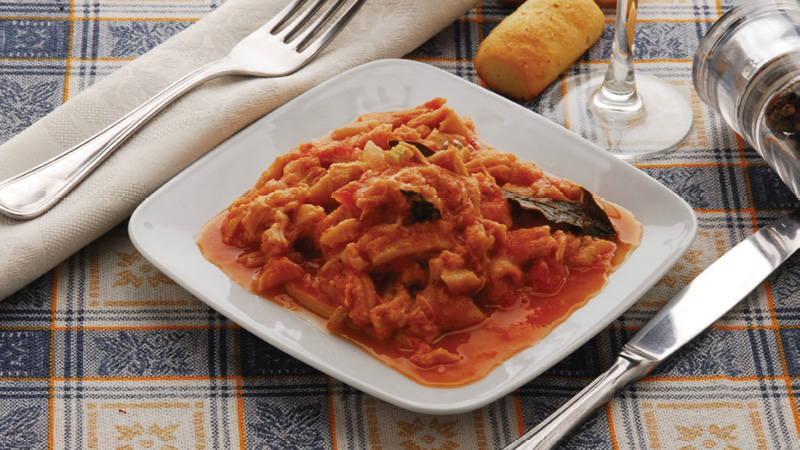 You will fall in love with the cuisine. It is a delicious mix of Italian and Eastern European – you may be picturing goulash and pizza. However, they take the best of both, and the combination is very tasty.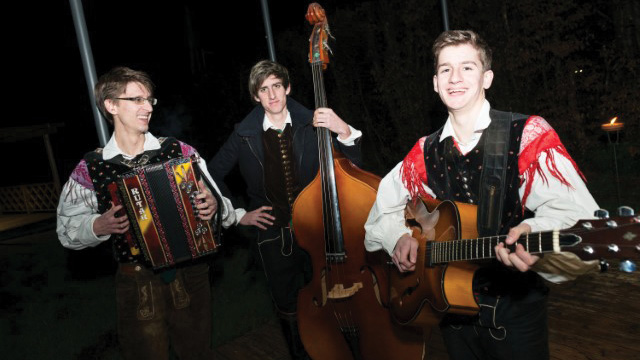 Tourism isn't as prevalent here as it is in other European destinations. As a result, Slovenians are cheerful, friendly people who are always happy to see tourists. Because many travelers are not privy to its charms, it is the perfect country to visit to get a taste of the way much of Europe used to be.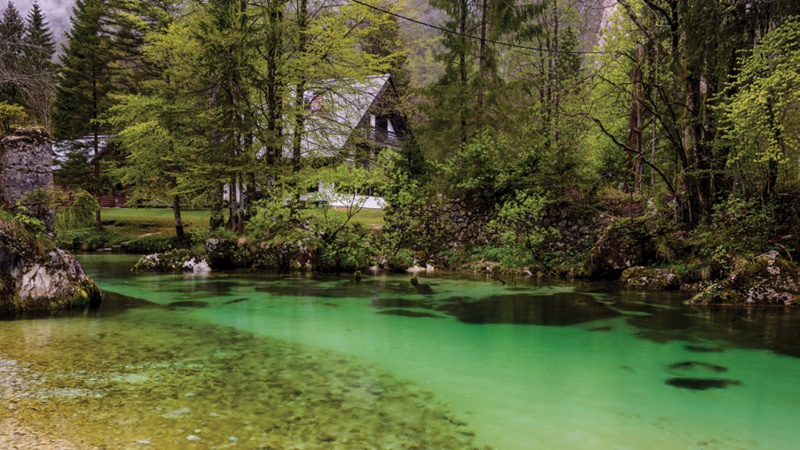 Slovenia is the third most forested country in Europe. A whopping 60% of its land is forested and more than a third of its land is protected. The country plants over 1,200,000 trees each year to keep the forests and biodiversity thriving.
Featured Tours to Slovenia
Brochures that Feature Our Slovenia Tours