We all have our perception of what Chinese food is; white folded boxes with red lettering and chopsticks, fortune cookies and egg rolls with sweet and spicy sauce. Some of us brave using a wok at home for stir fry or venture out to street markets filled with scents of barbeque meats we see hanging at the windows of restaurants, or we may duck into a quaint street front store for a steaming bowl of wonton soup, maybe even partake from a cart laden with delicious dim sum rolled up to our table.
Whatever our experience with Chinese food, we can be sure that each dish is as special and exciting as the land itself. With a vast range of cities, mountains, and valleys lush with green forests and rice fields, China offers delicacies from each region unique to the individual cultures of the country.
In the ten weeks that I had the privilege of traversing those amazing cities, mountains and valleys of China, I became even more fascinated with the diversity of Chinese cuisine. I have enjoyed at least 210 meals, and this doesn't even include the simple snacks during the trip, or the restful stops I took for teatime.
If you're like me, you may like a personal guide to map out your journey. Well, come along with me. I'll share true tastes with you, the ones that divulge authentic "Chinese food," and open up those perceptions I mentioned. From Beijing, Shanghai, and Guangzhou, to Suzhou and Xi'an, let's experience what a visit to China has to offer together.
Peking duck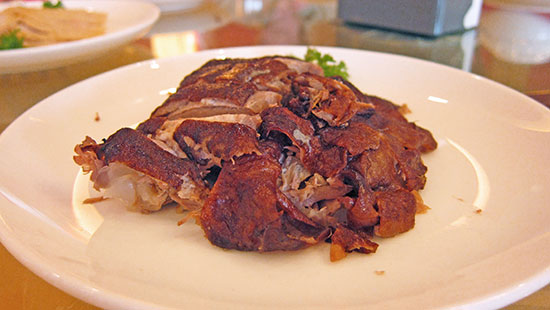 Besides the Great Wall of China, Tiananmen Square, Hutong, Peking Opera, no trip to Beijing is complete without a famous Peking duck dinner. Started during the Imperial era and popularized in the mid-19th century, Peking ducks are glazed, slow-cooked and hung for over six hours before being served.
Part of the fun of eating Peking duck is in the presentation. First on the table is a plate of crispy duck skin served with a plate of sugar on the side. Next is a small plate of sweet sauce (similar to hoisin sauce), thinly sliced scallions and julienned cucumbers. Lastly, the sliced duck meat and a plate of crepe-like pancakes are served.
To eat, place one of the paper-thin pancakes on your plate and add three pieces of carved duck meat dipped in the sweet sauce onto the pancake. Continue with the scallions and cucumbers, and then fold the pancake like a spring roll.
Cong you bing (scallion pancakes)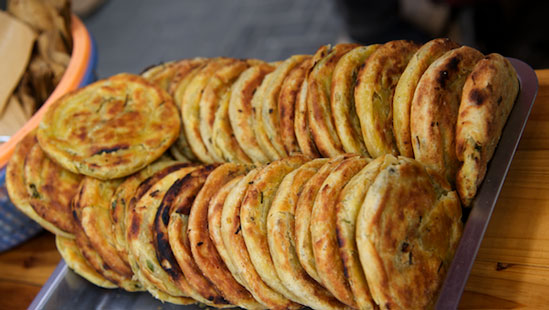 Cong you bing is one of my favorite Chinese street foods. It is popular throughout China, and in Shanghai, a cong you bing will cost you 1.50 Yuan (25 cents) each. Flour, lard, scallions and salt are the basic ingredients in cong you bing.
In Shanghai, we liked the cong you bing sold by a husband and wife team on Fengyang Road (off West Nanjing Road). There were always lines when we visited this hard-working couple's street stall, and their limping poodle was always by their side. They used an old-school charcoal stove which they have been using since they started over 50 years ago. You won't find too may cong you bing sellers using charcoal, instead most use convenient gas stoves which don't provide the same traditional taste.
Baozi (steamed buns)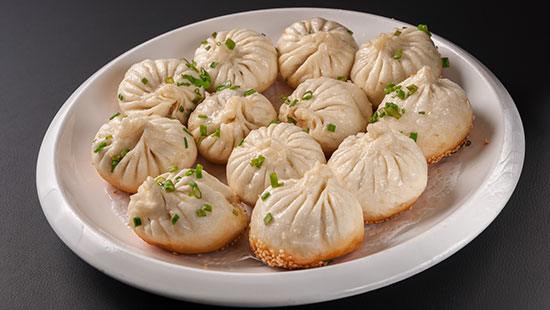 Every region in China has its own version of baozi. Baozi is a steamed bun made with flour, lard, yeast and various stuffings inside. In Xinjiang, West China, the Muslim Chinese ethnic minority makes their baozi with spicy lamb or nut fillings. In other parts of China, baozi are filled with pork, pickled vegetables, or sweet red beans.
My family and I often had baozi for breakfast in Shanghai or when we need to grab a quick bite while on the road in other parts of China. Each of the meat-filled baozi cost around 25 cents, and those with glutinous rice inside were just 15 cents each.
Xiaolongbao (soup dumplings)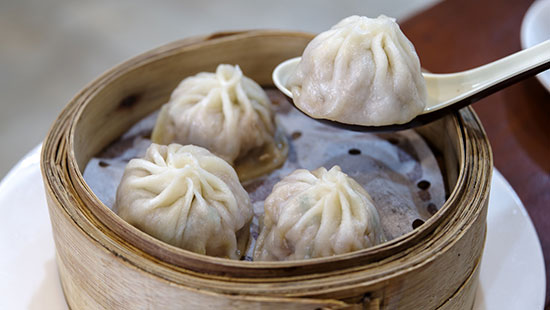 Xiaolongbao is native to Shanghai and the Wuxi region of China. Every restaurant in Shanghai claims they serve the best. My sister, an expat in Shanghai, explained that everyday, locals and tourists alike queue up outside the famous NanXiang Xialong Mantou restaurant at City God Temple for what is said to be the best xiaolongbao.
Soup dumplings (xiaolongbao) are thin-skinned dumplings filled with a minced pork and crabmeat filling and special soup-like hot liquid. This dish is served in a small bamboo steamer with a small bowl of black vinegar and slivers of ginger.
Hongshao Kao Fu (red braised wheat gluten)
Vegetarians, especially those who like saucy and spicy dishes, will find Chinese food enticing. Hongshao Kao Fu is a slow-cooked dish of wheat gluten, black fungus, soy sauce, sugar, star and anise with vinegar, served cold.
Roujiamo (Xian burger)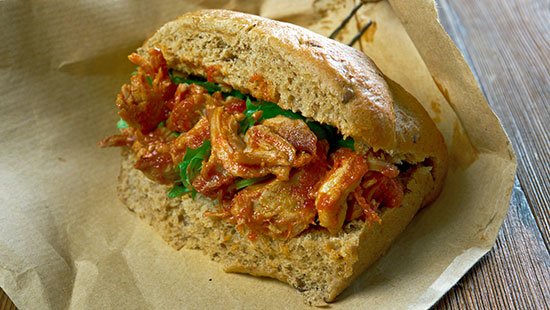 Xian, China's ancient cultural center and capital for 11 dynasties is home to the Terra Cotta Warriors Museum, Wild Goose Pagoda, the Great Mosque, Banpo Neolithic Village, and Xian food. Unlike the foods from other regions of China, Xian food is a representation of different Chinese ethnic groups. They primarily serve lamb rather than pork and frequently use cumin, coriander, and chili in their dishes.
Roujiamo is spicy burgers stuffed with slow-cooked shredded lamb or beef. The lamb or beef is cooked in chili, cumin, and peppercorns and served on flat bread. Roujiamo is now served throughout China.
Chuanr (kebabs)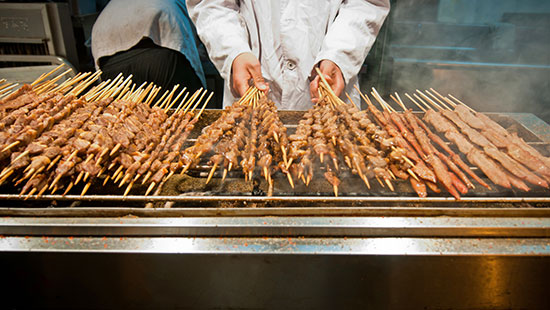 Chuanr or lamb kebabs originated from Xinjiang province, in Northwest China. Chuanr is skewer-barbecued meat seasoned with chili and cumin. Nowadays you can find all types of chuanr in China, including the exotic chicken heart, scorpion, sparrow and other edible meats. Try the lamb kebabs and if you want to try something new, go for the exotic.
Suzhou Squirrel-shaped Mandarin fish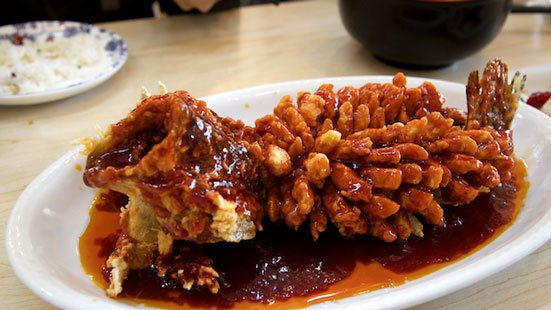 After visiting Suzhou Museum and The Classical Gardens of Suzhou, we found a tiny restaurant serving the traditional Suzhou Squirrel-shaped Mandarin fish. The Suzhou Squirrel fish is a fried boneless carp, expertly cut in a shape said to resemble a squirrel then deep-fried and served with sweet and sour sauce.
Almost every restaurant in Suzhou serves this dish. It is a must-have dish in every official banquet and important event in Suzhou. Dishes from Suzhou tend to be sweet.
Zhangjiangmian (black bean noodles)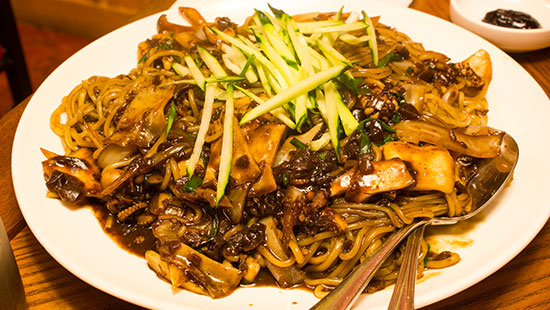 While the Southern Chinese eat more rice, the Northerners like their noodles. One noodles dish to try when in Beijing is zhangjiangmien, which is very similar to the Korean jajangmyeon. These are hand-pulled broad wheat noodles topped with minced pork, black soybean paste, julienned cucumber, and bean sprouts.
Dim sum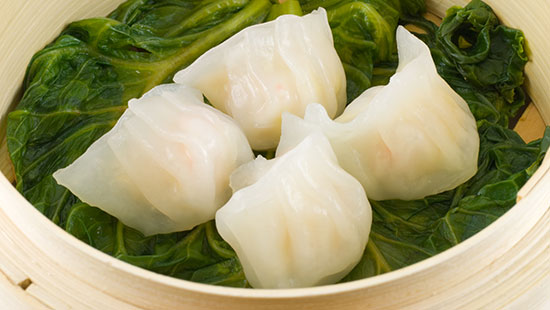 Guangzhou, China's third-largest city, located in the south is the birthplace of Cantonese cuisine. Cantonese food is the cuisine most often found in Chinatowns throughout the world. When in Guangzhou, one must visit a restaurant that serves dim sum. Ladies tending the carts laden with freshly steamed delicacies will roll up to your table. Just pick any of the bite-sized dishes served in small plates or bamboo steamers.
Planning a trip to China this year? Would you add any foods to our list?