For ages, Jordan has been a place of much fascination. It is home to some of mankind's earliest settlements and offers lots to see and explore. Travelers to the region will find the oldest map of Palestine in existence, buildings covered in ancient mosaics, a rose colored city built right into the side of a mountain and so much more. Jordan is quickly becoming a very hot destination and with so much to see, it's no wonder why.
Madaba, "City of Mosaics"
Madaba is one of the most visually striking and memorable places in the region. It is known as the "City of Mosaics" and is best known for its variety of Byzantine and Umayyad mosaics.
The Greek Orthodox Basilica of Saint George is home to "Map of Madaba," the renowned 6th century Mosaic map of Jerusalem and the Holy Land. This spectacular map has 2 million pieces of locally sourced colored stone and depicts hills, valleys, villages and towns stretching all the way to the Nile Delta.
The mosaic was uncovered in 1896 AD when builders began to construct the Church of St. George. Despite careful attempts at preservation, only about ¼ of the map remains. Nonetheless, it represents the oldest surviving cartographic depiction of the Holy Land, Palestine, and Jerusalem. It still provides countless important historical insights.
There are other mosaic masterpieces dating back to the 5th and 7th centuries sprinkled throughout the city that depict other aspects of ancient daily life. Soak in the astoundingly detailed and preserved mosaics of flowers, plants, and various wildlife, along with mythical scenes such as "Personification of the Sea." Gaze upon these millennia-old works of art and see ancient history come to life before your eyes!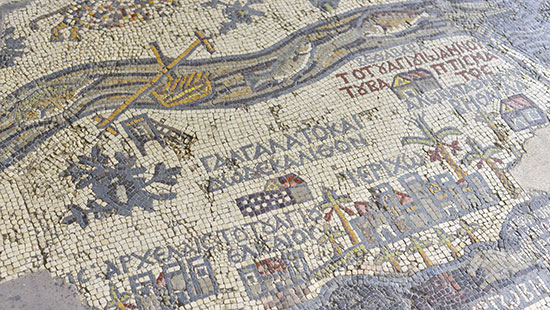 Petra
Nobody knows exactly when the red rose city of Petra was built, but we do know that it prospered as the capital of the Nabataean Empire around the 1st century BC. Its location along major trade routes made it the place to be to procure frankincense, myrrh and other valuable spices. It's one of the most famous archeological sites on the planet and one of the new Wonders of the World. Tourists come from all points of the compass to see the Jordanian city that's carved from rock with a wonderful pink hue. Be sure to visit the intricate tombs cut right out of mountainsides, a Crusader castle, the geologically fascinating eastern entrance to the city called "the Siq," dozens of temples and churches, and miles of ancient stone streets, all of which speak to the long history of this fascinating location.
Don't forget to make friends with a camel during your Jordan travels!