As a member of the Collette team, I get to travel to all kinds of amazing places that shift my perspective every time, but my experiences in Morocco travel have changed me in ways I didn't expect. This is part two of four in which I explore my many incredible experiences with you. Enjoy, and stay tuned for more to come!
If your palette salivates at the thought of tender meats and vegetables slow-cooked with saffron, cumin, turmeric, cinnamon (the list literally can go on and on), then you'll have no problem finding delicious eats in Morocco. Among all this spice, fields of olive groves, citrus trees and wheat (the country's main export) can be spotted throughout the country as you travel from city to city.
Bread is a cornerstone of Moroccan cuisine – you can expect to have it with just about every meal of the day, but breakfast takes the cake on this one. Breakfasts are pretty simple, however you won't find potatoes, bacon, or sausage at the breakfast table. What you will find is plenty of bread (Khobz), pancakes (Baghrir, Msemen) and sweet rolls infused with orange flower water (Krachel). Opt for fresh-squeezed orange juice and a glass of hot mint tea to help get your day started.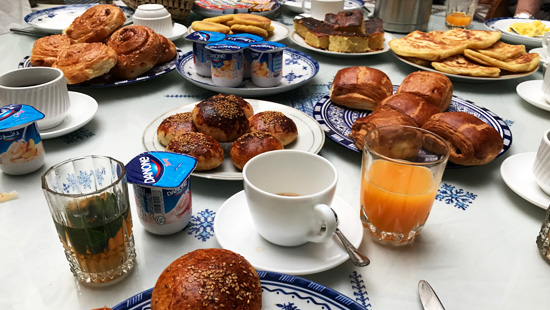 Tajine, a North African Berber dish named after the pot in which it is cooked, is a Moroccan staple perfect for lunches and dinners. Traditionally slow-cooked for an hour or two, Moroccan tajines are typically made with sliced meat, poultry or fish together with vegetables or fruit and are jam-packed with flavors that surprisingly went great together. Lamb, carrots, apricots, dates and roasted almonds slow-cooked in a tajine had to be my absolute favorite dish on my trip (although I can assure you, I left every plate I had spotless!).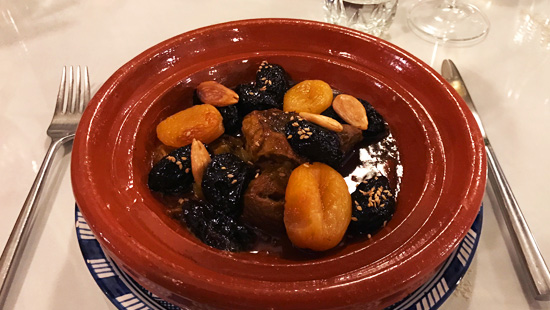 I'm giving Moroccan cuisine two thumbs WAY up. I think it's the thing I miss the most about Morocco.
If you missed my first post about Moroccan Architecture, you can see that here. Up next week is how to haggle in the Souks! It's definitely an art form, but you can do it!