How do you live out of a suitcase for a year? Sounds like a tall order. You may think it is impossible. I had my reservations too, until I did it from 2014 to 2015 with a modest sized bag, the eBags TLS Mother Lode Weekender Convertible.
To be honest, living out of a carry-on sized backpack was freeing but came with a few minor inconveniences. For example, when I walked into the luxurious Four Seasons Hotel Lion Palace in St. Petersburg Russia with my backpack, no one took me seriously until I took out my passports and presented the confirmed reservation for two nights at the hotel. In fact, I was not the only one with a backpack. The whole family – my husband, daughter and son had their similar sized bags too.
While it's not crucial to travel with only a backpack or suitcase for a long-term trip, we chose to do so for our journey. The year-long trip brought us to New York's Finger Lakes, Iceland, Russia (including Siberia, traveling via the Trans-Siberian Railway), Mongolia, China, Indonesia and New Zealand. Many of the destinations weren't exactly luxurious or conducive for large, check-in sized bags or even rolling suitcases.
These are some things I did to live out of a suitcase for a year:
Find the right bag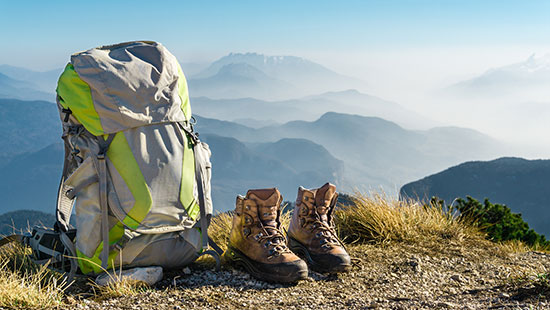 For a long-term trip, look for a lightweight carry-on bag with a large capacity. Whether you decide to take a backpack or rolling luggage is up to personal preference and the types of destinations you will visit.
I chose the eBags TLS Mother Lode Weekender Convertible backpack for three reasons: (1) the light weight; (2) the size and capacity, the backpack is the maximum carry-on size, so I could pack as much stuff as possible, yet place it under train seats and take it with me on plane cabins; and (3) the unassuming look which won't attract unwanted attention.
The Mother Lode weighs only 3 lbs. 15 oz. with a capacity of 3,299 cubic inches (3,651 cubic inches when expanded). That's large capacity for a carry-on size bag since it has no wheels or internal frame. On the other hand, my current carry-on, Lat_56 RW_02, has a capacity of 1,953 cubic inches yet is not expandable and weighs over 8 lbs.
Rethink choices and simplify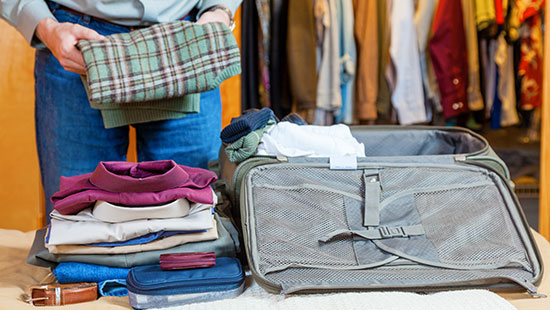 Our society runs on capitalism. Capitalism is good but overconsumption can be a problem for our pocket books and when we travel.
On my eight-month journey in South America I took two bags instead of one. The inconveniences of traveling with two bags (containing many items which I never used) taught me to overcome the feeling of not having enough.
So, before embarking on the next phase of our long-term trip, I knew I had to make a change to the way I packed my suitcase. I was determined to travel with just one carry-on suitcase instead of two.
It was possible to have everything I needed in a suitcase when I made the right choices. Every article of clothing, shoes and accessories had to work well together before they ended up in the suitcase.
What I packed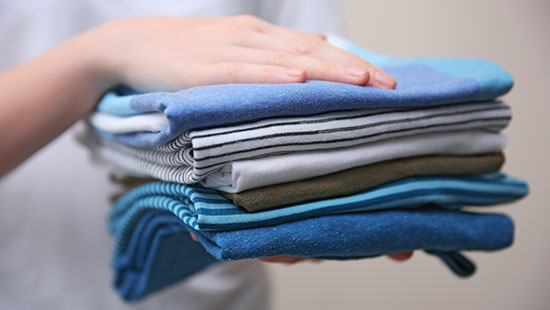 I had to pack for both cold and warm weather. Inside my suitcase were the following:
1 pair of flip-flops
1 pair of lightweight leather dress shoes
1 long sleeve V-neck Cashmere sweater
2 cardigan
1 leather vest
2 tank tops
1 dress
1 black tights
1 pair of light blue jeans
1 pair of khaki pants
1 athletic shorts
1 lounge pants
10 tops – basic lightweight t-shirts, long sleeve shirts and short sleeve blouses
7 underwear and 2 bras
2 pairs of socks (including 1 pair of merino wool socks)
1 scarf
1 pair of woolen gloves
3 paperbacks (books)
1 pack of travel documents
1 pillowcase
1 travel towel
1 face towel
1 16-oz stainless steel thermos
Small accessories, converter/adapter, and hygiene necessities
8 bottles of essential oils
What I wore when I got ready to fly to Reykjavik, Iceland and St. Petersburg Russia:
1 pair of Columbia waterproof low hiking shoes
1 tank top
1 long sleeve blouse
1 pair of dark blue jeans
1 pair of socks
1 scarf
I highly recommend getting a lightweight jacket like the Arc'teryx Atom LT Hoody. It is also breathable and has an insulated hood. It worked well with layering in very cold places like in Siberia and Mongolia in late September (at slightly below 32 degrees Fahrenheit). It only weighs 11.6 oz. and takes up little space in the suitcase when not used.
Buy new clothes at your destination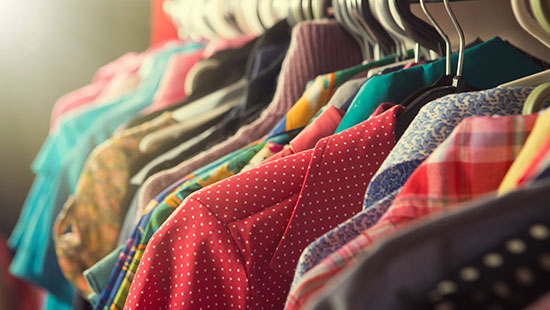 Believe me, I got sick of wearing the same clothes I packed in my suitcase. But the good news was, I knew I would have a chance to buy new clothes and shoes in Shanghai, China and in Bandung, Indonesia at amazing prices.
In Shanghai, I gave away my light blue jeans, one cardigan, one blouse and three t-shirts for a new pair of jeans and a pair of mid-calf boots. I did acquire a high-quality cashmere blouse from Ulaanbataar too.
Remember, when you travel, there's always an opportunity to buy and replace the things you no longer love. I love buying wearable 'souvenirs' because they won't end up on my shelf gathering dust or cluttering the refrigerator door.
It is easy to banish the scarcity mindset when you know you can buy clothes, shoes and accessories around the world whenever you need something new.