Would you like to travel the world on a guided tour, but can't seem to "get it together" and actually book a trip? Is your sofa so perfectly molded to your body, that now it's just way too comfortable to leave? Does your cat, Luke Skywhisker threaten to run away from home every time you leave the house? If any of these situations apply to you, we have the perfect solution: Virtual Reality Tours!
Here are some of the exciting benefits of Virtual Reality travel experiences that are shaking up the travel industry:
Stay in your jammies
We know packing is a pain. Everyone hates it. This is the best way to avoid the hassle and stay comfortable! No need for weather gear when you "Tour Iceland," unless you want to go outside in the rain/wind/snow/sun for an extra touch of reality. Otherwise, Stay comfy and cozy in your elastic-waisted splendor.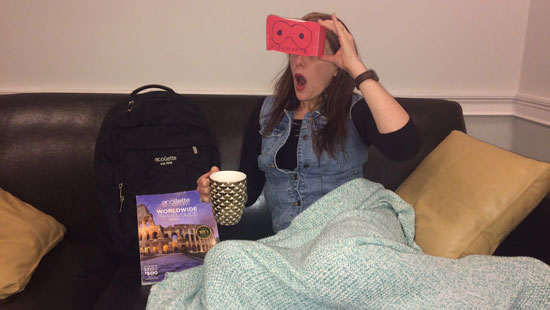 Looking at pictures is boring. This is better.
Virtual Reality Tours are better than books or sitting through a slide show of your neighbor's (8,000! ugh!) vacation photos that are all of him wearing a too-small swimsuit for some reason. It's even better than those neat videos you found on Netflix. This is like being immersed in the picture and it makes everything you've been doing up until now seem pretty lame.
Feel futuristic
Imagine what your friends will say when you tell them you've dabbled in virtual reality, or 'VR' if you want to sound hip and tech savvy. Sounds like something from Star Trek, doesn't it? We'll meet you on the Holodeck.
Still enjoy that group experience
If you still love to travel with a group, we've got you covered. Invite your closest friends over to the house and enjoy your tour together. Do a little research ahead of time and make some snacks that are authentic to the region for an unforgettable culinary experience.
Optional upgrades
If you want to spend a little bit more for an extra good experience, we'll send over one of our Virtual Experience Specialists! Our interns will come to your home and blow cold air on your face while touring Nova Scotia, place sand in between your toes in Costa Rica or spoon-feed you gelato while touring Italy. You don't even have to take the glasses off! That's probably for the best, since it could get a little awkward.
So far, our guests are loving this new type of experience and you will too! Read on to see what they're saying about our Virtual Reality Tour!
" I saw the Great Wall of China from my bathroom it was AMAZING!"
-Virtual traveler on Wonders of China tour
"On the Plains of Africa tour, I found myself running from a lion! I dove into the bushes in front of my house to get away, but then I realized it wasn't a real. Oh how I laughed and laughed. Thanks, Collette!"
-Virtual traveler on Plains of Africa
"I loved that the rickshaw ride in India was included in my virtual tour. For the extra feeling of authenticity, I had my wife tow me around the neighborhood in a bike trailer. It was AMAZING."
-Virtual traveler on Mysteries of India
If you haven't figured it out by now,
APRIL FOOLS!
PS: Jokes are funny because there's a grain of truth, and while we're sure that Virtual Reality will never be a perfect replacement for the real thing, we do know that it's a great way to get a little taste of a destination before you decide to go there for real. Keep an eye out as this technology is a growing travel trend.