With stunning Mediterranean oases and fascinating history to explore, it's clear why Greece is at the top of many travelers' wish lists! Fortunately for world travelers eager to see its wonders, Greece is a welcoming destination year-round with some big draws for visiting outside of the peak tourism season. Here are our top reasons to visit Greece in the shoulder season between October and May.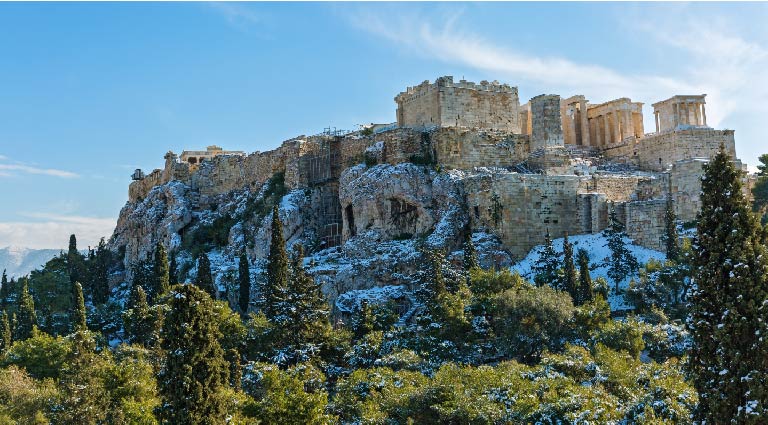 1. Picture-Perfect Attractions
Outside of the hotter summer months, the terrain in Greece becomes lusher with greenery and teaming with vibrant flowers, creating picturesque scenes around the ruins, monuments, and parks. Just imagine the gorgeous photos you'll get at the Acropolis, Delphi, Olympia, and more.
2. Get a Better Taste of Greece
Greece is famous for its distinctive and delectable food. In the shoulder season, you can experience the full range of cuisine with a little more elbow room at the popular restaurants.
Feast on hearty soups, stews, stuffed cabbage rolls, and savory meat pies. Try your hand at new recipes in a Greek cooking class. Visit family-owned taverns featuring recipes passed down for generations. Tour an olive farm or ouzo distillery. Visiting Greece in the shoulder season presents many opportunities to dig into the Greek food scene.
3. Discover All-Access Athens
Athens offers an incredible range of things to do. The shopping is on par with other famous European cities, and you'll find bargains on unique Greek items like glamorous kaftans, traditional jewelry, or Aegean pottery. Athens also boasts over 80 museums and galleries, live Rebetiko or folk music, festivals and of course, its legendary archeological sites. To catch Athens with smaller crowds, consider visiting in August, when many Athenians are away on their own vacations, or during Greece's shoulder season.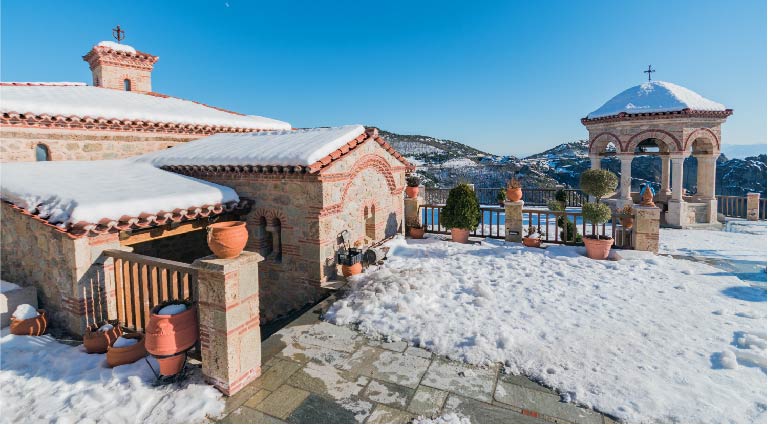 4. Head for the Hills
During the hot summer, most people flock to Greece's beaches and coastal towns. The rest of the year inspires another direction: Up! Greece's interior is filled with breathtaking mountainous regions and elevated attractions. Highlights include Mount Olympus, the monasteries of Meteora, the ski resort town of Arachova, and the Arkadian Mountains.
5. Get a Better Feel for the Local Vibe
The atmosphere grows calmer after the summer season, and Greece feels more like, well, Greece. You can mingle with locals, bartenders and waiters who will have more time to chat. Immerse yourself in the local scene and get a better sense of the culture and what it's like to live in Greece. Who knows, you might be inspired to live there yourself!
6. Experience the Sights When Apollo's on Break
At Greece's historical sites, you'll find many amazing ruins, temples, and monuments to the gods. What you won't find much of is shade. Visiting during Greece's cooler months promises some relief from the sun's heat so you can enjoy sightseeing any time of day.
7. Unleash Your Inner Zorba
Greek dancing is legendary – and so much fun. You can take lessons and learn everything from the Hasipiko, featured in My Big Fat Greek Wedding, to the Sirtaki, made famous in Zorba the Greek.
8. Walking and Climbing, No Sweat
Whether you're exploring the streets of Athens, climbing to Meteora, or making the steep trek up to the Acropolis, there's no doubt you'll be getting your steps in. In Greece's cooler seasons, you can meander more comfortably.
To optimize your trip to Greece, consider going guided! Collette offers a Classical Greece tour that's perfectly curated and includes many of the highlights in this blog.