Tour Types
Classic

Enjoy a refined take on the art of group travel.

Exploration

Experience true adventures on these Collette small group tours.

Faith

Set out on an inspiring journey on these faith-based travel experiences.

River Cruise

Explore the world's most beautiful waterways.

Spotlights

Come to know your destination during a single-hotel stay.
Collette Gives You More
Tour Highlights at a Glance

Stay

Tour Activity Level
The activity level for this tour:
At a very leisurely pace, this tour involves minimal physical activity, such as climbing some stairs, boarding a motorcoach, and walking from the hotel reception area to hotel rooms and dining areas.
This tour requires average physical activity. You should be in good health, able to climb stairs and walk reasonable distances, possibly over uneven ground and cobblestoned streets.
This tour includes moderate physical activity. The itinerary blends some longer days with shorter days and more leisure time. Walking tours, as well as walking slightly longer distances, up stairs or on uneven walking surfaces should be expected.
To truly experience the programme and destination, you need to be able to participate in physical activities such as longer walking tours, walking over uneven terrain, climbing stairs and periods of standing. Some of the touring days may be longer, with select included activities occurring later in the evening.
This tour is very active, requiring participants to be physically fit to fully enjoy all the experiences. This itinerary has more strenuous activities which may include such things as: extensive walking tours, transfers over uneven and dusty terrain, high altitudes, early morning departures, late night activities, or extreme temperatures. All conditions do not apply to all days, so please read the itinerary carefully and speak to one of our travel counselors to determine if this tour is right for you. We recommend this programme to individuals who are physically fit. Unfortunately, this tour is not appropriate for individuals who use either walkers or wheelchairs. If this trip is not ideally suited for you, our travel counselors can help determine the perfect trip for you.
Itinerary
Start by choosing the tour dates that work best for you.
Please Wait...
and get excited!
We are currently building the itinerary for the tour date you have selected.
Special Offers Disclaimer
See Our Collette Travelers on Tour
#GuidedByCollette
Reviews Of Exploring the Alpine Countries Austria - Germany - Switzerland
Exploring the Alpine Countries Austria - Germany - Switzerland
Starting From $3,949 pp*
12 Days • 17 Meals
Book Now
Exploring the Alpine Countries: Wonderful Itinerary Full of Great Sights

Service

We loved almost everything about this trip, especially the itinerary (so many beautiful sights that we'll never forget!), the hotels, and our guide, Alexander. He was wonderful, very knowledgeable and helpful, and even occasionally funny, which made the tour even more fun. While the included meals weren't always the best (although breakfasts at the hotels were always excellent), they were satisfactory and more or less what could be expected from 'tour group meals'. The long bus rides between cities were made easier by well-planned rest stops at appropriate times. We had a great time!

Tour

The Danube River boat ride and the trip in Zermatt up to Mount Gornergrat were two of our favorite trip events.

Service

Likely to use Collette again. Cover a lot of ground on the tours, sometimes wearing us out, but expose clients to sites we would never see otherwise. Like the fact that many meals are included, too.

Tour

Manager was less dynamic than on our prior Collette tour, didn't seem quite as well organized. Optional excursions were somewhat disappointing for the expense, especially the Mozart dinner concert. Favorite experience was our free time in the beautiful city of Lucerne.

Collette Tours exceeds expectations.

Service

This was my first experience with Collette tours and I will definitely consider traveling with them again. The itinerary was great-a nice balance of guided tours and free time as well as optional excursions. The accommodations were excellent, always comfortable and reflected the culture of the country we were in, not a "cookie cutter" hotel; our tour manager, Christine Henderson, was outstanding, her knowledge of the history, culture and geography of the countries we toured was comprehensive, her personal interaction with all the members of the tour was always friendly, courteous and professional. Overall, a wonderful experience.

Tour

I loved the cultural experiences of Mozart concerts in Vienna and Salzburg as well as the magnificent scenery of driving through the Alps.

Service

Everything was perfect! Tour location, hotel and of course, very very knowledgeable tour director.

Tour

It was a truly a vacation etched in my memory. Unforgettable sites!

Spectacular scenery, pleasant company.

Service

The tour was very comprehensive and the scenery was spectacular. The tour manager was very knowledgeable about the area having lived in Vienna. The bus driver did an excellent job considering it was his first trip to Switzerland. The hotels were quaint and pleasant except for the last one in Lucerne. It was extremely warm and Switzerland does not deal with this enough to have a/c. Needless to say, being on the 5th floor with no air and 90 degree temps was hard to handle at the end of the tour. The tour group consisted of 41 people of various ages, retirees and families with teenagers. Everyone got along very well.

Tour

The tour would have been 5 stars except for the Lucerne hotel. The hotel n Zermatt at the base of the Matterhorn was wonderful and the extra tour to Mt. Pilatus was a fabulous experience.

Thank you for traveling with Collette to the Alpine Countries. A member of the Guest Relations Team will be reaching out to you to discuss your feedback.

Collette Support

One of the best tours we've been on.

Service

Our tour director, Toni Ray-Ingram was absolutely fantastic. She worked so hard so we could have the best experience possible. Her positive attitude and calm and efficient manner were amazing, especially in the face of a bus breakdown. The itinerary was superb.

Tour

All the hotels were amazing, especially in Oberamergau and Zermatt. the view of the Matterhorn was a wonderful surprise. The option tours to Hitler's Eagle's Nest and the Mt. Pilatus ride were also wonderful.

Good but replace the last hotel

Service

Good tour, great guide and driver. The last two days in the hotel were VERY warm - no fans & rude staff

Tour

Good tour with interesting places but the last hotel left a bad taste

Service

Yes, and I already have placed deposit on my next Collette trip. The tour guide and driver make the rating 5.

Tour

The scenery was a given, very unique and special every day! The tour guide (Toni)and driver (Pero) make it a 5!

A trip that should not be missed

Service

Ideal trip great vistas. Tour guide and driver were excellent. Good lodging and food. The Alps must be seen also learning the cultures and history was very interesting.

Tour

The Alps are a must see!!

The experience of a lifetime.

Service

Everything was perfect! Karina was the best tour guide giving us so many helpful suggestions on optional things to do and experience. We could count on her for anything. The tour itself was fabulous with so many diverse experiences. Would recommend it to anyone.

Tour

Everything was amazing, but the time spent in Zermatt was the best. Never have I seen such beautiful and breathtaking scenery.

Grateful for an amazing tour!

Service

We saw much more with the Collette tour than we would ever have seen on our own. The tour leader (Karina) was excellent. Our whole group got along and was a lot of fun!

Tour

Every stop was a wonderful adventure, guided by pros who really know their stuff! My favorite experience was going up Mt. Pilatus in Lucerne.

Service

I would recommend them and travel with them again. The itinerary was just what we were looking for and then some. Hotels were very nice. The tour manager was warm and wonderful. Very knowledgeable about history and the culture. My only complaint was lack of air conditioning in the hotels but I realize that is a cultural thing and beyond the control of Collette.

Tour

Itinerary. Highlights were Lake Geneva and Lake Lucerne, enjoyed the different modes of transportation, (train, river cruise)

Service

Schedules went well, group size was good. ****** did a great job and was very knowledgeable. I would recommend Collette to others and would travel with them again.

Tour

Had a great time, lovbed many things about the trip.

Too rushed and hurried for my taste.

Service

I was disappointed in this trip compared to other trips with Collette. It was too rushed and too short stays in any one place. One day in Vienna is ridiculous and the same can be said for Salzburg. Some of the excursions and offerings were useless (stop at Melk Abbey.) the time on the Danube was nice but I would have preferred that time be in Salzburg. I personally can't stand when the tour guide gives her information on history, architecture, geology etc. by starting with asking you questions. This must be a taught instruction method, but it really turns me off, and is designed to make you feel stupid if you don't know all the answers and them a freaking genius for reading it off to you. Stop doing that. In addition, Collette owes us money for an excursion that didn't have enough sign up. I don't want a credit because I'm not sure we will travel with them again.

Tour

The purchases, which I guess are the extra offerings were all good. but the best thing we did was the railway trip up to Gorner Grat which was not offered by Collette and without that why even go to Zermatt? Collette owes us money back because one tour be purchased did not have enough sign up. I do not want credit, as we are not sure we will take another Collette tour.

Great tour...incredible scenery.

Service

Well organized....very good group dinners...hotels were very good and the tour director ***** was excellent. Trip was a great balance of Austria...southern Germany and Switzerland. So much to see...every day was a scenic adventure.

Tour

The scenery...the hotels...the group dinners were all first class. Our tour manager was very organized and knowledgeable. Have to say Mt. Pilatus was the most dramatic.

Liked this trip but wasn't worth what we paid !

Service

We really enjoyed the places we visited but thought more things needed to be explained better!

Tour

Nice tour but not worth what we paid !

25 days of heaven on earth

Service

Well planned and organized, excellent tour managers and local guides. Yes Yes

Tour

Zermatt and the Alex Hotel

The only thing we thought was that the tour should be 2to3 days longer

Service

Everything was top class starting with tour manager ******

Tour

The tour was one of the best we've been on the tour manager was brilliant and the group of 33 were really quite exceptional.the coach driver was also a super guy and generally the group of travellers mainly Americans were more like a family for this I think you can say this by the way is our second tour with Collette we will use your services again regards **** *******

Generally a good well paced tour through a great part of Europe

Service

Trip was good overall with a good tour director. Nice pace and great scenery. Disappointed in the coach used on tour as it was not up to standards of other companies we have toured with. I would still recommend them.

Tour

Best stop would probably have to be Zermat as it is such an amazing place.

Service

Two night stays in places.

Tour

Eagles Nest Tour and the Materhorn visit

Great trip, beautiful scenery

Service

The trip was well planned. Guide was knowledgeable, and helpful.

Tour

The train to the Matterhorn, the view was incredible

Service

It was a wonderful tour. Great hotels, good food, beautiful sights. I have been on tours with several other companies, and I feel this was the best. Our tour director was friendly and very organized. He was also very relaxed and flexible. The driver was excellent. We always felt very safe.

Tour

I really loved the extra excursion to Bratislava. Hotel was in a great location and the visit to a Slovakian home was wonderful.

Service

First of all you had a wonderful Manager. She was fantastic, loved by all. Locations were very good, hotels fine, food good and the coach had an excellent driver

Tour

Zermatt was excellent being up in the mountains. Enjoyed 'Hitler's Hideaway' and to finish in Lucerne with the Lake and river running off was out of this world

Service

Our tour guide was excellent she does her job with knowledge humor and she always looked very nice we really enjoyed our trip

Tour

We lucked out on the weather and everything went well. We really enjoyed Mount Pilatus

Service

Available

Tour

Loved the city tours and extras

As my father used to say "ÿou wouldnt be dead for quids!"

Service

As Collette is new to Australia, we had very little to go by and although we trusted our choice, had little feedback to go by - we were very pleasantly surprised by the service and ease of the process - mostly due to the great organisational abilities of *Personal details removed by Feefo* our wonderful tour guide.

Tour

The tour was everything we hoped it would be, and the didn't miss out on anything. The extra experiences, such as the few hours on the Danube and the concert in Schonbrunn Palace, a spectacular venue.

Service

They delivered on what they promised

Tour

Scenery was fantastic & the tour flowed without any hiccups

Disappointing Tour of the Alpine Countries

Service

We spent hours each day on a freezing cold coach and not enough time was allocated to actually visiting sites of interest when we finally arrived at our destinations - it was more like a 'tick box' without any substance. The room we were given in the Vienna hotel was unacceptable but fortunately we were able to change it but the location of this hotel and also the one in Salzburg was poor - nowhere near the centre of things. The remainder of the hotels and locations were however good. The best part of the tour was our free time when we could properly explore places in detail. Sadly, our one resounding memory of this tour was of the hours spent on a freezing cold coach!

Tour

We spent hours each day on a freezing cold coach and not enough time was allocated to actually visiting sites of interest when we finally arrived at our destinations - it was more like a 'tick box' without any substance. The room we were given in the Vienna hotel was unacceptable but fortunately we were able to change it but the location of this hotel and also the one in Salzburg was poor - nowhere near the centre of things. The remainder of the hotels and locations were however good. The best part of the tour was our free time when we could properly explore places in detail - a highlight being exploring the Matterhorn via the gondola rides (which our tour guide told us were not operating!!). Sadly, our one resounding memory of this tour was of the hours spent on a freezing cold coach!

Hello Heather,
Thank you for sharing your feedback with us.  We're sorry to hear about the temperature of the coach and hotel accommodations. We have passed your insight along to our product and tour manager team to review.  We have also informed our customer care team and a representative will be reaching out to you as soon as possible. 
Your feedback is incredibly important to us as it helps us to improve our tours for future guests.  We thank you for your business and look forward to traveling with you again soon. 

Collette Support

Don't trust Customer Service information; misleading and incorrect!

Service

Trip itinerary and hotel choices are very good. Collette's Customer service information was all wrong! I inquired tour details in Vienna, Austria but was given the wrong info. This has cost my group (15 passengers) 486 euro on a tour that we had to cancel due to misleading info given over the phone by Collette representative. I addressed this issue w/Tour Manager but have not heard an explanation from anyone at Collette!

great trip except for Munich. dropped off for three hours with nothing to ...

Service

great trip except for Munich. dropped off for three hours with nothing to do

Tour

Zermatt was wonderful. all quaint villages were quite an experience.

Service

Excellent trip and Angelika was amazing. Having a local person as the Tour Manager is a must as they contribute so much more to the tour.

Tour

The highlight for me was traveling through the Alps, especially going through the Girmsley Pass. Quite an experience.

Our trip was a wonderful experience!

Service

Our trip was a wonderful experience! The Collette tour guide was fantastic!! She was very knowledgeable about everything we did and kept us informed about the history of the areas we went through. Our hotels and food were awesome! The excursions that were planned for the trip were exciting! We have already booked a trip with Collette for next year!!

Tour

All of the things on the trip were exciting and memorable but I think being in Munich during Oktoberfest was the most memorable. I loved going to the music concert in Vienna as well. Oh, and the trip to the top of Mount Pilates was magical! Our tour guide was wonderful!! We would love to travel with Julie anytime! And our bus driver was wonderful as well! He maneuvered those curvy mountain roads like a champ!

Amazing trip, amazing vacation!Hotels were great, itinerary was awesome!

Service

Lisa Elliott who does our booking is fantastic and gives amazing customer service..!Hs the answers to all our questions and plans everything so well! Our guide Toni Ray was second to none.She made our vacation special, she is a walking encyclopedia and has so much great knowledge to share. No task is ever too big for her, for her group. She really takes care of her passengers.

Tour

It was an amazing tour!Zermatt was beautiful, Toni our guide gave us amazing information on all the history of all the places we went to!

Excellent value by an excellent tour company!

Service

It started with great customer service from Lisa to the most amazing tour director Toni!

Tour

Our tour director, Toni, went out of her way to make this trip memorable. She also found me a doctor to ease my cold symptoms.

Definitely would recommend and go Collette again!

Service

Excellent planning and carry through. Tour guide, Toni was great, knowledgeable, friendly, engaging, and fun!

Tour

Zermatt Switzerland... quaint, spectacular vistas!

Top notch travel co, with highly professional and knowledgeable tour guides

Service

I didn't' rate Colette 3 stars. This is inaccurate. My rating was 5 stars.

Tour

Highly professional. Great attention to detail. Very knowledgeable tour guide. Overall, just a great trip.

Absolutely charming tour with fabulous places to see. Professional.

Service

Everything about the trip was wonderful. The tour guide, Toni, did a fantastic job at educating us on all of the places we went and went the extra mile to make sure everyone was safe and happy. The small villages on the Alpine tour were fabulou, quaint and charming. The transportation was well thought out without too much travel in one day. So many beautiful places on the schedule. It was fun to go to the places that didn't seem too touristy. Almost all of the hotels were wonderful. (Lucerne, not so much) Am already to go on another tour with this company.

Tour

Oberammergau, Titisee, Alex hotel, Neuschwanstein castle..... love the quaint villages as well as charming Vienna, Salzburg, Lucerne and Munich. Places where we stayed were just right I wouldn't have wanted to stay in Munich, but enjoyed visiting. The mechanics of it all was perfect. The restaurants with big tables were great for getting to know tour members. Rotating seating was nice too. Toni? What can you say about her? She did an amazing job, like a walking google search engine. She really made sure everyone was comfortable and cared for. The only thing I really didn't like was the hotel in Lucerne. It smelled pretty bad and the rooms were so plain. The location was nice though. It was hard going from Alex hotel in Zermatt to the Lucerne hotel. My air conditioning didn't work at all and neither did the tv. I was already having a hard time because my friends 18 yr. old son died while I was on the trip and having a room with issues was frustrating. Hotel Alex was amazing, thank you so much for having us stay there. It was so special for my son and I.

Wonderful trip to the Alpine Countries

Service

Wonderful trip. Covered a lot of territory in a short period of time. Excellent guide! Nice accommodations.

Tour

I enjoyed Zermatt the most, but Luzern was wonderful too. Lots of miles traveled in a short period of time.

Alpine Countries tour exceeded our expectations!

Service

We loved every minute of our tour of the Alpine Countries! The itinerary was a great mix of lovely cities and countryside. Our tour guide was amazing! He was both very knowledgeable and entertaining. We were also very fortunate to have great weather and a fun group of tour buddies. Switzerland was our favorite with so many incredible lakes and mountains!! Will definitely consider Collette for our next tour.

Tour

Mt. Pilates in Lucerne was a fabulous experience and a must do optional excursion! Most incredible views ever!!

Excellent service by Collette CA

Service

Fantastic trip

Fantastic trip. Can't wait for our next Collette tour.

Service

As in the past, once again we found everything just perfect. Our tour guide was wonderfully knowledgeable, funny, and caring. Our coach driver was so good too.

Tour

Oberammergau and Zermatt

being hot in the rear of the bus was ignored by the tour director.

Service

We enjoyed the tour and the tour manager was very knowledgeable. He was a great guide for this trip with one exception. People in the back of the bus complained about it being hot or uncomfortably warm with little or no action on his part to correct the matter. The hot temperature in the rear of the bus really put a damper on a nice trip. With all the complaints from the rear of the bus, he should have sat in the back for 1/2 of a day so he would understand what we were complaining about instead of allowing it to linger.

Tour

Rooms were not located where advertised, not in the center of the city but isolated. These were last minute changes and we should have canceled based on the changes.

My experience has always been easy.

Service

The process is always simple I use a travel agent and she does all of the communication with Collette.

Tour

I have been to the area several times. We did see some beautiful country. I especially loved Switzerland. The day we went to Munich was too much time in the motor coach. This was the most uncomfortable coach I have ever been in. It was always freezing cold and you could not see around the seats. The rest room had no lights and was very unsafe. The driver was only friendly when tip time was getting near. We would have loved more time at Lake Tittisee.

Great Tour - well planned and very informative and enjoyable. There was a lot of walking.

Service

We could not have asked for a more informed guide and a great bus driver. Our guide went out of her way to make sure everything was okay; even going to the airport at 10:30 PM with me to look for our lost luggage in Vienna. We would definitely use Collette again.

Tour

The trip was very good from the time we were picked up at our home to go to the airport until the time we were dropped back off at home from the airport at the end of our trip. All the tours were very good but my favorite was the "Eagle's Nest". It was a great experience!

This was our second trip with Collette and they did not let us down. It was a Great Trip.

Service

This was a great tour and our guide was well informed and very pleasant. Everything was well planned and our guide worked well with our bus driver, who was also great,. We would definitely use Collette again!

Tour

The whole tour was a great experience but my favorite place was Innsbruck, Austria.

Service

Just a little too much walking

Excellent tour and excellent service

Service

The service was exceptional - there are a lot of moving parts when dealing with a group tour and I thought Collette/our tour manager did a great job - from the shuttles to and from the airport to our different tours to the check in at the hotels. I thought it all went extremely smooth -

Tour

I loved the tour and several people have asked me my favorite place - I could not name my favorite because each one had a personality all of its own. It was a wonderful trip so that is my memorable experience - the overall tour.

We have never been sorry for choosing Collette and recommend it to our friends.

Service

We have traveled Collette a number of times and will most likely continue should we plan other tours.The tour guides are very instructive about the areas for which they are responsible and extremely friendly and helpful.

Tour

It is impossible to review all the "likes" of the Alpine tour, for there are so many. A few of the "concerns" could be the number of bathroom breaks during long bus rides, the many tips recommended for local guides, the distance between rooms and restaurant ( one half mile) in one part of the Germany excursion and some of the few choices of meals at some locations.

Service

I purchased the tour through Marriott Vacation Club...the whole process was very easy.

Tour

Our tour guide was amazing. She made sure every detail was taken care of so we didn't have to worry about a thing.

Service

This was my fourth Collette tour and, as always, a great trip!

Tour

The tour guide, The tour manager, was fun, organized, always smiling and most helpful. Kermit was breathtaking.

wonderful alpine country vacation

Service

tour manager very knowledgeable and very helpful during our entire trip. The only issue we had was we had a couple of unseasonably hot days in the black forest area and the hotel had no fans or air conditioning. This could be an issue for some tourists especially those with respiratory issues. Other than that the trip was wonderful.

Tour

the tour was a wonderful experience especially to an area we have never been to before. Tour manager was very patient and helpful during our trip. We loves Saltzburg, lucerne and Zermatt.

Service

Fabulous tour guide

Service

We did not interact with Collect US. All details were handled by our travel agent Kathy Hannon with AMEX.

Tour

Our Tour guide went above and beyond the measure of "guide". She worked the issues and was very informative and careful of the details. What an exceptional employee.

My Collette Vacation to Austria, Germany, and Switzerland.

Service

Collette offers affordable travel and good value. The tour description in the catalog was very accurate. The fact that you get private limo service to and from the airport if you purchase your air and land from Collette is a big plus. Optional excursions are appropriately priced. I've traveled exclusively with Collette the past few years and would recommend the company to anyone. One problem arose with the transportation from Vienna to the hotel. I was assigned a specific time for this service. Unfortunately, my plane was late and my luggage was lost. By the time I got to the meeting point, the time for my pickup had passed. When the limo in Vienna was contacted, I was told, "Too bad. We were here and you weren't. You have to take a cab at your own expense." I know that Collette offers at least 2 or 3 airport pickup times. Had alternate times been given in my itinerary, I would have waited for the next limo. Please give all pickup times from the airport to the hotel. On a previous trip to Vienna with Collette, we stayed at The Hilton. It was far superior to the hotel we stayed at this time. The remainder of the hotels were fine.

Tour

Problems with transportation to first hotel from airport. The trip was wonderful, and our tour guide was exceptional. She reimbursed me in cash, for the snafau with the taxi I had to pay for after the limo was missed. She was very upbeat and took any problems encountered with grace and a smile. Her attitude was, "Nothing is a problem unless you make it a problem." A tour guide can make or break a trip regardless of the itinerary, and ours was outstanding. Switzerland was the most memorable, but probably because that part of the trip was my first time to Switzerland.

Service

We had a wonderful tour manager who kept us well informed and happy. Saw so many historic places and had a wonderful time. Everything taken care of for us makes it easy to travel.

Tour

Traveling to Zermatt was an unforgettable experience. Once in a lifetime experience.

Service

The local travel agent who took my order as well as Collette staff at headquarters were very helpful. The tour director was very knowlegeable, intereating, and helpful. The staffs at local hotels could have been more helpful in some locations. Suggest that hotel staff put suitcases in your room on top of dresk or luggage rack - not just on floor.

Tour

Interesting stops and views. Would have preferred more time in Switzerland, none in Munich. Hotels were OK - most bathrooms were dangerous with very high entrances to showers/tubs and no grab bars. Beds did not have option for lighter blankets nor extra pillows. However I did ask at one hotel for extra pillow as I had fallen and needed it for comfort & they provided it. Zermatt, Switzerland was my favorite place - hope to return some day to spend more time and hike.

Service

still waiting for refund for excursion which wascancelled due to weather

Service

Our tour director, Christine, Henderson, was super knowledgable and so sensitive to our every needs. Our itinerary was excellent,

Tour

Our trip was marvelous. We told Christine the tour manager about what we most wanted to see and do. She fulfilled all of the items on the list. I wanted to see the cow with the big bell. I got to see it. I wanted to see Matterhorn. I got to see the mountain so clearly.
Other Tours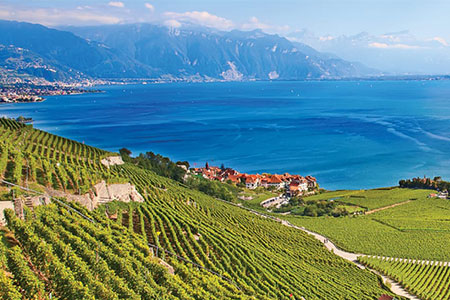 Switzerland: Hidden Trails & Majestic Peaks
9 Days 12 Meals
Journey through Switzerland entirely by train on an up-close-and-personal rendezvous with the Alps and the villages of the Swiss Riviera.
Tour Detail
Need More Information?
Enter your information and a highly trained Collette agent will call you to help you through the process.