If you asked me a few years ago if I thought I would ever visit Dubai, my answer would have been a big "NO" but that clearly was not the case. I had an opportunity to travel with members of Collette's marketing, sales, and leadership team, as well as our top Group Leaders, to experience the wonders of Dubai and Abu Dhabi.
I had no idea what I was in for, but I did know that it would make for some unforgettable moments that I would remember for life. I thought I'd share my top 5 moments from visiting the epic city of Dubai. Here we go…
Hunting for Trinkets in the Local Gold Souks and Spice Markets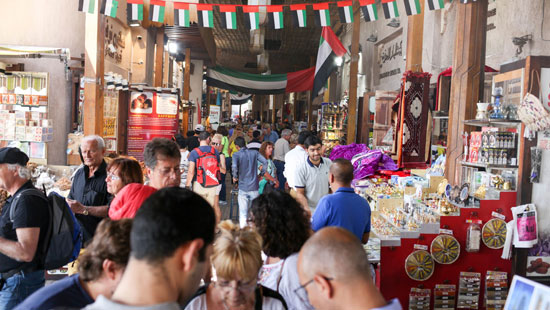 We began our day with a guided stroll through the gold souks and local spice markets to shop for trinkets and souvenirs to take home with us. It was an amazing experience to take in as you walk through the variety of local shops. The shop owners were very welcoming and were more than happy to show you what they had to offer.
You quickly found out why Dubai has earned the title of "the City of Gold" as you browsed the gold souks for jewelry, ornaments and other novelties made out of pure gold. This was very popular amongst our female travel companions.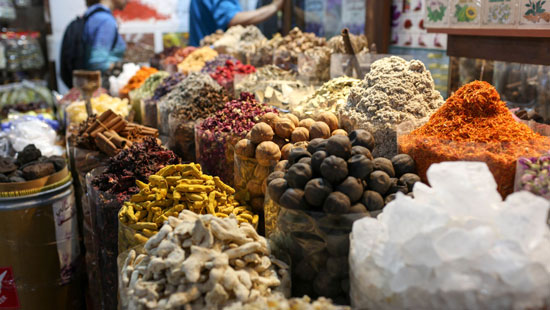 As we continued through the local spice market, the aroma of traditional herbs and seasonings filled the air. Many shops had high quality spices like Saffron, that are expensive back in the U.S., at unbelievable prices unbelivably low prices due to it being one of their main exports.
We met many friendly faces strolling through the souks and even brought some treasures home with us. From there, we moved on to the next part of our Arabian journey.
Water Taxi Ride Across the Dazzling Dubai Creek
After the local markets we hopped on an "abra" (traditional water taxi) and made our way down the dazzling Dubai Creek. Everyone had their cameras ready taking selfies and videos with their friends as we traversed down the local waterway.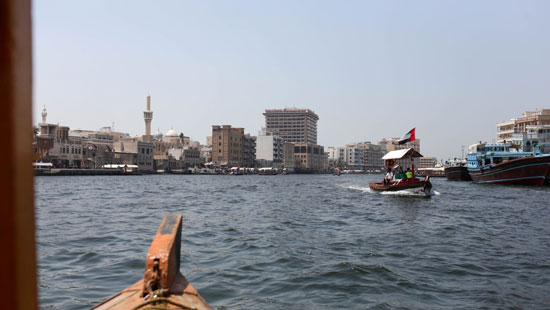 People on the other abras would wave and you could even see many transporting textiles, electronics and other goods to different parts of Dubai, Abu Dhabi and even some were on their way to India. It was a quick experience, but one of my favorites.
Experiencing Local Life at the Sheikh Mohammed Centre for Cultural Understanding
After disembarking from our abra cruise, we set out to visit to the Sheikh Mohammed Centre for Cultural Understanding, located in the oldest traditional Emirati neighborhood, Bur Dubai. Along the way, we walked amongst the neighborhood's narrow sikkas (alleyways) and gaze at the beautiful wind towers that adorn the original residences along Dubai Creek.
When we arrived at the Sheikh Mohammed Centre for Cultural Understanding, we were greeted by the gracious hosts with a traditional meal and lessons about local culture and much more.
Operating under the banner "Open Doors. Open Minds." the SMCCU strives to remove barriers between people of different nationalities and raise awareness of the local culture, customs and religion of the United Arab Emirates. It was an eye-opening and uniting experience for sure.
Journeying to the Top of the World Tallest Observatory, The Burj Khalifa
Our journey did not end there, after visiting the more traditional side of Bur Dubai, we set out to explore the modern city of Dubai to visit it's amazing malls and even scale Dubai's tallest building, the Burj Khalifa.
I remember being on the elevator heading to the obsevation deck wondering how this modern marvel was created and suddenly a video projection appeared on the elevator wall telling the story of how it was built.
When we made it to the observation deck, 148 stories up, the sights you saw were truly stunning. You could see for miles with the naked eye which made for amazing photos with friends and family. If you were brave enough to journey to the edge to take photos you would see some sights few have seen.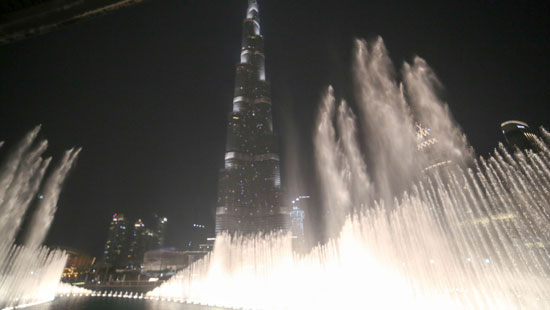 We ended our time at the Burj Khalifa with a delicious dinner while watching an incredible fountain light show that dwarfs what can be seen in cities like Las Vegas. Visiting the Burj Khalifa is one of my favorite memories by far.
Explored Dubai's Beautiful Coasts and Magnificent Man-Made Wonders
One of my favorite nightime adventures was when I got to take advantage of some free time and hit the road to photograph the Dubai coastline and man-made wonders. I made a friend with a local taxi driver and he took me to some stunning parts of the city and beaches that made it hard not to take some breathtaking photos.
Visiting Dubai was the trip of a lifetime and even greater than the photos and trinkets were the stories I got to bring home to share with friends and family.
The journey did not end with Dubai though… stay tuned for some of my favorite adventures in the nearby capital of the UAE, Abu Dhabi.