Portugal and its islands are home to many stunning sights and once-in-a-lifetime cultural experiences. The Collette Video team and I had the chance to visit some of these iconic must-sees. One of my favourite stops during our travel to Portugal holiday was the beautiful fishing village of Nazaré.
Nazaré is considered to be one of the most popular seaside communities on Portugal's Silver Coast. With its mild climate and natural beauty, it's no wonder that travellers from all over the world make it a point to visit this quaint town.
Here are just a few points to add to your 'DO NOT MISS LIST' when visiting Nazaré.
 
Take in the Famous Views of Sítio
If you've ever explored Travelling to Portugal, chances are you've seen photos of this famous view overlooking the Portuguese coast.
Sitio sits atop a cliff high above the beach and fishing village of Nazaré. Those who are brave enough to look out over the viewpoint can capture great panoramic photos of the seaside town and coastline.
Catch the Fearless Surfers and Bodyboarders in Action
Along with having ancient traditions, Nazaré is now becoming one of the most highly-coveted destinations by the world's top surfers and bodyboarders ever since extreme Hawaiian surfer Garrett McNamara road a spectacular wall of water that entered him into the Guinness World Records as the biggest wave ever surfed.
You can see one of these giant waves in this video:
Whilst you're there you can watch many surfers, swimmers and boogie boarders paddling out to catch these waves.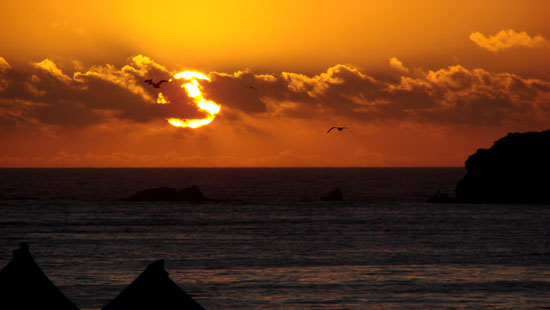 Watch the Sunset by the Beach
A visit to Nazaré would not be complete without watching a jaw-dropping sunset by the beach. There is no bad seat in the house.
Taking a stroll down the long, sandy half-moon shaped beach on the town's sea front is sure to be one of those moments that will last for a lifetime.
Add Nazaré to Your Portugal Must-Sees
At Collette, we show you the best that Portugal has to offer. From the views from hilltops high above the sea; rich and vibrant cultural experiences from inside museums and village sidewalks to the amazing gastronomical pleasures created by Portugal's food and wines, there's something for everyone.
No matter what you seek, when you go, where you look or how long you stay, Portugal offers something every traveller wants and makes it all too easy to get.