There's no better way to get to know Scandinavia than by tasting it!
Scandinavia is a food lover's paradise. The cuisine represents an established mix of traditional recipes with modern flair.
Recently, Scandinavia has earned notoriety for the "New Nordic Cuisine Movement." There, chefs are reinventing traditional recipes to bring locals back to consuming fresh, simple, seasonal foods that reflect the ethics and values of the Nordic region. All three countries have world class cuisine from Michelin-star to "farm-to-table" with a holistic, sustainable approach.
You'll find that new Nordic cuisine makes use of everything from herbs, grasses and roots to a wide variety of fish, poultry and game. In fact, it's not unusual to see a chef out in nature collecting wild ingredients for the evening's offerings. When visiting Scandinavia, make sure you enjoy smørrebrød in Denmark, sample the fresh fish in Norway and try löjrom in Sweden.
Not only is the region getting back to it's roots with ingredients, but every dish is carefully thought out and lovingly prepared just for you. There are many fantastic restaurants you can visit for a wonderful culinary experience. From Michelin-starred restaurants in Oslo to rustic farm-to-table eateries in Stockholm, and delightful fish restaurants in Bergen, there are endless culinary options.
Can't wait to get there to start sampling? Try this recipe!
Creamy Pearl Barley with Mussels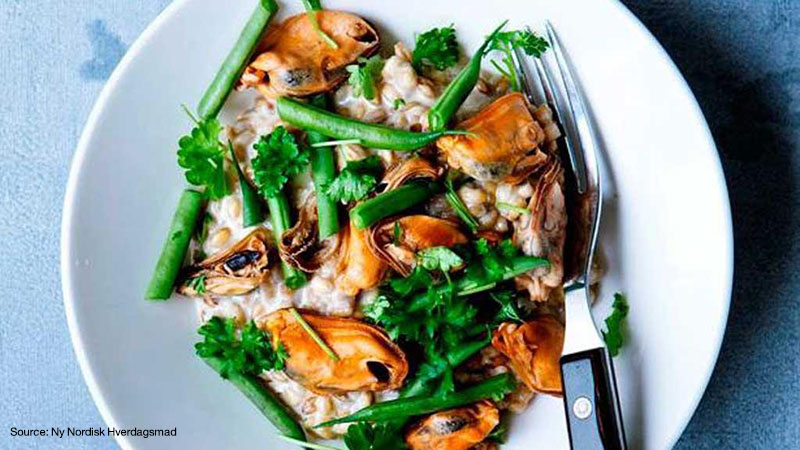 Mussels:
2 lbs. mussel
1 garlic clove
½ liter apple juice
1 tbsp. apple cider vinegar
1 tbsp. grapeseed oil
Creamy pearl barley:
2 shallots
1 tbsp. grapeseed oil
10 oz. pearl barley
4 dl. broth from the mussels
3 dl. chicken stock (can be replaced with water)
¾ lb. sectional beans
½ bunch of chervil
1 bunch of wild watercress
3 oz. of cream cheese 15%
Salt and pepper
How to make it:
Prepare the vegetables and herbs.
Mussels - Rinse the mussels by scrubbing them thoroughly under cold running water and remove the 'beard'. Discard any mussels that do not close after a tap on the kitchen table or if the shell is broken. Heat a heavy-based saucepan with grapeseed oil and fry the garlic (with its shell) at medium heat, until golden. Add the mussels to the pan and pour in the vinegar and juice. Put a lid on and let the mussels steam for 5-7 minutes until they have opened up, and then remove the pan from the stove. Discard any mussels that have not opened. Free the remaining mussels from their shells, pour the broth through a sieve and save it for later.
Creamy Pearl Barley – Finley chop the shallots, and cook them over low heat in oil in a wide bottomed pan, until they're crystal clear. Add the pearl barley and let it fry for a minute. Then add the broth from mussels, and let it simmer for 20 minutes until the pearl barley is tender. If need be, add chicken stock or water (the consistency should be as wet porridge). Slice the beans and add them and the mussels to the barley for 1-2 minutes.
Dinnertime - Stir cream cheese and chopped herbs into the dish and season with salt and pepper. Serve the hot creamy pearl barley immediately.
Source: Ny Nordisk Hverdagsmad. Spis efter årstiden page 54-55