It is rare as someone working in travel to be assigned to go somewhere you have never been and don't know much about. This, however, happened to me when I was trained to work on a loop in Eastern Canada that included Québec City, Montreal, Ottawa, Toronto, and Niagara Falls. I had never been to any of the locations and really hadn't imagined I would find myself there at all. My travel hopes always stretch across oceans and continents, so a short ride north of my home never figured into my travel aspirations. I am indebted to the scheduler that it happened, because I fell in love with the region. Every city has a unique appeal and charm that keeps me coming back-sometimes without guests!
One such occasion led me to visit Québec city in the middle of winter. If you told my Southern born self that I would want to go to Canada in February and spend the majority of my time outside, I would have pulled my collar up to the 50 degree F temperatures and laughed. After a few years of running the circuit through Canada, the local guides had piqued my interest in this Winter Carnival hosted in the city every year. The city is divided into upper and lower portions as it was built on a bluff overlooking the narrowest part of the Saint Lawrence River. It provided a strategic vantage point for the British and French, who constantly fought over it. It is also the oldest walled city in North America outside of México.
Québec City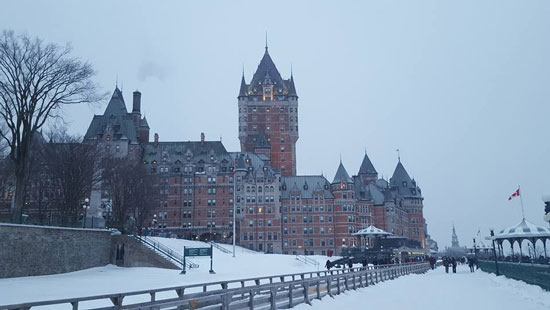 The lure of Old World Parisian charm and holiday atmosphere combined were enough to get me to Québec City and into long underwear and as many layers of clothing I could manage. I do not think I can properly vocalize how amazing of a decision it was, but I will try. The snow covered city was as picturesque and gorgeous as I could never have imagined with the immense Château Frontenac hotel looming over the upper city. Metal gabled roofs brightly dotted the streets and caught the dappled sun as my friend and I hopped from local artisan shop to café to keep ourselves warm. On the Plains of Abraham, where the English quickly won the city for the final time, the park space is converted into a fair ground where you can be pulled around a course by sled dogs, or ride down an ice luge racing the person next to you. The friendly snowman mascot Bon Homme waves on as you enjoy the cold festivities and warm treats.
The Ice hotel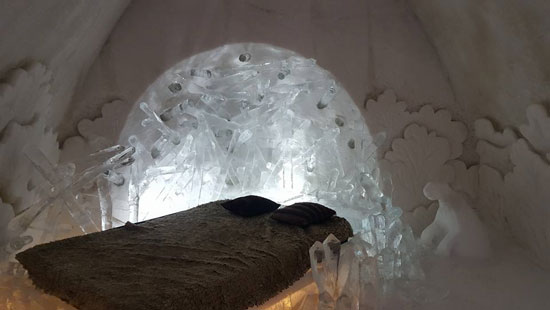 Just outside the city is another marvel that is worth the trip in itself. While I would never have the guts to spend the night, every year they construct a hotel made out of ice! Rooms can be quite pricy, and luckily the restrooms are in a separate, heated building. The more expensive bedrooms include headboards and walls that have intricate designs carved into them. There is a competition each year to decide which room is best. The grounds also include and ice bar and chapel, if a winter wedding appeals to you.
Treats at a Sugar Shack
Another quintessential Québécois experience is going to a sugar shack where maple syrup is produced. The majority of the world's maple products are produced in this province of Canada. Having it pure and from the source is much better than store bought syrup could ever promise. During the winter, they will build high tables of snow at each sugar shack. You can order a lollipop, which you make yourself. While standing in front of a snow table, they will pour a line of hot maple syrup directly on the snow, and you use a stick to roll it up into the cavity inducing treat.
Canada in winter is breathtaking, just don't forget to bring the warmest gear you can find. I enjoy going back at any time because every season provides another look at each of the cities we visit. Whether it's Ottawa's tulips in the Spring, or the colors of the trees in the Fall, you can experience something unique.