Even the most seasoned traveller might struggle to point out South Dakota on a map. It's in the American Midwest, wedged between Wyoming, Nesbraska, Iowa, North Dakota, Montana and Minnesota, and it's well worth getting to know thanks to its larger-than-life monuments, former 'Wild West' towns, engrossing cowboy lifestyle, Native American culture and epic landscapes that graced movies like Kevin Costner's Dances With Wolves. You can savour the state's diverse charms on Collette's 7-day Spotlight on South Dakota tour. Using laid-back Rapid City as a base, the tour includes a raft of absorbing day trips and some engaging, Western-style evening meals. Here are the highlights.
Mount Rushmore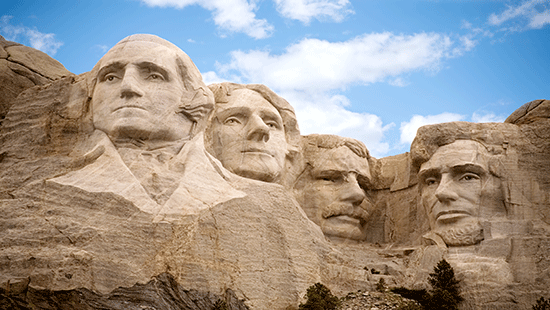 Carved into a granite outcrop in the pine-cloaked Black Hills, close to the town of Keystone, Mount Rushmore is one of America's most iconic sites. It was created between 1927 and 1941, under the direction of artist and sculptor Gutzon Borglum and his son, Lincoln. It features the 18-metre heads of four presidents who changed the face of the USA: George Washington, Thomas Jefferson, Abraham Lincoln and Theodore Roosevelt. We admire this masterpiece - which starred in the 1959 Alfred Hitchcock thriller, North by Northwest - from several angles, including a front-on viewing platform and a boardwalk 'presidential trail' that winds through the woods.
Crazy Horse Memorial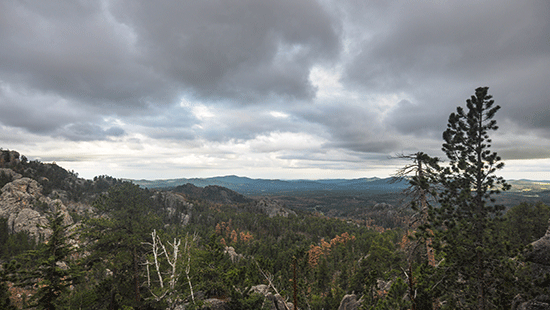 As we delve deeper into South Dakota's history, we learn more about the Lakota Sioux, one of the largest Native American tribes, whose way of life was jolted in the 18th and 19th centuries as white American pioneers and European immigrants swept across the Great Plains. As well as visiting Pine Ridge Indian Reservation, where around 40,000 Lakota reside today, we take in sacred sites such as the Crazy Horse Memorial, which is being etched into a mountain and will depict a revered Sioux leader sitting on a horse. Work started on it in 1948, but it won't be finished for at least another 50 years. When complete, Crazy Horse will dwarf Rushmore, with the face itself 27m. We learn more about this mammoth effort, and browse and purchase eye-catching Native American arts and crafts, at the memorial's superb visitor centre.
Bison Safari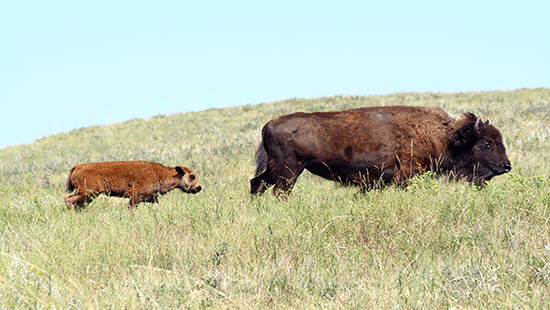 One of the most exciting moments of our tour is seeing herds of bison (or buffalo) roaming free in Custer State Park, which is named after the general who led an expedition into the Black Hills in 1874, and was killed in battle two years later. Bison were a key source of food, clothing and shelter for the Sioux, but these great creatures were almost hunted to extinction after the new settlers embraced bison hunting on an industrial scale. Conservation efforts have seen numbers recover slightly, however, and the park - near Mount Rushmore - is now home to over 1300 bison. Traversing a 30km 'wildlife loop', we also spot mountain deer, elk, pronghorn antelope, bighorn sheep and we pull over to feed the park's cute resident burros (donkeys).
Into the Badlands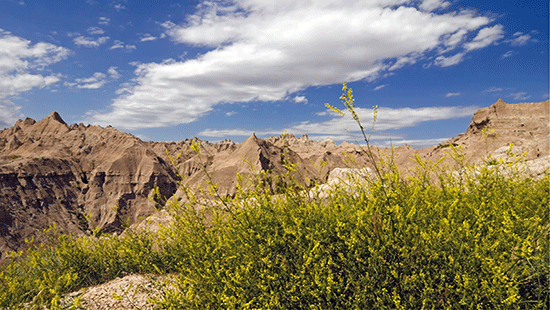 With its dream-like rock formations, fashioned by centuries of erosion, the Badlands National Park has an other-worldly look and feel and has featured in several blockbusters, including Dances With Wolves, Starship Troopers and Armageddon. We take some amazing photographs from the park's footpaths and vantage points, which overlook the most bizarre pinnacles, buttes and canyons. Afterwards we lunch at nearby Wall Drugstore, an eclectic South Dakota landmark with a quirky Americana vibe. This maze-like complex is sprinkled with gift stores, Wild West-themed entertainment and diner-restaurants specialising in things like coffee and doughnuts and fries and bison burgers.
Deadwood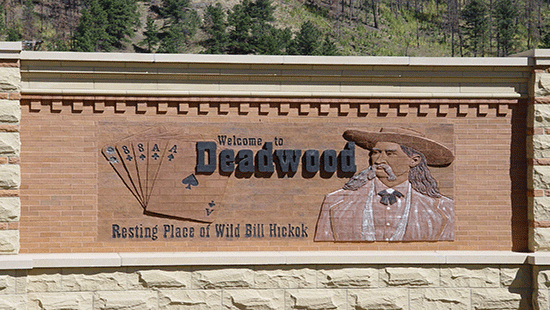 You may be familiar with Deadwood from the eponymous cult HBO TV series, which starred Ian McShane as the potty-mouthed saloon owner, Al Swearengen. A lawless mining camp that flourished in 'Indian' territory during the Black Hills Gold Rush of 1876, Deadwood is now a neat modern town and something of a 'mini Las Vegas' due to its glut of casinos. We discover Deadwood's colourful past - and see where famous former locals like 'Wild' Bill Hicock and 'Calamity' Jane were laid to rest - with eccentric local guide, Dave Church, who takes us around on an old yellow school bus, while regaling stories about the old 'Wild West'. Our South Dakota experience ends with a farewell group dinner - a traditional 'Chuckwagon' show, where we feast on beef brisket and hear uplifting live country music (and lots of yee-haws!) from a charismatic, cowboy-hatted band.