Jordan is home to so many natural and historic wonders, it would be silly to try to list them all! Travel to Jordan means that you'll encounter well-preserved ancient ruins dating back millennia. You'll also see a desert so vast and beautiful in its desolation that it takes your breath away. Lawrence of Arabia was so taken by this region that he called it "God-like" and we can certainly understand why.
Wadi Rum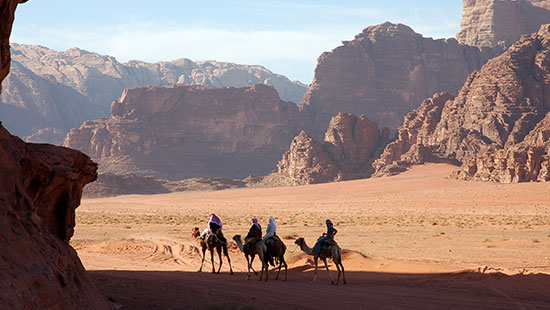 Wadi Rum, or "The Valley of the Moon," is a funny sounding name, but don't let it fool you. This exquisite desert region is full of dramatic arid landscapes, incredible culture, ancient prehistoric inscriptions and wildlife like you have never seen before.
It's been 90 years since T. E. Lawrence walked the desert terrain of Wadi Rum (and 60 years since the iconic movie "Lawrence of Arabia" was filmed), but not much has changed since then. It's still as Lawrence himself described it: "vast, echoing and God-like." Wadi Rum is the kind of place that casts a spell on you with its size, solitude and mystery. Visit this incredible place to walk on sand dunes, gaze on ancient petroglyphs carved into the bases of cliffs, visit with local Bedouin tribespeople and maybe even make friends with a camel. No matter what, you'll always yearn to return to the unforgettable imprint of the desert landscape.
Jerash, Pompeii of the East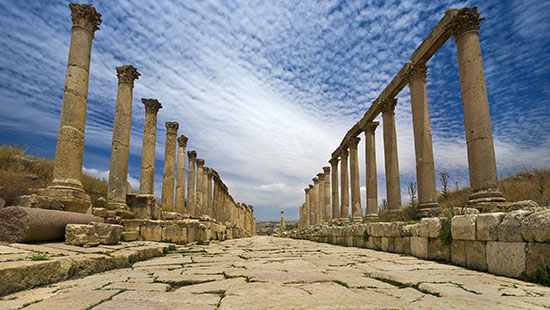 Jerash is a city in Jordan that was inhabited for thousands of years before an earthquake forced residents to abandon their home. The city existed during the reign of Alexander the Great, but truly came into its own under the Romans when it underwent a construction boom in the first and second centuries AD.
Excavation and restoration is still ongoing thousands of years later, but during that time an amazing amount of what was built has been revealed for you to see and absorb. A shocking variety of structures like the Hippodrome, the South Theatre, the Forum, the Nymphaeum and the Temple of Artemis remain well-intact and have stood the test of time due in large part to the arid desert climate. Gazing upon artefacts like these gives an amazing purview of what life was like in the glory days of such a splendid city.
Jordan holds the keys to our past, but certainly all who visit come away with experiences they will carry with them long into the future.