There is an atmosphere to Scotland that makes you want to be outdoors. Sometimes it may be a bit cool, or a bit grey, and sometimes it does rain, but the call of what awaits outside of your hotel room drives you to just get out there and absorb its majesty. Even though I had many amazing outdoor adventures on my recent trip to Scotland, there are three in particular things to do and see in Scotland that will leave an indelible mark.
Watching Sheepdogs Work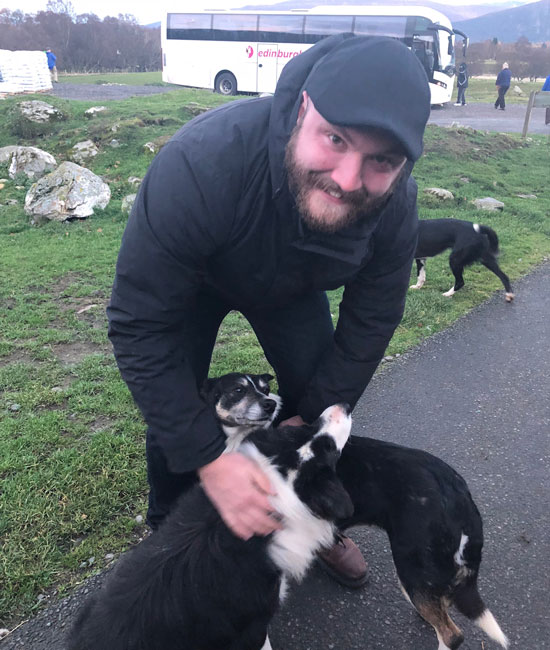 I'm a dog lover, so I obviously awaited this part of my journey with great anticipation. I was not disappointed. Our tour journeyed to a farm to watch a sheepdog demonstration which proved to be the true highlight of the entire day. Ten very excited dogs listened attentively to one surly shepherd's impressive commands.
Everyone was captivated as the shepherd showed us that he could steer the dogs with whistles and sharp words. The dogs would then steer the flock according to the shepherd's commands. He directed one dog to pick a sheep from the fold and bring it to him. We then watched as he hand-sheered it while telling us that this sheep had a double growth of wool since it was lost for a season out in the Highlands.
The man truly loved sheep, calling them "the greatest animal God ever created." In all sincerity, he raved about wool, mutton, and how strong and hearty sheep are. He then brought out two adorable puppies (to audible gasps from our group), and gave us some time to pet the dogs who were very eager to get some love from us, their new friends.
Cruising up to Urqhart Castle on Loch Ness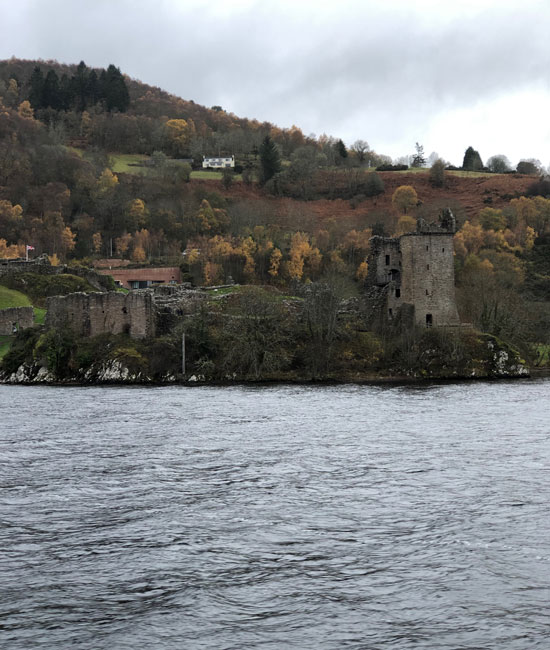 The hills around Loch Ness were peppered with a rusty orange colour as the foliage changed to its winter hues, and thick mists clung in wisps to the hillsides. Ahead of us, dark clouds spat out a drizzle of rain that I could see from far away. As the boat guide spoke about the Loch, I pulled my hood up and hunkered down outside on the prow of the boat. It was cold, windy, and incredible.
The land felt ancient and powerful, and I could imagine why legends of a strange serpent lurked among these waters. As the boat turned, the landscape revealed the ruins of Urqhart Castle, perched on the water like a massive stone mausoleum. It's a memory that will forever stand out in my mind.
Urqhart Castle may be a shell of a ruin, but it is incredible aesthetically. The tower was still intact, so you could climb up and get views of the Loch. In the museum nearby, there was a miniature replica outside the theatre that displayed what the castle would have looked like in its full glory at the end of the 15th century. It was very clear that people working at the castle genuinely cared about the history of the ruins.
Taking in the Looming Majesty of the Highlands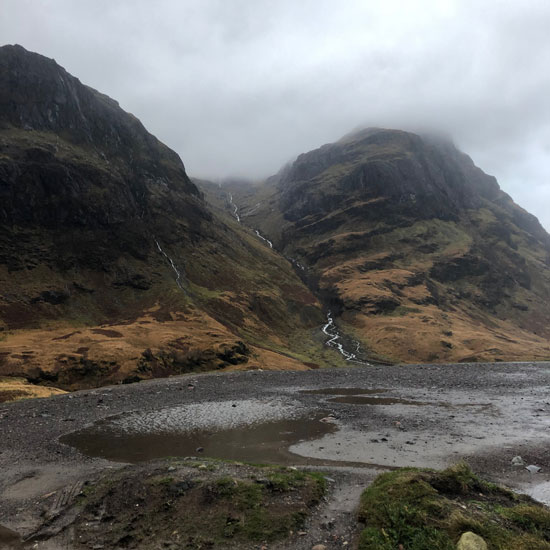 We left our hotel in Ballachulish in the fading dark of the morning, and set out across the Highlands. We stopped for a picture break at the Three Sisters in Glen Cloe, on a road hugging a jagged hill, and it was truly awe-inspiring. Misty fog hung heavy over the rocky hills here. Wind howled and rain pattered down with a faint shine of light burning from behind a layer of clouds. It was such an awesome sight to behold that words are failing me.
The landscape was a soothing cold grey that whispers of its own eternity as you take but a moment here. What's strange is that, although this landscape reminded me so much of Yellowstone National Park (both were transformed by slow-moving glaciers bulldozing the landscape), there's an eerie feeling added by the fact that you see almost no animal life out in these vast wildernesses. Perhaps they were all hiding from the surly shepherd and his dogs...