The word "atweme" means to hit the drum and that's exactly what a group of aboriginal girls aged 6-13 in Alice Springs, Australia want to do. In fact, hitting the drum becomes a way of life and a path to a brighter future for many girls who enter a very special program called Drum Atweme.
Drum Atweme
The program began in the early 1990's and was designed to incentivize at-risk Aboriginal girls to go to school every day. The reward for doing so was the opportunity to meet up with friends to play the drums together on Fridays. The promise of this fun activity motivated the girls to follow one simple rule: come to school every day to stay in the program. It was a huge success and the program turned into a real drum corps.
A brighter future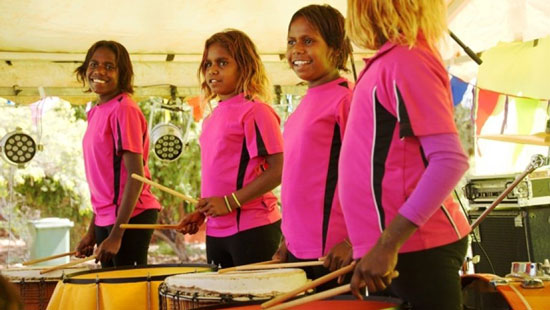 The focus of this program is to create a healthy atmosphere and positive influence through traditional music. The girls fund their program through performances and are actively involved in decision-making, creativity and budget. Being able to contribute to the group in such a way provides them with the sense of self-worth, self-esteem and self-confidence they need to lead healthy adult lives.
Happy, healthy girls
The positive effect that being a part of Drum Atweme has on the girls is very apparent when they perform. Their movements are natural, their timing is precise and their faces glow with pride. While the group is self-funded, Collette is proud to support Drum Atweme by helping with the cost of uniforms, educational material and nutrition, as well as some of the travel costs associated with the performances around Australia.
It's a great program that connects these girls to their cultural heritage while building their independence and confidence; and it also commits them to staying in school. This music program is more than the drums. It's all about the girls. It's about giving them every opportunity to truly thrive and find their place in this world.