The sun is hot, skies are clear, and you're ready to cross off several of America's greatest national parks and must-sees. In Arizona, contemplate the vast beauty of the Grand Canyon, and in Yellowstone, relish iconic sights like Old Faithful and Yellowstone Lake. Marvel at the magnitude and colour of Zion's cliffs and the hoodoos and spires at Bryce Canyon. Enjoy 2-night stays in Springdale, Utah (Zion) and Jackson Hole. Drive through the incredible Bighorn Mountains and the great Sioux Nations Territory before seeing Mount Rushmore and Crazy Horse Memorial. Welcome to America's big backyard.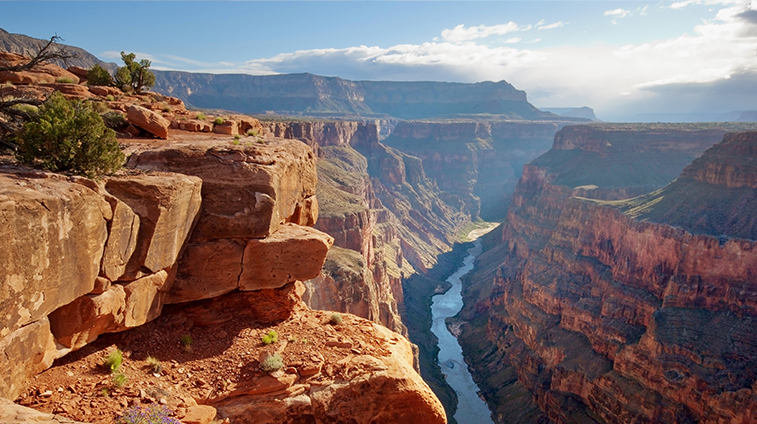 Grand Canyon
The grandest thing about the Grand Canyon is that it's so accessible, and a great first impression on our National Parks of America tour. There's a good reason this is one of the Seven Natural Wonders of the World. This mile-deep gorgeous gorge offers breathtaking views of layered red rock cliffs, contrasting with the dynamic turquoise and green waters of the Colorado River. You won't see a colour palette quite like it anywhere else. Before saying "goodbye" to Arizona, spend a day looking out over Glen Canyon Dam and an evening at dinner marvelling at sunset views over Lake Powell.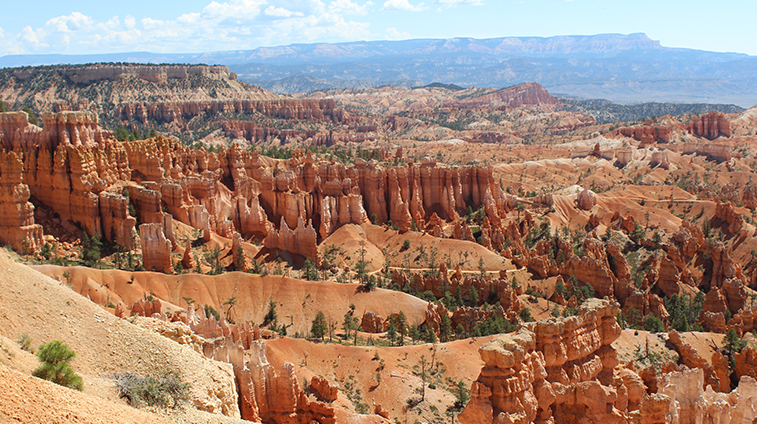 Bryce Canyon National Park
Famous for its unique hoodoos and amphitheatres that create an otherworldly landscape, Bryce Canyon National Park is truly one of the most spectacular scenic wonders of the world. Fun fact: The formations within the park are creations of wind and water erosion over eons of time. A perfect stop for nature lovers and geologists. You'll even get the chance to wander Rim Trail and take in views across the expansive Bryce Amphitheatre.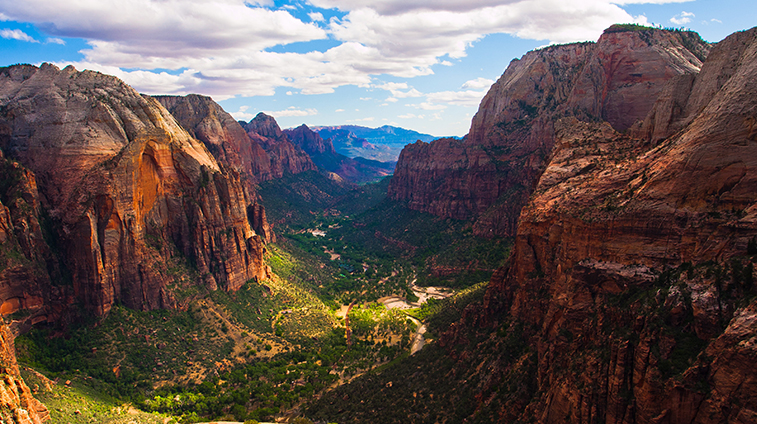 Zion National Park
Travel to Zion National Park and climb aboard Zion's open-air tram to wind your way through the 2,400-foot deep, half-mile wide canyon. Preserving a slice of the magnificent Colorado Plateau, Zion National Park offers a sanctuary where visitors can connect with nature, marvel at its grandeur, and find solace in its serene beauty. As one of America's iconic national parks, Zion leaves a lasting impression on all who are fortunate enough to experience its splendour.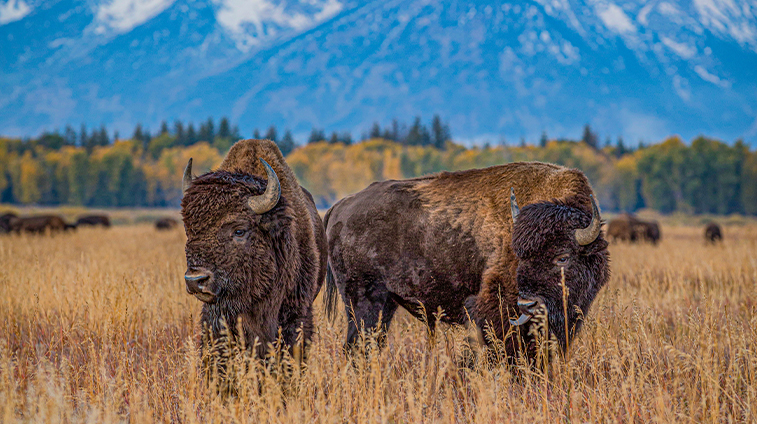 Jackson Hole
From hiking and river-rafting to shopping and sampling some of the local favourites like a true foodie, there are a variety of things to entertain you in Jackson Hole, Wyoming. This cowboy town even offers an evening of true western entertainment, complete with a traditional chuck wagon dinner. Fun fact: At one time, cowboys referred to food as "chuck," so the wagon soon became known as a chuck wagon. Complete your experience with a visit to Grand Teton National Park for views of the Teton peaks, towering over 12,000-feet in the sky.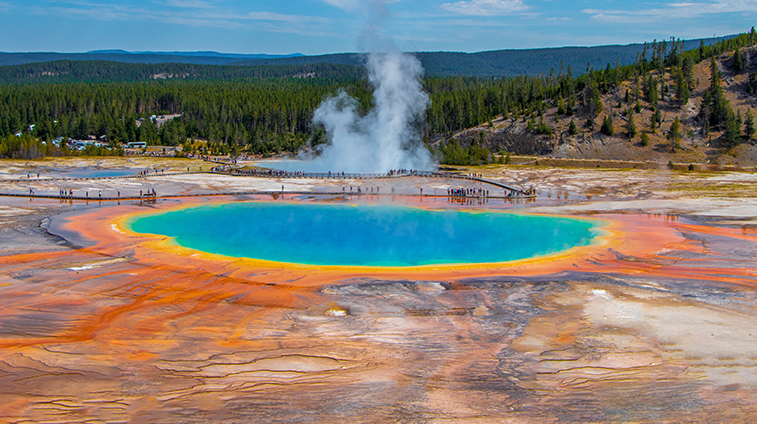 Yellowstone
Welcome to America's first national park, Yellowstone! This UNESCO World Heritage Site is a mesmerizing tapestry of geothermal wonders, vibrant landscapes, and abundant wildlife. Spanning over 2.2 million acres, primarily situated in Wyoming but extending into Montana and Idaho, Yellowstone is a geological marvel with its geysers, hot springs, and bubbling mud pots. On your way out of this iconic park, experience a breathtaking drive through the neighbouring Bighorn Mountains toward the Great Sioux Nation. Fun fact: The Sioux Nation are renowned for being a strong and fierce tribe of warriors who led much of the resistance against settlers.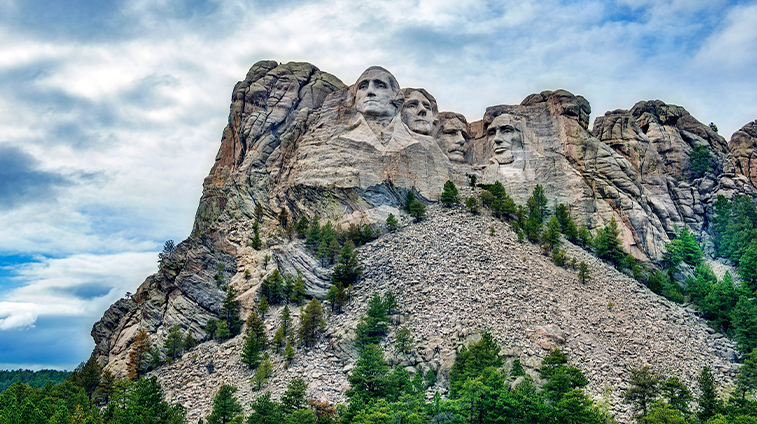 South Dakota Memorials
Learn the story behind the world's largest, still-in-progress mountain sculpture, Crazy Horse Memorial. You better try to see it now, before it's complete! While you're here, check out the Indian Museum of North America, the Native American Cultural Centre, the sculptor's studio, and surrounding theatres. Carry on towards Mount Rushmore National Memorial to meet the presidents at this massive sculpture carved into the Black Hills of South Dakota. The famous sculpture's granite faces (which are 60 feet high) depict U.S. presidents George Washington, Thomas Jefferson, Theodore Roosevelt, and Abraham Lincoln.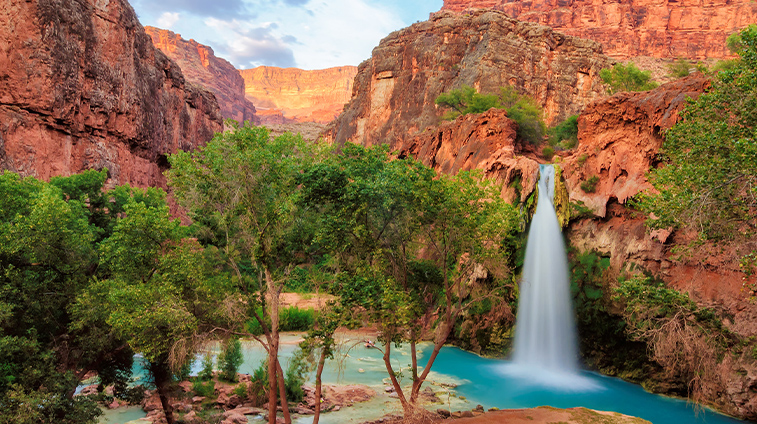 Whether you're exploring America's vast forests, gazing at majestic waterfalls, or witnessing rare wildlife in their natural habitats – these parks offer a chance to connect with the awe-inspiring beauty of nature, while checking off bucket list destinations along the way.