A visit to Iguazu Falls (Iguazu means "Big Water" in Guarani Indian) in South America will leave you in awe. Sitting on the border of Argentina and Brazil, this roaring, jaw-dropping machine provides you with a visceral experience you'll never forget. It's unlike any waterfall on earth and it attracts more than one million visitors a year who are forever transformed by its magnitude and splendour.
Fun Facts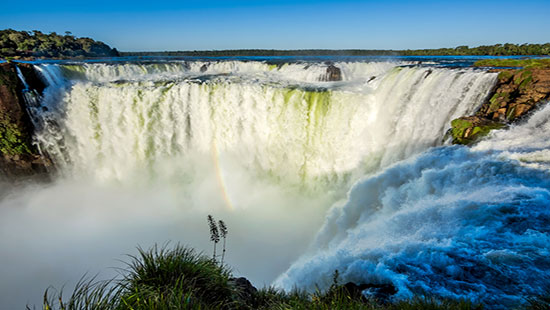 In 1984, Iguazu Falls became a UNESCO World Heritage Site, and in 2011 it was chosen as one of the New Seven Natural Wonders of the world, joining magnificent places like the Grand Canyon, the Great Barrier Reef and Mount Everest.
Iguazu Falls spans 2.7 kilometres wide and is made of 275 waterfalls. On average, about 1,500 cubic metres of water flows through every second. Depending on the time of year, that can increase to a staggering 13,000 during the rainy season from November to March. The tallest of the 275 waterfalls is called "Devil's Throat." It's a U shaped waterfall that drops 80 metres down into a misty abyss. It's nearly twice as tall as Niagara Falls and its only rival is Victoria Falls in Zambia and Zimbabwe at 108 metres tall. Iguazu Falls is even more impressive than its competitors because it's much wider than both Niagara Falls and Victoria Falls. 
Exploring the Iguazu Falls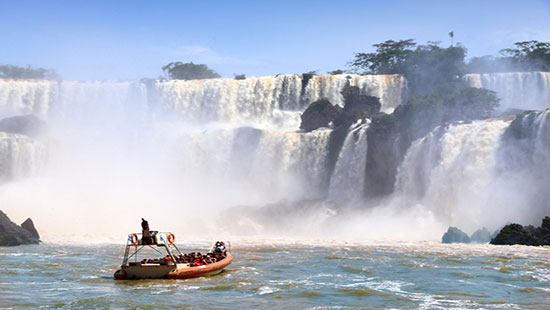 There are two parts to Iguazu Falls. One side is in Argentina and the other is in Brazil. From the Argentinian side you can opt to walk along a series of boardwalks that go very close to the falls. Plan on taking lots of photos and getting really wet! A speedboat takes visitors to explore Devil's Throat where it goes straight under the falls. A helicopter goes straight over them for the full experience from every perspective.
If the Argentinian side has the thrills, then Brazilian side has to have the views. This side of the falls has a walkway along the canyon that allows visitors to go all the way out on an extension to the lower base of Devil's Throat. People don't get as close to the falls, but the panoramic views more than make up for it.
Climate and Wildlife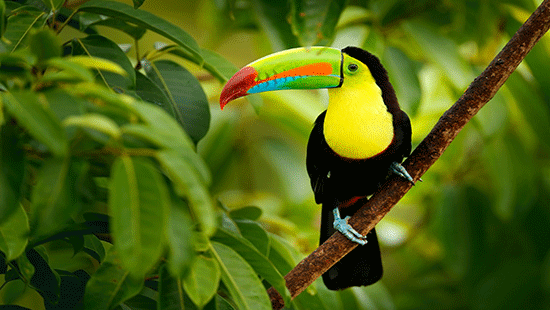 The Iguazu Falls are located inside the Atlantic Rainforest, one of the last inland rainforests remaining in South America. The rainforest is protected by both Argentina and Brazil and is home to many sub-tropical national parks that are simply bursting with flora and fauna. In fact, there are over 2,000 species of plants, 400 bird species and 80 mammals who all make their homes there, not to mention the many insects and invertebrates. It's a nature lover's paradise.