Karen is one of the 4 lucky winners of our recent Come Away with Me essay and video contest to win a trip for two to anywhere in the world. People from the US and Canada wrote and created videos answering these questions:If you could go anywhere in the world, where would you go? What are you longing to see, do, taste...to experience? And most importantly, WHO would you want by your side? There were so many incredible entries to choose from, but we were captivated by Karen's unique story and we just knew we had to grant her this wish!
She has recently returned from our Italian Vistas tour and had lots of exciting experiences that she wanted to share with us. Below is her winning essay followed by the wonderful letter she wrote to the Collette team. Karen's story is proof that dreams really do come true!
A Winning Travel Essay
The Picture on the Wall
As a young woman, random images of Italy's golden hillsides, vibrant coastal villages, windy roads, comfort food, cypress trees and cream-coloured stone villas resonated with me. I always said I would go there. But years slipped by as my focus turned to raising a family, working and looking after a home. Then one lunch break I walked a new route by a storefront selling framed art. As I glanced in the window, the image on display stopped me in my tracks. It was of that familiar Tuscan scene I had been carrying in my mind for a very long time. My imagination transported me there immediately and by evening, the picture was hanging on my living room wall. I resolved that if I couldn't get to Italy in person, I could at least dream about it often. The artwork hung there for a very long time. It lasted through growing kids, career changes, illnesses, hundreds of meals, home renovations and many visitors.
Unfortunately, it did not last through my crumbling marriage. I was faced with a very hard decision: leaving everything behind... including my Tuscan dream. I was devastated but I managed to retain my dignity and my children and that's all that mattered.
Fast forward four years and life has been much kinder to me. I have since met the most wonderful man who by all accounts adores me – and I him. We are the best of friends who enjoy going on adventures together. Of course, the dream of visiting Italy one day has once again captured my mind so I absolutely revel in the idea of winning this contest and immersing ourselves in your Tuscany & Italian Riviera tour. If it happens, I can assure you that Tuscan scene will be back on my wall again. But this time, it will be of the real thing... and I will be in it!
A Dream Come True
Wow. Hands down, Italy was everything I ever imagined... and then some! I can't even put into words how much we enjoyed ourselves on this trip. We really couldn't believe how much we did and actually saw on the tour and how smoothly it all went. Every time we went somewhere new, we just kept thinking it can't get any better... then it did!
There was something so special and unique about every single place we visited. From the historic buildings of Rome to the landscapes driving through the countryside, seascapes of the Sorrento Coast, the waterways of Venice, food and of course... the wine... yes, the wine was amazing, and everything, I mean everything in between!   
We truly were swept up in it all. We also ended up doing all of the extra side trips and were so glad we did. I kept saying to myself that my eyes were on overdrive trying to soak it all up! But, I had my camera and boy did I take pictures! Close to 1,500, I think. To top the trip off, (as if it couldn't get better), the weather was phenomenal the whole time. Wow, Collette really has connections to have made that happen!
We also met so many wonderful people in our group, many of whom we plan to keep in touch with. Our tour guide was amazing and a real trooper! Despite having an injured foot, she was able to manage everything (and our group) perfectly. She was always there for any concerns or questions anyone had and was also so fun to be around. We were very impressed with how she was able juggle all the logistics and still take time for each and every one of us. Most importantly, she taught us how to properly drink Limoncello, which was "slowly." We were drinking it like shots! She really is top notch!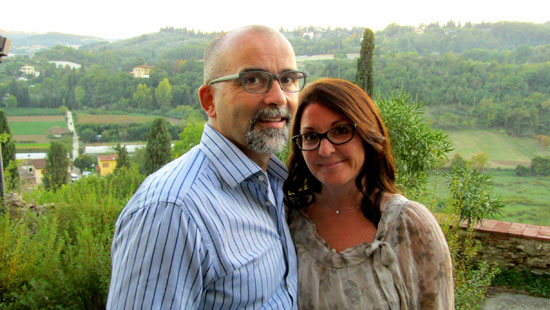 Last but not least, I got "the" photo I went for! My Picture on the Wall! I have actually ordered a canvas copy and am waiting to pick it up. It was taken at the monastery we visited just outside of Florence. It seems crazy to me that the ending to my essay actually came to reality! I've been telling everyone about my story and the trip I won with Collette and they were all so happy for me. People have been saying (and they are right) that my story has come full circle... in a very good way! 
I hope I have expressed how much we appreciated this trip and how grateful we are to everyone at Collette for making this happen! Looking back, it all seems so surreal... but we will be able to re-live our trip over and over by looking at all our photos and of course my "Picture on the Wall," which is priceless!
Going to Italy truly was a dream come true for me!