When staying in Lisbon with my wife and son, we got a room at the top of the mountain by Castelo de Sao Jorge. The winding journey up narrow streets past the small shops, road stands, and through the crowds of pedestrians to reach our abode set a magical tone for the rest of our stay. The higher up we travelled, the further back in time we felt we were until finally we stepped through the castle wall gate and into the small town that would be our home for a little while. From up there we could see the whole city spread below.
Beer and seafood rice—a welcome treat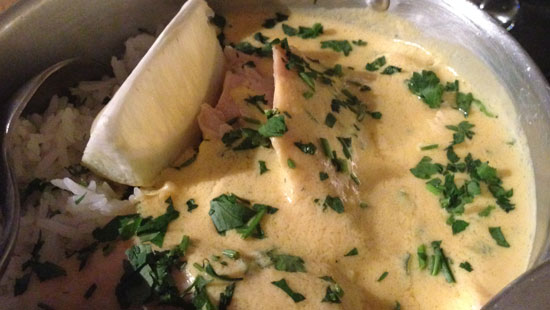 Our apartment was above a restaurant, so we were greeted with two large icy cold mugs of Super Bock beer, which is not unlike a Budweiser but somehow tastes so much better. Before we were unpacked, a comforting local dish called seafood rice found its way to our room as well. The tiny courtyard of our rental shared walls with the adjoining houses and we could hear a couple talking and washing dishes in their kitchen and the sound of a young girl learning to sing fado. We toasted to the start of a great holiday with the clink of 2 frosty super bock mugs.
In search of coffee and pastry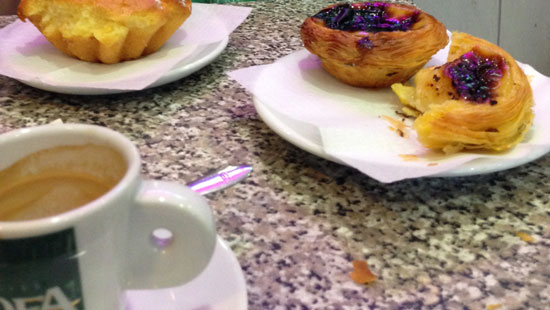 Early the next morning, my son and I made our way out into the almost empty streets in search of adventure and coffee for my wife, who was enjoying the start of a well-deserved getaway. Strolling the narrow alleyways with wild peacocks and stray cats, we snap a few photos, preserving the memory. We glide through fairy-tale like cobbled streets between ancient buildings, and slide down the railings of steep stairwells, reaching down through the city's famous hills.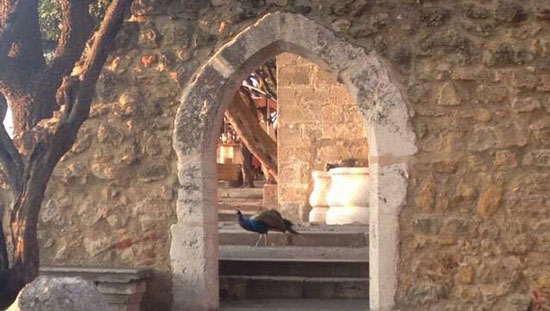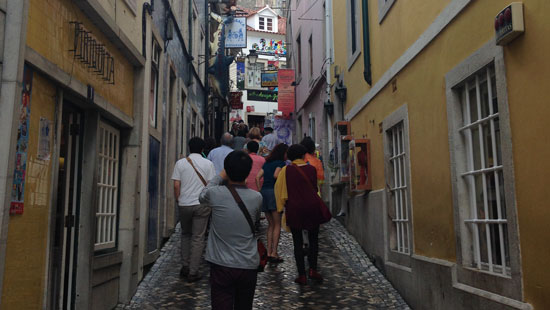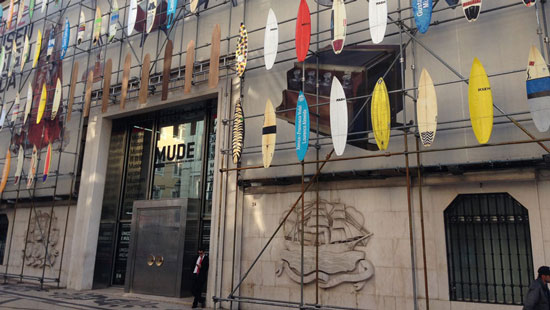 As we find our way to coffee, the city comes alive with students making their way to school in black sports coats and white collared shirts, singing acapella. First stop: Nada Lisboa "the world needs Nata" for a cup of coffee. It was dark, strong and smooth. We also picked up some delicious Pasteis de Nata: sweet, soothing egg custard tarts in a crisp crackly pastry. We wound up ordering these tasty little treats every chance we got, including from the famous Pastéis de Belém.
Sweet cherry liquor and exotic ice cream
After coffee, we took a quick detour over to a Ginjinha so that I could try a shot of the "must have" Portuguese sweet cherry liquor, before making our way back to the apartment, hearts pounding and legs burning from the workout of climbing Lisbon's hills, to deliver our treats to my sleepy wife.
Over the coming days our travels consisted of Mr. Toad's wild rides down steep streets lined cheek-by-jowl with houses sheathed in glorious tiles. We travelled in what felt like souped up golf carts as well as on the famous Lisbon Trams. We made day trips to Sintra to see the cotton candy coloured castles and streets lined with sculpture. There, we tried more ginjinha cherry liquor. In the charming seaside town of Cascais, we sampled delicious and intense ice creams in tropical flavours like passion fruit and coconut, eaten while dipping our toes in the gorgeous sea.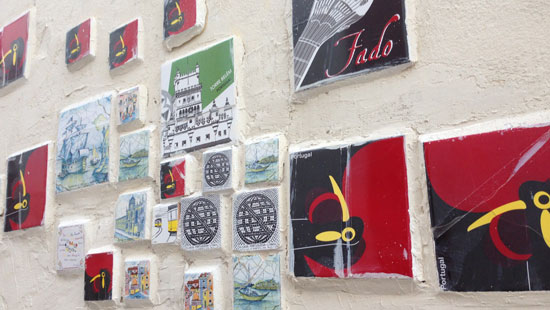 Dinnertime delights from the land and sea
Wandering Lisbon at night, we ate at countless small restaurants from holes-in-the wall to minimal, sleek, modern establishments. My family and I agreed that the best food from Lisbon comes from the ocean that lies at the foot of the city. Chewy, salty, briny goose barnacles are like littleneck clams on steroids. Fresh, tender and juicy tiger prawns are the size of small lobsters. We found oysters, squid, crabs and razor clams galore: every restaurant in town shows off the bounty of the sea in their windows. Pick a joint and have a seat; my advice is to keep it simple and let the fish speak for itself.
This is a great city for simple fish, but there are land-based delights too. Try grilled Peri-Peri chicken with its fiery and complex pepper sauce. And Bifana, a savoury delight of thinly sliced pork braised in a tomatoey cayenne broth and served on a soft bun with a slather of mustard and chili oil.
We enjoyed so many things on our Portugal holiday, and we all agreed that we'll be back one day for more culinary adventures!