To break the awkward silence in the Mercedes sedan, I asked the driver, Tomas, "What is your favourite food?" Tomas had just picked me up from the Prague airport and was driving me to my hotel. He began describing his favourite foods as detailed as he could in his broken English. Upon the mention of "pig leg", Tomas touched his belly, as if to imply it was the reason for his paunchiness. "Pig leg", he explained, was a must-try food in Prague.
When travelling, I always enjoy trying the local cuisine. While travel guide books might list some food recommendations, there is no better way to learn what the must-eat foods are than by asking the locals. Tomas gave me plenty of tips to get started, and I was on a mission to hunt for the foods he mentioned. Here are 10 foods I tried with the help of Tomas and my tour guide, Marek, in Prague:
1. Koleno (pecene veprove koleno)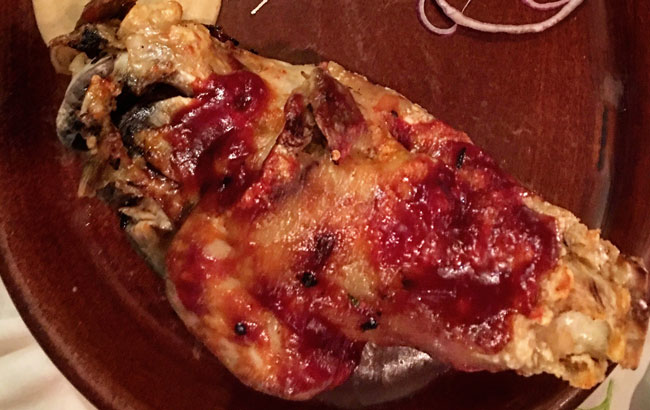 Koleno (pork knuckle) is served on a wood cutting board with a serrated knife. They are roasted with herbs and dark beer for several hours, making it incredibly tender. Along with the pork knuckle are a dollop of house-made dipping sauce that complement the juicy pork.
In Prague, the portions are big. Expect an oversized bone-in chunk of meat that would easily feed two hearty eaters.
Pork is a favoured meat in the Czech Republic. The second time I had koleno was on a Sunday afternoon in Prague at a restaurant where a group of over 20 local men were also dining. Everyone in the group had a koleno and multiple refills of beer.
After eating koleno twice, I understood why Tomas was salivating when he talked about it on my ride from the airport.
2. Czech roast duck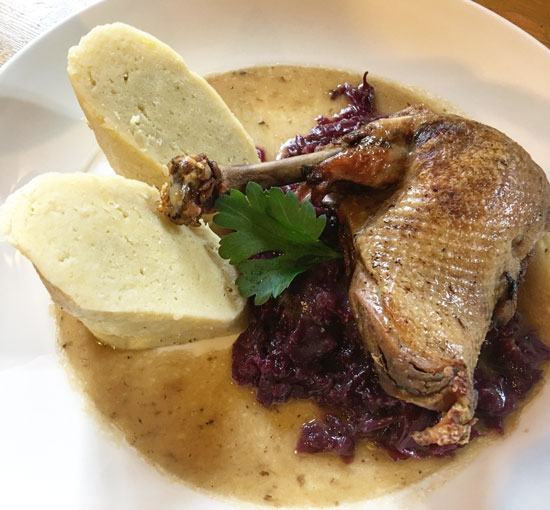 Like koleno, roast duck is another traditional dish found in traditional Czech restaurants. Usually, a quarter of a roasted duck comes with sides like cabbage and potato dumplings. The dumplings are drenched in the duck's fatty sauce creating an outstanding flavour to satisfy even a picky eater like my sister.
3. Knedliky (bread dumplings)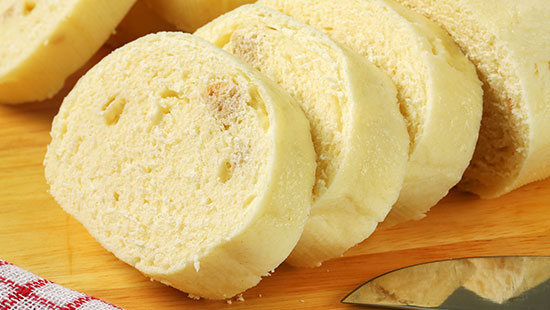 The Czechs love their dumplings. Knedliky (as seen accompanying the roast duck in the picture above) is commonly served in a set of four or six with a meat dish. Knedliky's history is deeply rooted in traditional Czech cuisine. It can be traced back to the 13th century when Rabbi Meir of Rothenburg referred to dumplings as Knodel and Kneydlekh in Yiddish. According to the book, Eat and Be Satisfied: A Social History of Jewish Food by John Cooper, the Yiddish "kneydlekh" derived from the Czech word knedliky for dumplings.
Knedliky tastes like gnocchi and is mainly made of bread or potato.
4. Svickova na smetane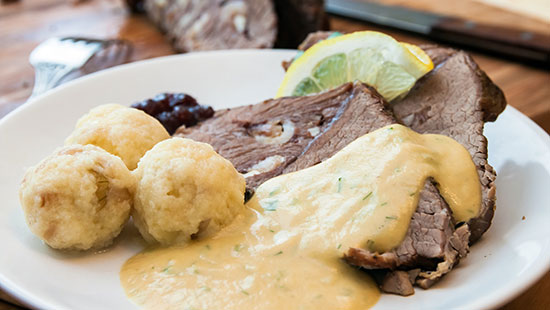 Svickova na smetane, or beef with creamy sauce, is a real crowd-pleaser, especially during the winter months. The knedliky soaked in creamy sauce and tenderloin beef is both nutritious and comforting.
5. Bramborak (potato pancake)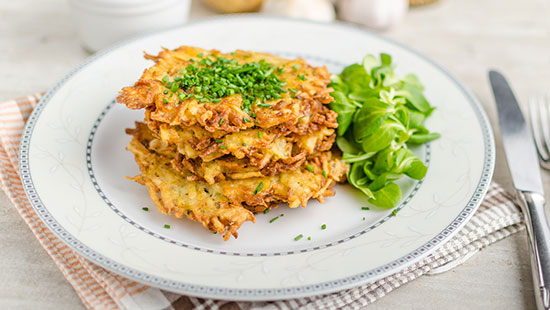 Not every meal has to have meat. For a grab-and-go lunch, get bramborak or potato pancake. Czech's potato pancakes are made with a unique blend of spices like marjoram. It's a treat for vegetarians.
6. Utopenci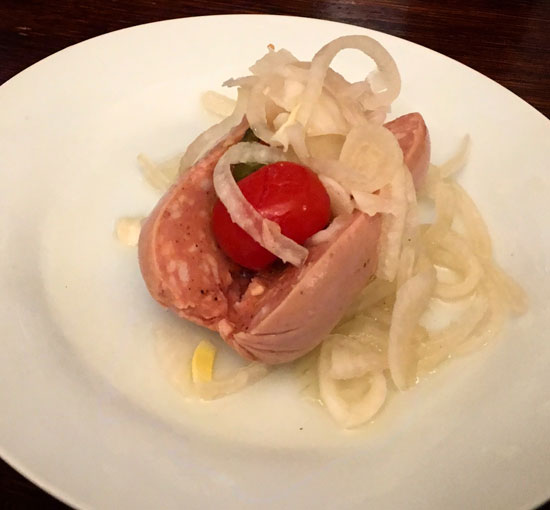 If you have been to Prague, you'll know they have some of the world's finest beers. CNBC reported that the Czech Republic is the top beer drinking country in the world. In fact, the average Czech person drinks around 156.9 liters of beer per year!
Besides beer, Prague's over 800 pubs also serve specialty pub snacks. My tour guide, Marek, pointed out that I should try utopenci or "drowned man" when drinking beer. Utopenci is a spicy Czech appetizer of soft sausage with onion, spicy paprika, and pepper preserved in water, vinegar, and salt.
7. Nakladany hermelin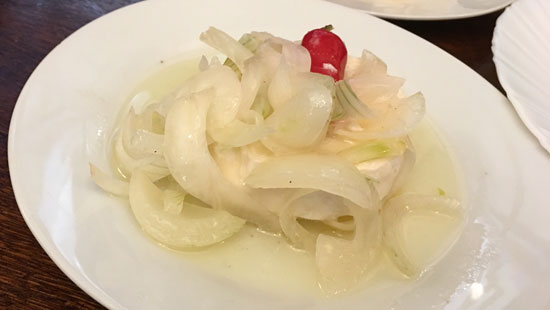 Nakladany hermelin was another pub snack the tour guide recommended. It is an appetizer of pickled cheese with olive oil, peppers, garlic, and spices. This pickled soft camembert-type of cheese soaked up the flavours of the peppers, garlic and spices, making it a great accompaniment to svelte pivo (lager beer).
Ask for svelte pivo on tap when in Prague. Draft beer is called tocene pivo, and dark lager is known as tmave pivo.
8. Smazeny Syr (fried cheese)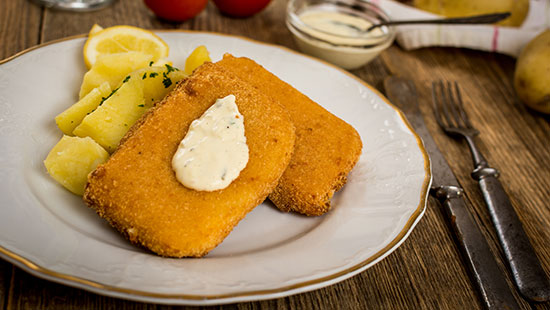 There is no specialized technique to making fried cheese (smazeny syr), but they are crowd pleasers and cheap too. Smazeny syr is an Edam cheese coated in egg, breadcrumbs, and flour and deep fried until golden brown. The traditional fried cheese is served with potatoes and cabbage. Some non-traditional restaurants serve fried cheese on buns with pickles, tartare sauce and fries.
9. Babovka (bundt cake with nuts)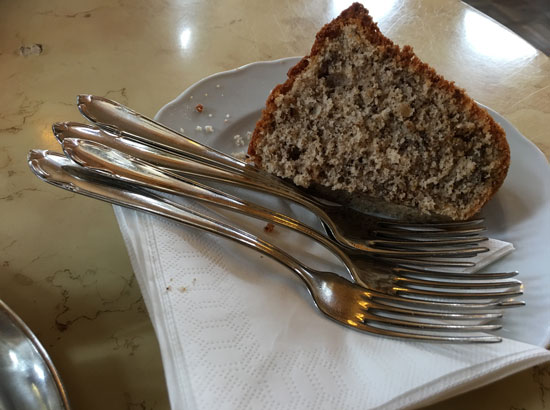 Babovka is bundt cake with nuts, a traditional Sunday lunch dessert in the Czech Republic. The combination of chocolate and nuts give this bundt cake an amazing texture. It's a dessert best accompanied with a strong cup of Czech's Turkish coffee.
I had a piece at Café Savoy, a historic café located on the West Bank of the Vltava River in Prague.
10. Trdelnik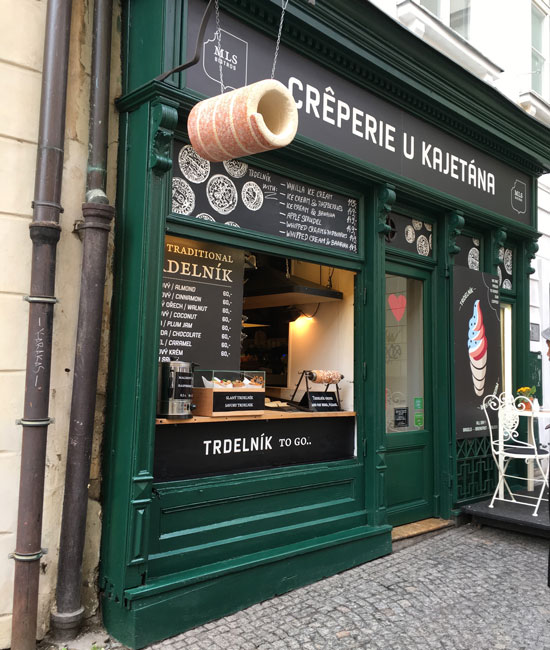 Trdelnik with ice cream is the most Instagrammed food item in Prague. Vendors and shops with trdelnik are popping up each year as the demand grows. According to my tour guide Marek, trdelnik is a tourist dessert. It's not a Czech traditional food. Trdelnik or chimney cakes have a Hungarian origin.
Despite being non-Czech, it's a fun dessert to grab when strolling in Prague's Old Town on a hot summer day. The trdelnik I had was sweet and had a heavy dose of cinnamon.