Whether you favour an espresso with sweet rolls for breakfast, hearty long lunches or just leisurely trawling through tapas bars all night, Spain has something flavourful waiting for you throughout the day.
Forget fighting to wake up early to get to the breakfast lounge. There's not just one breakfast in Spain. There are two. The first breakfast, around 7 to 8 am consists of café con leche (coffee and milk) with a pastry or toast. And at approximately 10:30 am, it's the second breakfast of a sizeable savoury dish like ham and cheese or Spanish potato omelet. Lunch is the main meal of the day; then it's la merienda or afternoon tea time at 4 to 5 pm. At 7 pm it's la hora del aperitivo, widely known as the tapas hour. Dinner is after 10 pm.
On a recent Spain travel excursion, I spent more time eating and people watching than anything else, and here's a look at 10 foods you should try when in Spain:
1. Paella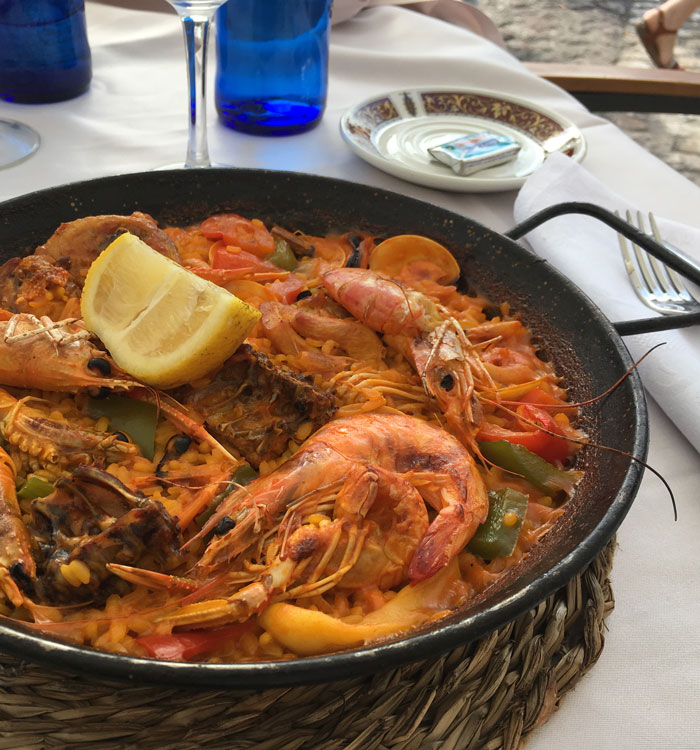 Paella, a rice dish from Valencia is the most recognizable Spanish dish. Paella was originally a lunchtime fuel for orange grove farmers in Valencia. Made of rice, snails, vegetables, and a rare treat of rabbit, paella has since evolved from the original ingredients. There is paella marinera (fish and seafood), paella mixta (seafood, sausages, meat, and vegetables) and paella negra (squid ink paella). Vegetarians can get a vegetarian version as well.
This dish is served throughout Spain, but to the Valencians, the best is still from Valencia.
2. Cocido madrileño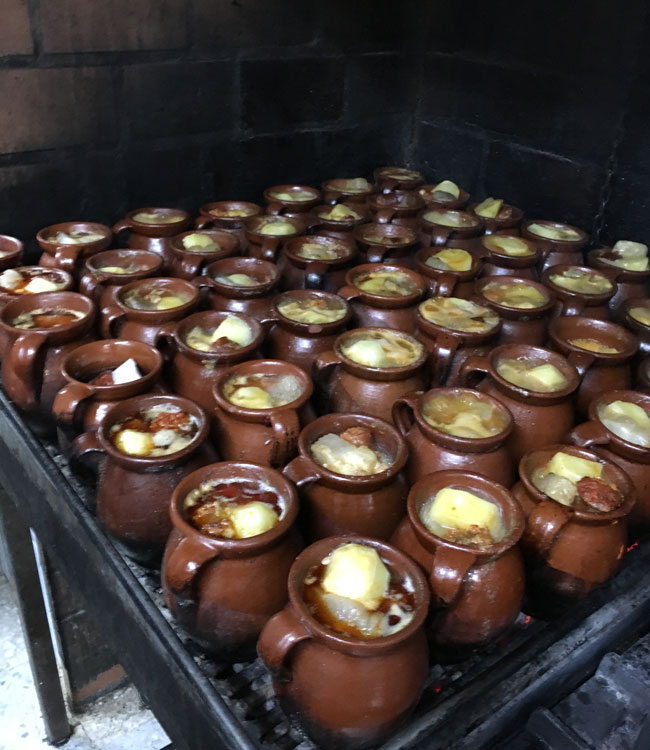 Concocted in Madrid, cocido madrileño is a stew of garbanzos (chickpeas), meat, sausages, and vegetables cooked in small clay pots. I had the opportunity to go behind-the-scenes, to La Bola Restaurant's kitchen to see how they prepare cocido.
Cocido madrileño is eaten in three stages. First, the soup, followed by chickpeas and vegetables, lastly, sausages and meat. Try a glass of Garnacha (Grenache) red wine with cocido madrileño.
3. Oxtail stew (Rabo de toro)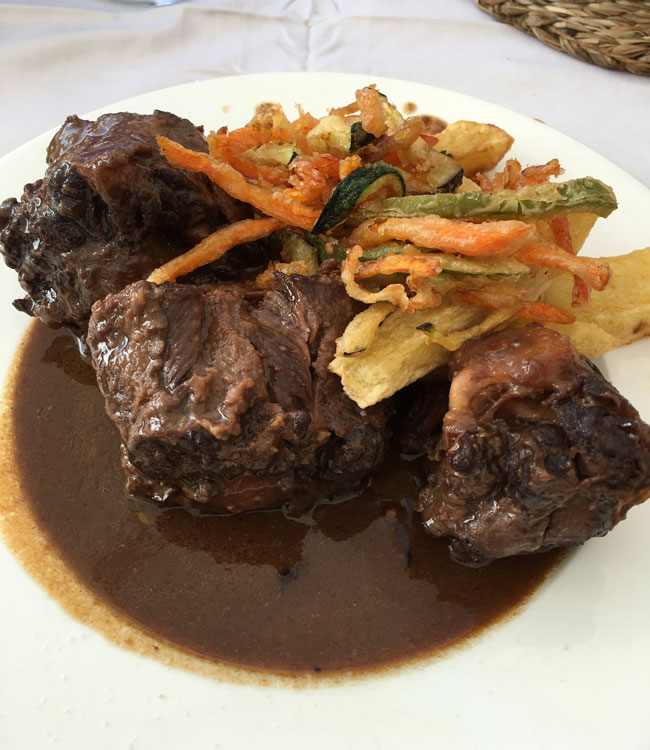 Traditionally, Rabo de toro a classic Andalusian dish is usually prepared after the bullfight event in May when the country celebrates Bullfighting and San Isidro festivals. Nowadays you can find this dish year-round in Madrid. I tried it at El Soportal in Plaza Mayor, though I can't tell if it's cow or bull's tail.
4. Tapas (small plates of savoury dishes) with Cava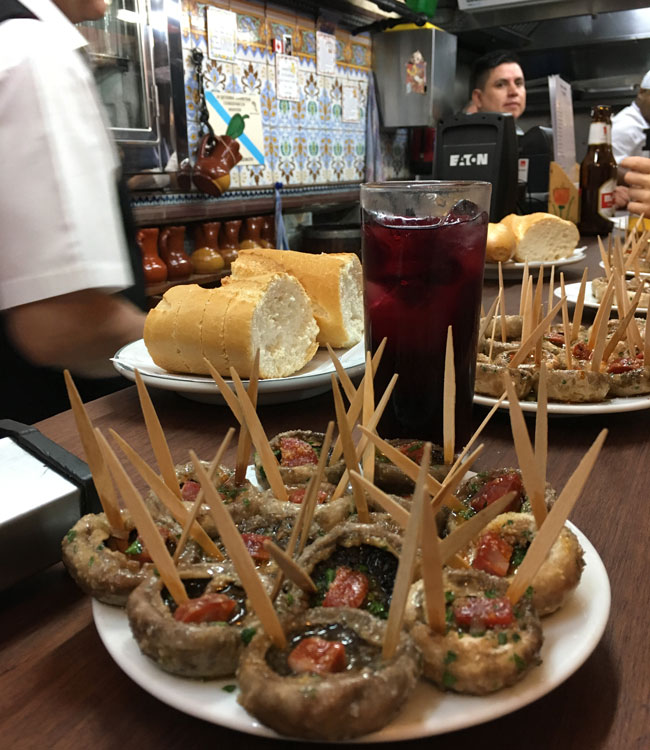 Tapas are small dishes of delicacies served on brown glazed shallow bowls or small plates.Having tapas is more like a social event, a time to meet up with friends, sharing food and drinking from bar to bar. Tapas are never consumed in massive quantity because there's always another bar to go to.
There are tapas bars that specialize in one dish like Mesón del Champiñon in Madrid. Mesón del Champiñon serves mushrooms (drenched in olive oil and garlic) and sangria. Interestingly, when asked where I should place the picks used to serve the mushrooms, our tour guide pointed to the floor. In Spain, a tapas bar with a 'dirty' floor is one of the good signs of a popular bar.
I suggest trying Cava, Spanish sparkling wine when having tapas.
5. Chocolate con churros (chocolate with churros)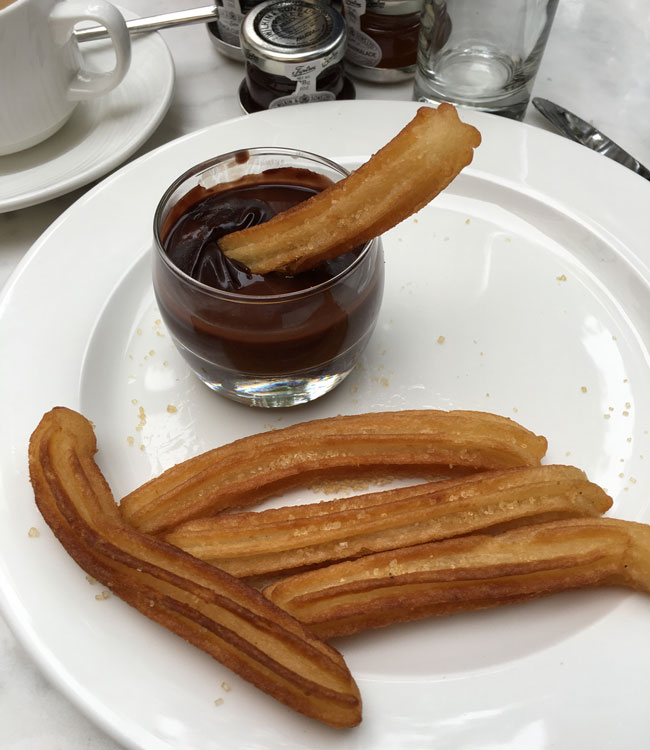 New York has its bagels, Paris has croissants, and Spain has churros. For me, the draw was the cup of thick and warm chocolate. Spain discovered chocolate by way of South America in the 16th century. In the 1800s, Spaniards began pairing the thick cup of chocolate with churros.
Churros come in different shapes and sizes throughout Spain. To eat, merely dunk it in the cup of warm chocolate.
6. Bocadillo de calamares (fried calamari sandwich)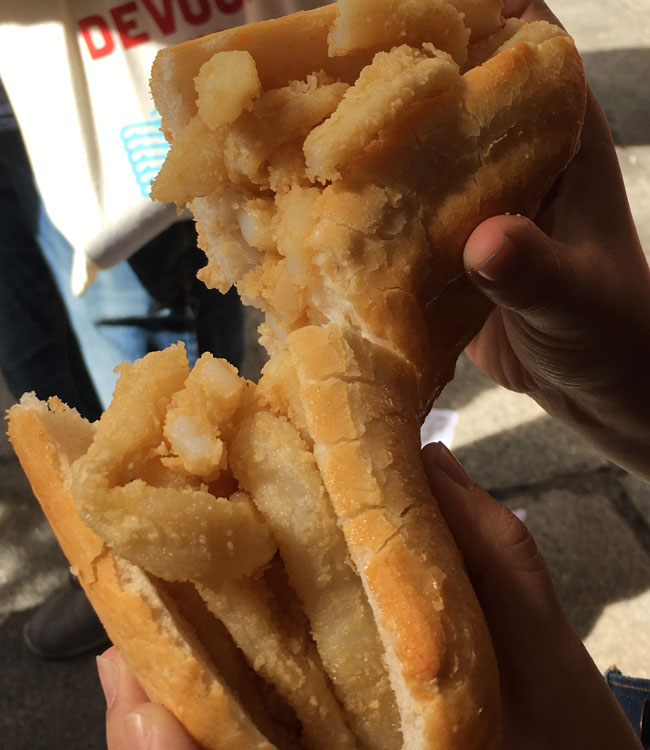 For three euros, you can get a fried calamari sandwich, also known as bocadillo de calamares. It's a sandwich of crusty bread and fried calamari. You must try it when visiting Madrid. We went to La Ideal, located just outside Plaza Mayor. Each sandwich was 2.90 euro. I had another at El Brillante, which was more expensive because it had outdoor seating across from Reina Sofia Museum.
7. Tortilla de patatas (Spanish omelette)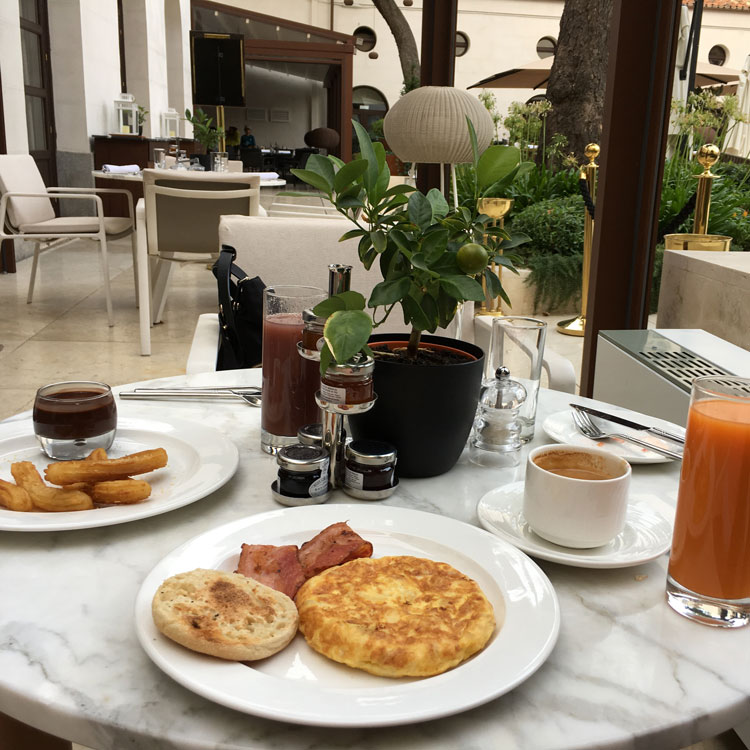 Most hotels serve tortilla de patatas or Spanish omelet for breakfast. Referred to as tortilla Espanola, this egg dish is served in homes throughout Spain during breakfast, lunch or dinner. History has it that Francisco Martinez Montino, the head chef of Kings Philip III and Philip IV created this iconic Spanish dish for the kings.
8. Jamon Iberico (Iberian ham)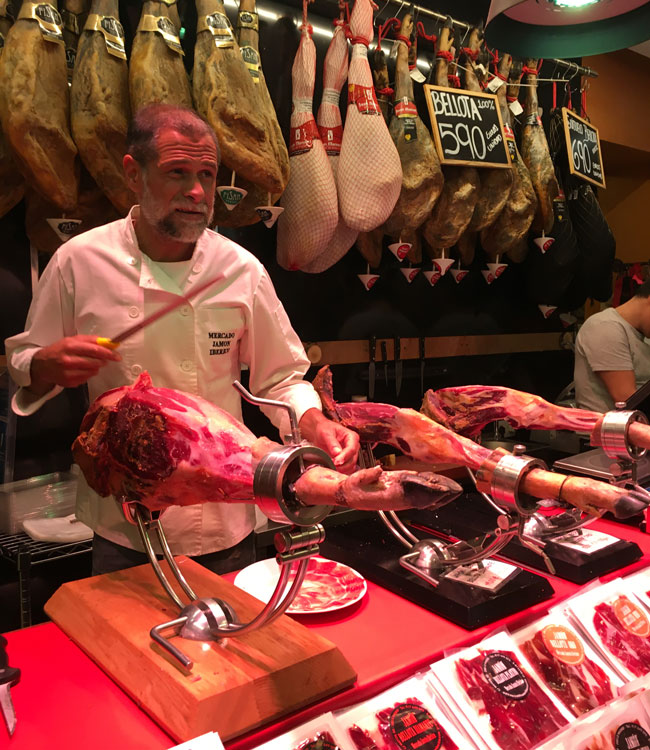 An excellent Iberian ham could cost over $200 per pound. Iberian ham is from acorn-fed Pata Negra (black hoof) pigs. The ham is soft with a floral scent and melts in the mouth. During the food tour, Luke, the tour guide and the Iberian ham expert at Mercado de Jamón Ibérico served us three types of ham - serrano, Ibérico de recebo and Ibérico de bellota.
Serrano is regular ham from white pigs, Ibérico de recebo is from pigs that are fed with acorn and grains and cured in 24 months. And Ibérico de bellota are from free-range Pata Negra pigs that are fed on acorns and cured for over 36 months.
When eating in Spain, ask for the different types of ham and check out the differences in texture and taste.
9. Olives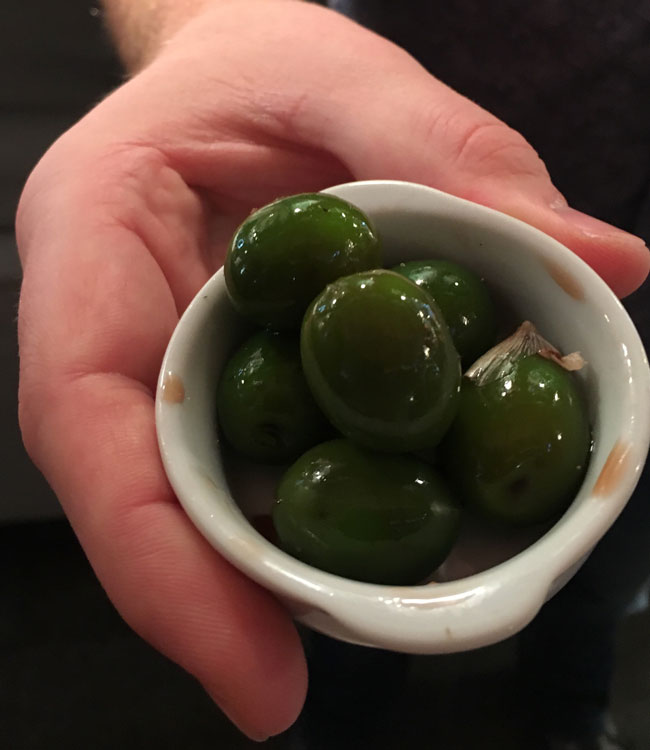 Spain is the largest olive oil producer in the world and has over 300 million olive trees spreading across the country, in Andalucia, Castilla-La Mancha, Extremadura, Catalonia, Valencia, and Aragon regions.
Apart from turning these olives into olive oil, olives are cured and served as appetizers, stuffed, and served in soups, stews, and salads. There is over 300 variety of olives in Spain. In Madrid, I tried campo real olives from the Campo Real area near Madrid at Mercado de San Miguel.
10. Turron (almond nougat)
Turron used to be a Christmas treat in Spain, but now you can find stores selling different versions of turron. There is hard or soft turron, and turron with shredded coconut, hazelnuts, chocolate and candied fruit too.
It started in Valencia in the 16th century, and the town of Jijona in Valencia is deemed as the turron producing centre of Spain.
I Hope these foods stimulate your senses as they did mine.