The Springtime Tulip River Cruise is the type of trip that excites all the senses, but in addition to the incredible visual feast that all of those gorgeous blooming tulips provide, there is also no better place in the world to satisfy your sweet tooth. I knew I would see windmills, tulips, and amazing architecture. Throughout your tour of Belgium and the Netherlands you feel as though you are walking through a Fairytale. Quaint villages like Bruges and Ghent had me waiting for Belle and the Beast to come waltzing through singing about their Provincial Life. What I wasn't prepared for was how serious they take their chocolate!
The variety is astounding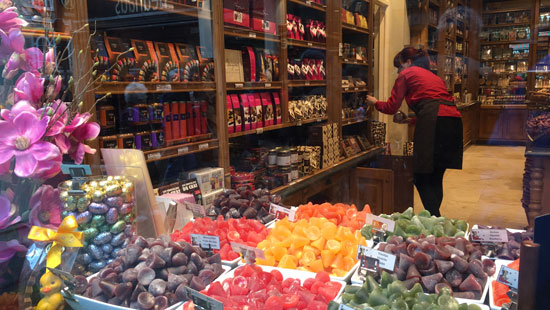 The sheer number of shops with candy confections as the main display is staggering. From large ornately decorated Easter eggs, to small filled truffles, nougat of every variety, and gummy sweets in a rainbow of colour, you will encounter a selection that would put Willy Wonka to shame. Window shopping alone is a feast for the eyes and the tummy.
A treat for all your senses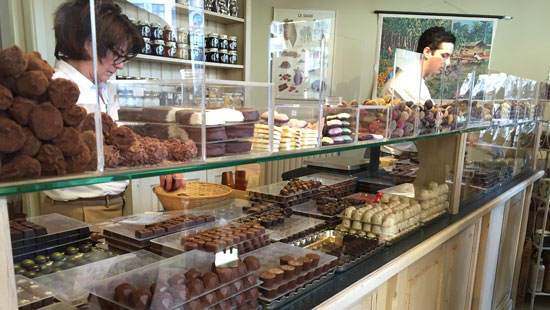 At the Luc Van Hoorbeke Chocolatier in the heart of Ghent their 'praline' (we would call this a truffle) are stuffed with an unlimited variety of mouthwatering selections. Not only do these look and taste amazing, but the SMELL is something you will never forget! Perhaps the best part was watching the Master at work behind the glass preparing his chocolate art.
There are lots of reasons to visit this unique part of Europe during the springtime, but if you are a lover of all things sweet, make sure you shop for some chocolate!
Here are a few more delicious photos in case you don't already have a toothache.